Olkinuora Holds No Regrets About Leaving Red Wings
Olkinuora was released by Red Wings in midseason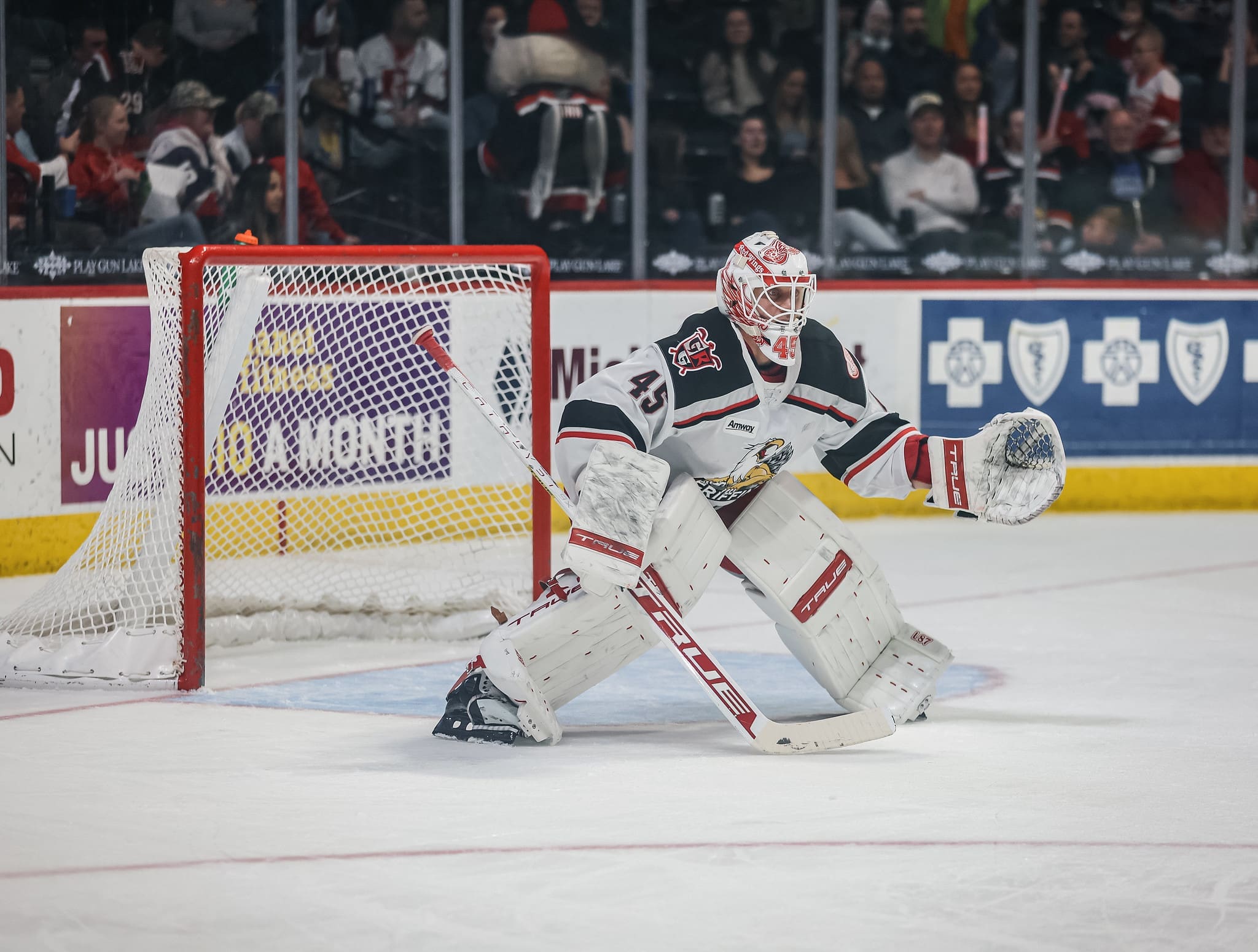 Not so long ago a Detroit Red Wings prospect, today Jussi Olkinuora finds himself both without a team or a home. Currently, Olkinuora and his wife Emily Usset-Olkinuora, are living in a short-term furnished rental apartment while he sorts out his pro hockey future.
Though Olkinuora couldn't cut it as a Detroit Red Wings prospect, but he continues to shine on the world stage. Olinuora got the win on Saturday as defending champion Finland improved to 1-1 at the IIHF World Championship via a 4-3 win over Germany.
The Red Wings were opting to sign Olkinuora as a free agent last summer after was backstopping the Finns to last spring's world title. Olkinuora was MVP of that tournament, posting an 8-0-0 record with a 1.11 GAA and a 0.948 save percentage.
"That tournament made lifelong memories," Olkinuora recalled. "It was really unique: I got to participate, I won and I got to influence the outcome. It was a dream come true."
That performance came on the heels of helping Finland win the gold medal at the 2022 Tokyo Winter Olympics. However, in that tourney, another former Red Wings farmhardm Harri Sateri, was carrying the bulk of the workloaad between the pipes for the Finns.
Began Season As No. 3 On Red Wings Goalie Depth Chart
He began the 2022-23 season as No. 3 goalie on the Detroit depth chart behind Ville Husso and Alex Nedeljkovic. At the outset of the campaign, he was given assignment to the AHL Grand Rapids Griffins.
"I felt that the training camp went really well," Olkinuora told Iltalehti.fi. "But when the games in the AHL started, things didn't go well. There were very few games, and I couldn't get into a rhythm."
The Red Wings would claim Magnus Hellberg on NHL waivers, bumping Olkinuora down the organizational goalie chain.
Jussi Olkinuora: "I have the metabolism of a 5-year-old"https://t.co/Wk1znW5ZpP

— usa jaun news (@UsaJaun) May 13, 2023
With the Griffins, Olkinuora was sporting a 3.75 goals-against average, a .868 save percentage and a 6-8 record. In February, the two sides mutually reached an agreement to terminate his contract.
"I still don't regret leaving," Olkinuora said of his Detroit experience.
Olkinuora returned to Europe to play for Brynas of the SHL. But when that club suffered relegation, he was not offered a contract for 2023-24 and currently remains without a club team.
FanDuel Sportsbook Promo #1
ALL STATES WHERE LEGAL
GET THE APP
SIGNUP BONUS
$1000 No Sweat Bet


$1000 No Sweat Bet
BET NOW
There was speculation linking Olkinuora to newly-promoted MoDo of the SHL, but that club has since signed two netminders. More recently, rumors are surfacing that Olkinuora could be landing with the Swiss club SC Bern.
"I have no idea where I will play," Olkinuora admits. "Hopefully in as tough a European club as possible."
In the win over Germany, Olkinuora made 10 saves. Red Wings defenseman Olli Maatta drew an assist on Finland's first goal. Detroit rearguard Moritz Seider was held off the scoresheet as Germany fell to 0-2.