Which Goal Scorers May Interest Yzerman In Free Agent Market?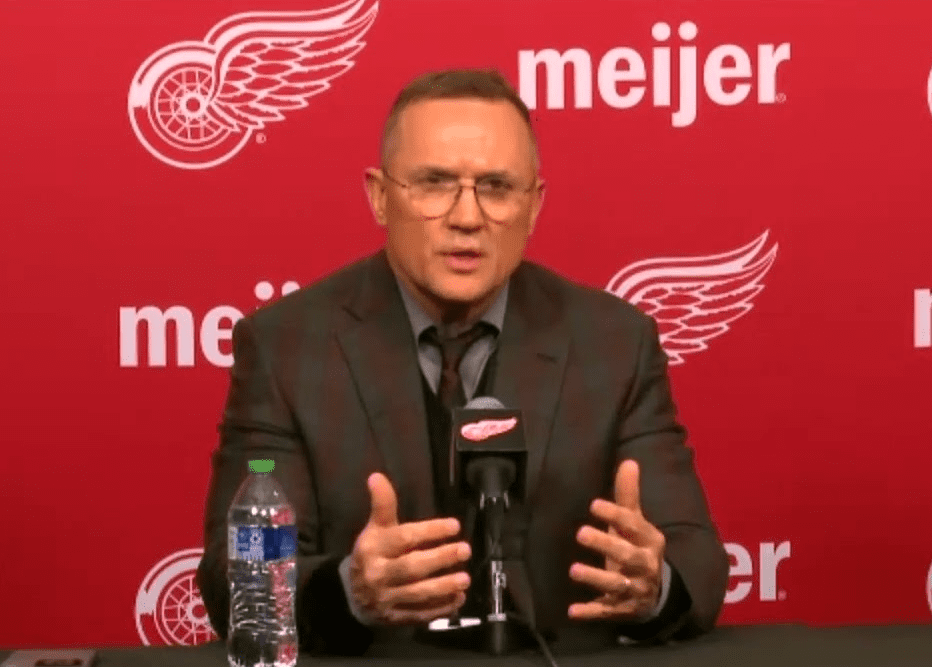 Everyone always says that defense wins championships, even though we all know that a team isn't going to be competitive without an impressive collection of consistent goal scorers.
The Red Wings ranked 24th in goal scoring in 2022-23 and missed the playoffs for the seventh consecutive season. No team below the Red Wings in scoring qualified for the playoffs.
"And Filip Zadina was out all year. We kind of had him factored in to contribute to the offense. We'll look at the free-agent market to potentially replace some of the offense," general manager Steve Yzerman said.
The question Yzerman can't answer at this point is which goal scorers he might be able to recruit to come to a team that hasn't quite turned the corner. Yzerman did have success last summer in persuading players to come to Detroit. But he's not counting on free agency to solve all of his problems.
"I hope within our own team we get more production out of some of our younger players that'll take on a bigger role," Yzerman said. "I'm not necessarily looking for guys to go from 8-10 goals to 50, but if we can take a guy from 8-9 goals to 14-15, the younger guys play a little bigger role and bit more on the offensive side, that will help. We'll look at free agency."
When he traded away players at the trade deadline, he knew he was creating more scoring challenges. Jakub Vrana and Tyler Bertuzzi previously registered 25- and 30-goal seasons, respectively.
"I knew there were going to be holes on our roster and was prepared to deal with that and truthfully, I might not be able to address all those in this offseason," Yzerman said. "It might not be possible. Some of our young guys might not be ready and players in free agency might not be available, but it still had to be done, whether it was at the deadline or this coming offseason."
Here is a sampling of unrestricted goal scorers the Red Wings can consider this summer:
Alex Killorn (Tampa Bay Lightning)
If you talk to people around the NHL, they think Yzerman will make a pitch for Killorn. He knows him, and his ability, from their time together in Tampa. Killorn is 33, hard-edged, and has scored 52 goals over the past two season. He's been a durable player throughout his career. Killorn is currently on a streak of 265 games played. Plug him into the second line and count on 20 goals and a strong all-around season.
FanDuel Sportsbook Promo #1
ALL STATES WHERE LEGAL
GET THE APP
SIGNUP BONUS
$1000 No Sweat Bet


$1000 No Sweat Bet
BET NOW
Right Wing Vladimir Tarasenko (New York Rangers)
At 31, he's still a potential 30-goal scorer. Proven scoring touch. Two years ago, he posted 34 goals and 82 points in 75 games. Injuries undermined him last season and he had 50 points in 69 games. What could he do with Dylan Larkin and Lucas Raymond?
Center J.T. Compher (Colorado Avalanche)
Compher took his game to higher level this season, putting up 52 points.  He played at the University of Michigan with Dylan Larkin and Andrew Copp. All three played in the U.S. National Team Development Program. Although their time there also doesn't line up perfectly, they all know each other. Compher has never scored 20 goals, but his point total is significant. Copp had 42 points this season.
Center/Wing Ivan Barbashev (Vegas Golden Knights)
If you have been watching the NHL playoffs, then you know Barbashev is a creative offensive contributor. He had 45 points in the regular season and has registered nine points in 11 playoff games to help the Golden Knights reach the Western Conference Finals.  He has magic in his game.
Left Wing Pierre Engvall (New York Islanders)
He's a 6-foot-5 Swede who is just coming into his own. He scored 17 goals last season in a split season between the Maple Leafs and Islanders. Engvall is a solid, 220 pounds. Considerable up-side potential. Should be reasonably priced in comparison to the bigger names. Could turn out to be a bargain if he continues to grow as a player.
@Steve_Dangle imagine not thinking Pierre Engvall is elite. @JesseBlake @AdamWylde @sdpnsports pic.twitter.com/I1nTQbz3gW

— G20 (@G20YT) May 15, 2023
Center Ryan O'Reilly (Toronto Maple Leafs)
The rugged two-way center would be a good complement for Larkin. But he wants to stay in Toronto, and if the Maple Leafs can't make it work, his next choice would be a prime contender. That's not the Red Wings at this point.
Left Wing Jason Zucker (Pittsburgh Penguins)
Zucker, 31, is coming off a 27-goal season. It was his sixth season of scoring 20 or more goals. Doesn't seem like he's a perfect for an Yzerman team. But he can score goals. He has to be on the list.
Center/Wing Sean Monahan (Montreal Canadiens)
His production has declined. But he's only 28. This is a player who has scored 22 or more goals seven times. Five times he has scored 27 or more. He can play all three forward positions.  Last season, he was injured and yet had encouraging numbers (six goals, 17 points in 25 games) for the Canadiens. That's the equivalent of 19 or 20 goals for a season. Depending upon his demand of salary and term, he could be worth considering. The Red Wings are not in a position where they can attract the best free agents.
Center Jonathan Toews (Chicago Blackhawks)
Toews may retire. He's 35 and has nothing to prove. He has health concerns. But he is still a smart, poised center. Would the Red Wings be interested in talking to him to be the team's No. 2 center? He could be a bridge to give Marco Kasper another season to ready himself for the job? It's an unlikely scenario, but the idea of Toews wearing the winged wheel has charm attached.