Lalonde Focused on Helping USA Win Medal at World Championships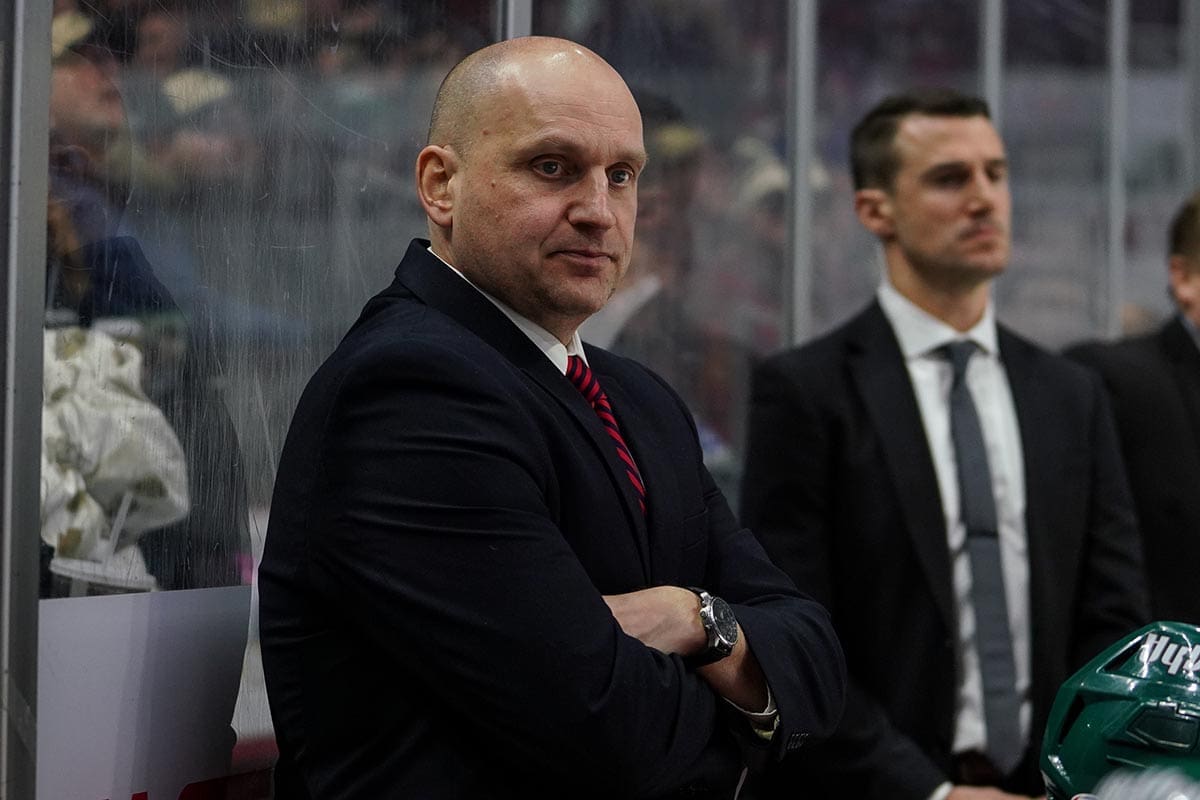 The idea of coaching the U.S. National team appeals to Detroit Red Wings coach Derek Lalonde on many different levels, including his nationalistic pride.
"We haven't won a world championship since 1933," Lalonde said from Finland, via cell phone. "And we take that very personally. We want to change that."
The Americans, with Lalonde serving as one of San Jose Sharks'coach David Quinn's assistants, are off to a 4-0 start at the ongoing tournament in Tampere, Finland. That's only the fifth time in American hockey history that USA has started that well at the World Championships. In the four previous 4-0 starts, the Americans won a medal, but not a gold.
Ha ha, Derek already has the zip-down jacket on 😛

Good luck, coach Lalonde, with Team USA. https://t.co/R3AP8TjMZA

— George Malik (@georgemalik) April 30, 2023
This is Lalonde's first involvement at a World Championships, but he has plenty of history with USA Hockey. He has coached at the World Junior A Challenge twice, plus multiple sports festivals.  He says he grew as a coach through his involvement with USA Hockey. Lalonde says USA Hockey develops coaches as much as it does players.
Say 'Yes' to USA
"First, I would never, ever say 'no' to USA Hockey," Lalonde said. "Never have, never will."
He said it's easy to say 'yes' to a World Championship, but his commitment is all-inclusive.
"It is the same thing for levels 2,3, 4, 5 symposium, a seminar on zoom, it's just the reality of it," he said.
Another reason he always signs up is his professional development. He may be in the NHL, but he still views himself as a student of the game.
"Always growth, obviously you learn off other coaches," Lalonde said. "So far it's been a really good experience."
The Americans will be looking for their fifth win in a row Saturday when they face Denmark (5:20 a.m., ET, NHL Network). Denmark is 2-1-0-1. The Danes beat Hungary 3-1 in their most recent game. Team USA downed Hungary, 7-1.
"It's been a good group, a fun group. Did not expect us to be 4-0 right now, but it's a credit to the guys," Lalonde said. "We are young and we still have some work to do here. But we have a chance to medal."
One of His Own
Detroit Red Wings prospect Carter Mazur is one of the young players on the squad, and he has played well with a goal and an assist on the team's third line.
Lalonde said he has enjoyed working for Quinn who is a veteran of World Championship coaching and working with fellow assistant Scott Gordon who also has multiple trips to his event.
BetMGM Sportsbook
States: All States Where Legal
GET THE APP
SIGNUP BONUS
UP TO $1,000!


Up To $1000 Paid Back in Bonus Bets
BET NOW
It's also been fun for Lalonde to be able to see his Detroit players at the tournament. He said he spent some time with Moritz Seider, Lucas Raymond and Jonatan Berggren. Raymond and Berggren are with Sweden and Seider plays for Germany. Seider originally wasn't going to participate, but changed his mind.
"We actually scrimmaged them in Munich," Lalonde said. "I ran into him because he didn't play that game. I said to him: "What made you change your mind? He said: 'Just getting home, spending some time and just wanting to be with the guys. I think Mo contacted them. That says a lot about him."
But socializing aside, Lalonde said his focus is on doing all he can to help the Americans win a medal.  Over the past 92 years, Team USA has only captured nine medals.  No gold. USA has two bronzes in the past five years, one earned when former Red Wings coach Jeff Blashill was the head coach. Lalonde and Blashill are close friends.
"This is my first chance at a world championship and winning a gold would be the ultimate goal, but really any medal," Lalonde said. "In our history, we haven't medaled a lot at this tournament. "