The Daily: Benn Cross-Check Looks Like Instant Replay to Red Wings; Could Matthews be a Fit With Blackhawks?
Benn foul was similar to one he committed on Dylan Larkin in 2020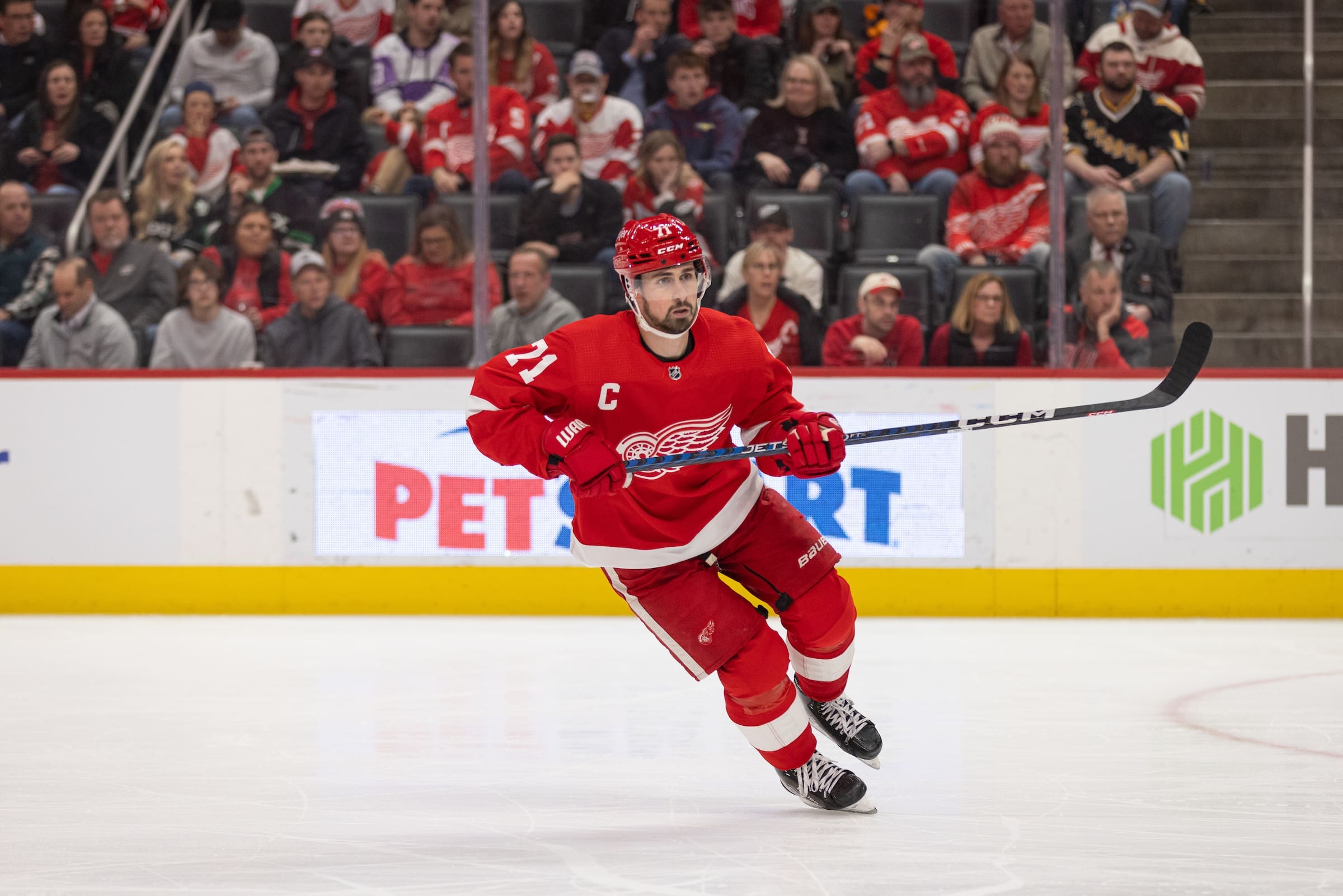 As Dallas Stars captain Jame Benn was being ejected from Game 3 of the Western Confererence final for a cross-check delivered to the neck of Vegas Golden Knights forward Mark Stone, Detroit Red Wings fans were feeling a sense of deja vu.
You can't do that.

Jamie Benn gets 5 and a boot from the game for this cross-check. pic.twitter.com/pzZk8zA061

— Spittin' Chiclets (@spittinchiclets) May 24, 2023
In was late in 2019-20 season that Benn caught Red Wings captain Dylan Larkin with a similar cross-check to the neck following a faceoff.
For no reason in particular, here's Jamie Benn cross-checking Dylan Larkin's neck/spine in 2021, ending his season and receiving no discipline. ☕ pic.twitter.com/slJG7WfrOA

— Winged Wheel Podcast (@WingedWheelPod) May 24, 2023
Larkin suffered a season-ending neck injury on the play. However, in that instance, Benn was not penalized.
After his foul on Stone, Benn was assessed a major and game misconduct.
Red Wings In Case You Missed It
Red Wings Offseason
For the second season in succession, former Red Wings star Sergei Fedorov is the KHL coach of the year. Among those he beat out for the honor this time around was former Russian Five teammate Igor Larionov, coach of Torpedo. Fedorov has guided CSKA to successive Gagarin Cup KHL championship titles.
Hockey Now Network
Vegas: The Vegas Golden Knights were exploding quickly from the gate. Now they've also gained a 3-0 stranglehold over the Dallas Stars in the Western Conference final.
Florida: Speculation is that captain Sasha Barkov will return for the Florida Panthers in Game 4 of the Eastern Conference final. He departed Game 3 with an injury.
Pittsburgh: Former Arizona Coyotes GM John Chayka is gaining strong consideration as a contender to be the next GM of the Pittsburgh Penguins.
Washington: Published reports are suggesting that Toronto Maple Leafs assistant coach Spencer Carbery is the frontrunner to be the next head coach of the Washington Capitals.
Islanders: There's a report that the NHL will be playing two Stadium Series games played next season at MetLife Stadium on successive days. One will be pitting the New York Rangers against the New York Islanders.
Philadelphia: A date with the New Jersey Devils in the 2024 Stadium Series at MetLife Stadium appears in the offing for the Philadelphia Flyers.
Boston: There's plenty of trade speculation involving the goaltending tandem of the Boston Bruins.
Buffalo: A Stanley Cup final pitting former Buffalo Sabres Jack Eichel (Vegas) and Sam Reinhart (Florida) against each other? It's looking like a very real possibility.
Montreal: Montreal Canadiens prospect Lane Hutson was among the Team USA scorers in Tuesday's 4-3 victory over Sweden at the worlds.
BetMGM Sportsbook
States: All States Where Legal
GET THE APP
SIGNUP BONUS
UP TO $1,000!


Up To $1000 Paid Back in Bonus Bets
BET NOW
Colorado: Would a move to add Jonathan Drouin from Montreal make sense for the Colorado Avalanche?
Nashville: Looking at mock draft projections for the Nashville Predators at No. 15 overall.
Could Matthews Be A Fit With Blackhawks?
Chicago: Suppose the Maple Leafs and Auston Matthews were to come to a parting of ways. Could the Chicago Blackhawks be a realistic destination for Matthews?
Calgary: It's official. Craig Conroy is the new GM of the Calgary Flames.
San Jose: What teams might be realistic possibilities if the San Jose Sharks were to engineer an Erik Karlsson trade?
Los Angeles: Assessing the future of Los Angeles Kings prospect Samuel Fagemo.