Red Wings' Review: Dylan Larkin's Future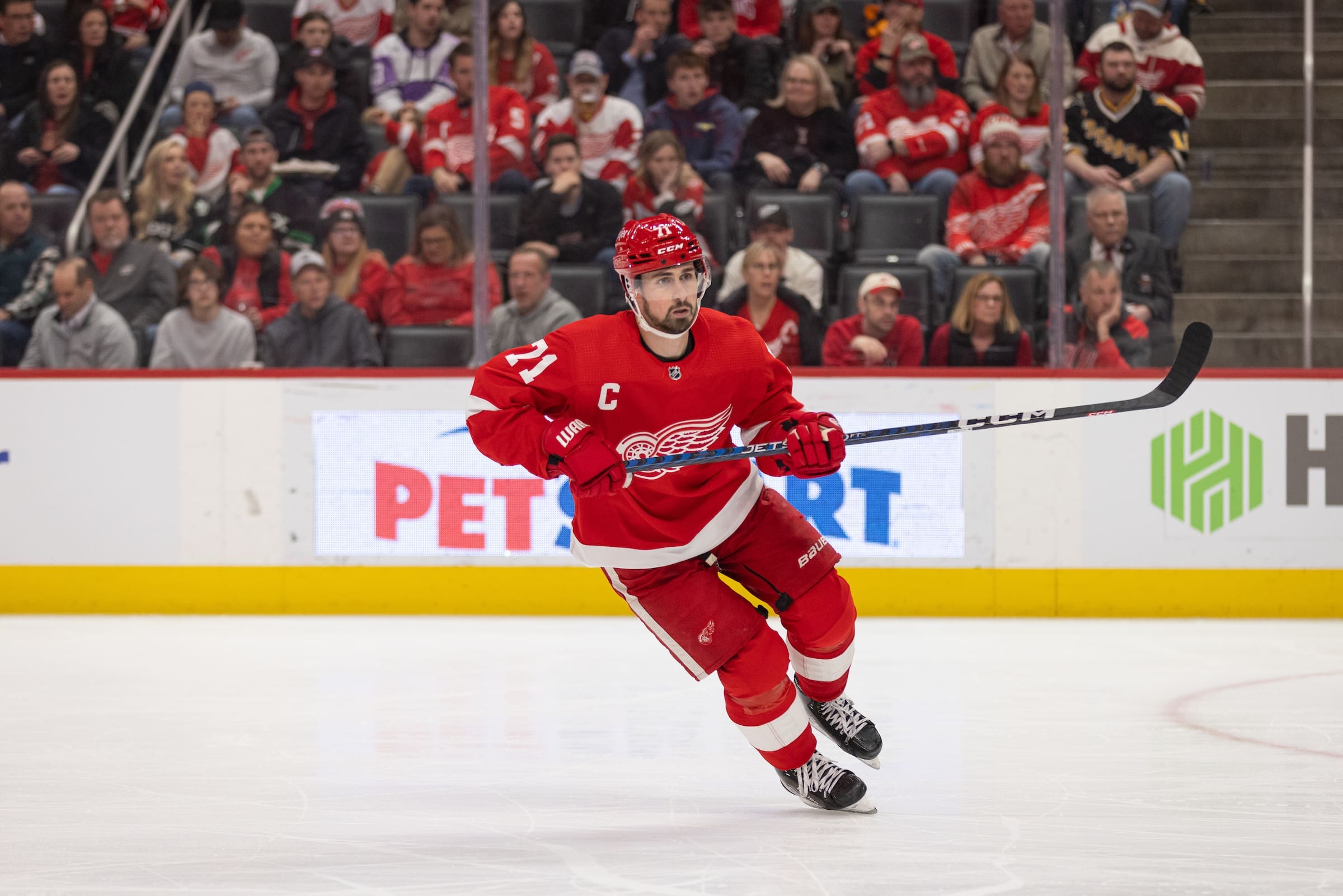 Detroit Hockey Now's Red Wings Review series is assessing every player who held a significant place in the fortunes of the 2022-23 Detroit Red Wings season. We'll be looking at the highs and lows they experienced during the recently-completed campaign, as well as what the future holds for them in Detroit. Today, we feature Dylan Larkin
Dylan Larkin
Position: Center
2022-23 totals (GP-G-A-PT): 80-32-47-79
Contract Status: Signed through the 2023-24 season.
Season Synopsis
Fans like to debate whether Dylan Larkin is a "true" No. 1 center. His statistics say he is: Larkin was 17th among NHL centers with 79 points and 18th in assists this season. His 32 goals are one fewer than Sidney Crosby's total and two goals under Steven Stamkos' total.
General manager Steve Yzerman believed in Dylan Larkin enough to give him a new contract worth $8.7 million per season, although it took him a while to get there.
Larkin tied his career high with 32 goals and set a new personal best of 79 points. He's undeniably a popular captain.
This is what coach Derek Lalonde said about Larkin at the end of the season: "All year long he's battling, playing the game the right way. I'm not surprised it's a career year for him, but I think with the little things within his game, him managing the puck, him limiting turnovers, the way he's in the D-zone, the improvement in the D-zone, we're asking him to play in the top four on the penalty kill, he's doing a lot of really good things and I'm glad he's getting rewarded with a career year."
You know what's better than 1 Dylan Larkin? 2 Dylan Larkins.
Oliver Moore is a potential target for the Red Wings in the 2023 draft because of what he brings as a center prospect. It also helps that an NHL comp for him is Larkin. #LGRW #THW https://t.co/AjsMZb6z6N

— Devin L. (@HockeyWithDevin) May 22, 2023
2022-23 Red Wings Highlights
Larkin posted a seven-game points streak from Feb. 7 to Feb 18. He boasted six goals and seven assists in that span. Within that streak, he had a four-game stretch when he had 10 points. Eight times Larkin registered three points in a game this season.
2022-23 Red Wings Lowlight
Larkin was highly emotional when he talked about Yzerman's decision to trade Tyler Bertuzzi. Yzerman was never close to getting Bertuzzi signed. Trading Bertuzzi was the logical act, but that didn't make it easier on Larkin. He and Bertuzzi are good friends.
"The last 24 hours has probably been one of the hardest days on the business side of it," Larkin said about getting a new contract and then hearing Bertuzzi was traded. "Being excited, being happy talking to Tyler yesterday. Him being happy for me. And the I saw him this morning and he was upset and I am, too."
INTERVIEW: Dylan Larkin experienced a roller coaster of emotions in the last 24 hours, signing an eight-year extension with the Red Wings, then watching Tyler Bertuzzi get traded.

We talked about the highs and lows, and what teenage @DylanLarkin39 would say about the new deal. pic.twitter.com/NHQn5UQTlW

— Brad Galli (@BradGalli) March 2, 2023
They understand his value to the organization. He has done everything coaches have asked him to. Rasmussen has changed his game to be more effective.
"My kneecap wasn't shattered or in a hundred places, it just needed time."

Michael Rasmussen took a shot off his kneecap that ended his season. He spent time in a brace and couldn't put weight on it. #RedWings pic.twitter.com/Ddx9rOwXPg

— Brad Galli (@BradGalli) April 17, 2023
 What Does His Detroit Future Hold?
The Detroit Red Wings wanted more from Larkin this season. They wanted him to be more responsible away from the puck and they wanted him to be more error free when he is managing the puck.
Lalonde will point out plays he doesn't like in the name of turning them into a teaching moment. Larkin isn't spared those moments.
"Yeah there's been some uncomfortable moments in video," Larkin said. "That's part of being a leader and part of being a top player. It's meaningful when you're in there and getting called out, because we're all in this together and we all have to defend together and get better together. There has been some uncomfortable clips but I think it helps the group, "
FanDuel Sportsbook Promo #1
ALL STATES WHERE LEGAL
GET THE APP
SIGNUP BONUS
$1000 No Sweat Bet


$1000 No Sweat Bet
BET NOW
Larkin has grown as a player and a leader. Lalonde has said more than once that the team's offense flows through Larkin.
Everyone accepts that Larkin cares deeply about his team, teammates and his performance level. And everyone knows that Larkin will be even a better player when the Red Wings are deeper in offensive talent.