Red Wings Raymond Loses a Tooth; Swedes Lose Their Way
Berggren benched for quarterfinal game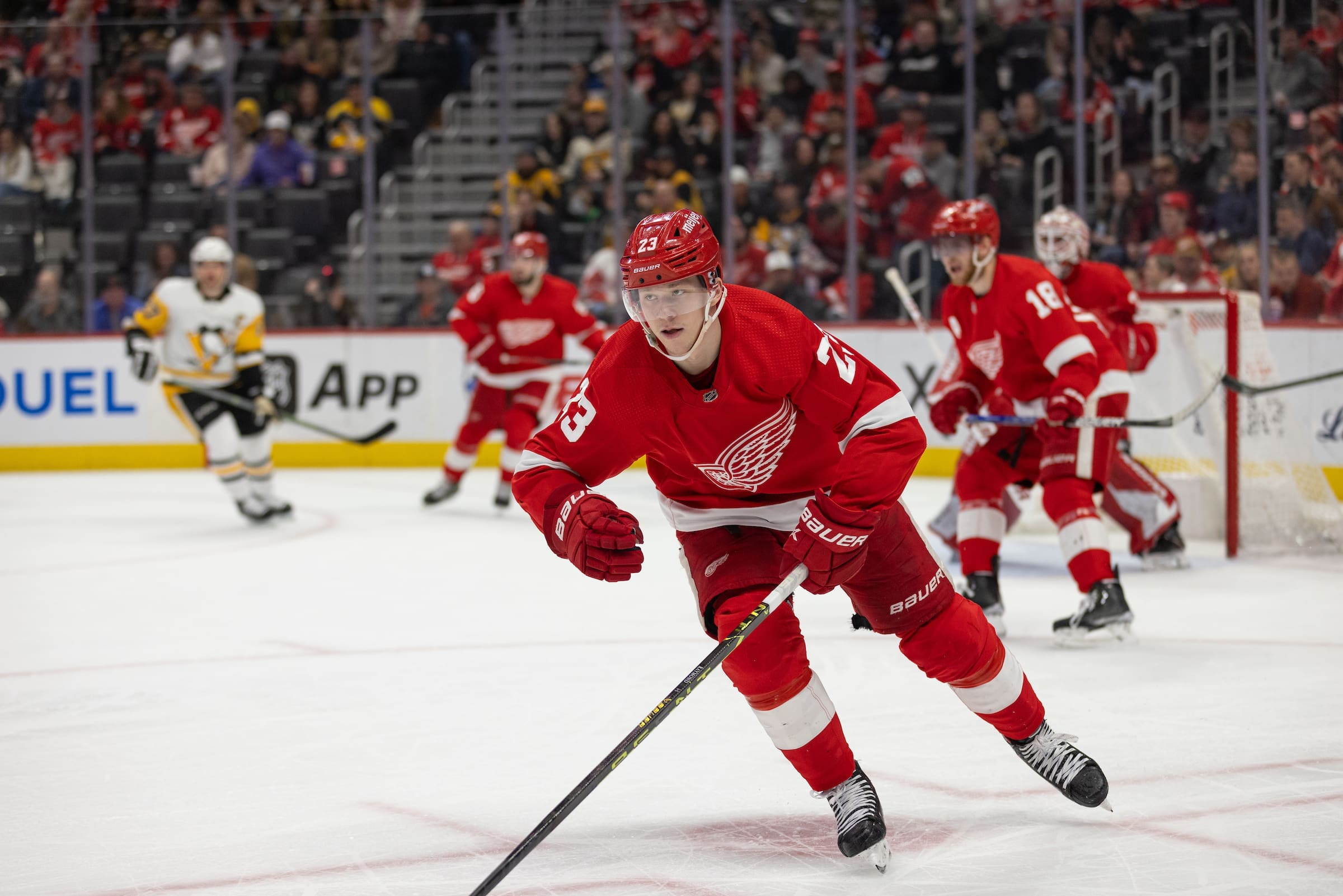 Detroit Red Wings forward Lucas Raymond will be leaving the IIHF World Championship with one less tooth. Sweden's departure from the tournament is once again a bitter pill to swallow.
Sweden was suffering a stunning 3-1 setback at the hands of Latvia in Thursday's quarterfinal matches. It's the first time Latvia is reaching the semifinal stage. However, it's the fourth successive year that the Swedes are exiting without getting to the final four.
Raymond drew an assist on Sweden's only goal of the game. He wound up finishing the tournament as his country's top scorer. Raymond was accounting for 2-6-8 totals.
Unfortunately, he's also leaving the event with one less tooth in his mouth. Raymond lost a tooth in Sweden's last game of pool play against the USA. He was clipped in the mouth with a stick.
"It's never fun to have a tooth knocked out, so it's clear that you get a little irritated," Raymond explained to Swedish sports site Aftonbladet.se. Raymond underwent dental work on Wednesday to repair the damage done to his choppers.
Incoming visit from the tooth fairy for Lucas Raymond
pic.twitter.com/VkxQyRGS9Y

— Barstool Detroit (@BSMotorCity) May 23, 2023
"I got half the tooth back, so it's nice anyway," Raymond said. "I received good dental care from a dentist after the match."
The Detroit player was more contemplative about his dental damage after the repair work was completed.
"I've lost a tooth," Raymond said. "It's just a matter of moving on. You can get by without a tooth."
Red Wings Berggren Given Benching In Quarterfinals
Raymond was skating on Sweden's top forward line for much of the tournament alongside 2023 NHL entry draft prospect Leo Carlsson and Red Wings teammate Jonatan Berggren. However, prior to the Latvia game, Sweden coach Sam Hallam made the puzzling decision to demote Berggren down to the team's 13th forward.
Jonatan Berggren has a 7 game point streak at the World Championships.

Benching him and losing against Latvia in the quarterfinals isn't a great look for Tre Kronor coach Sam Hallam.

— IcehockeyGifs (@IcehockeyG) May 25, 2023
Berggren was second on the team in scoring with seven points (2-5-7). He had a point in every game during pool play.