Red Wings Review: Jonatan Berggren's Future
Berggen was named Red Wings rookie of the year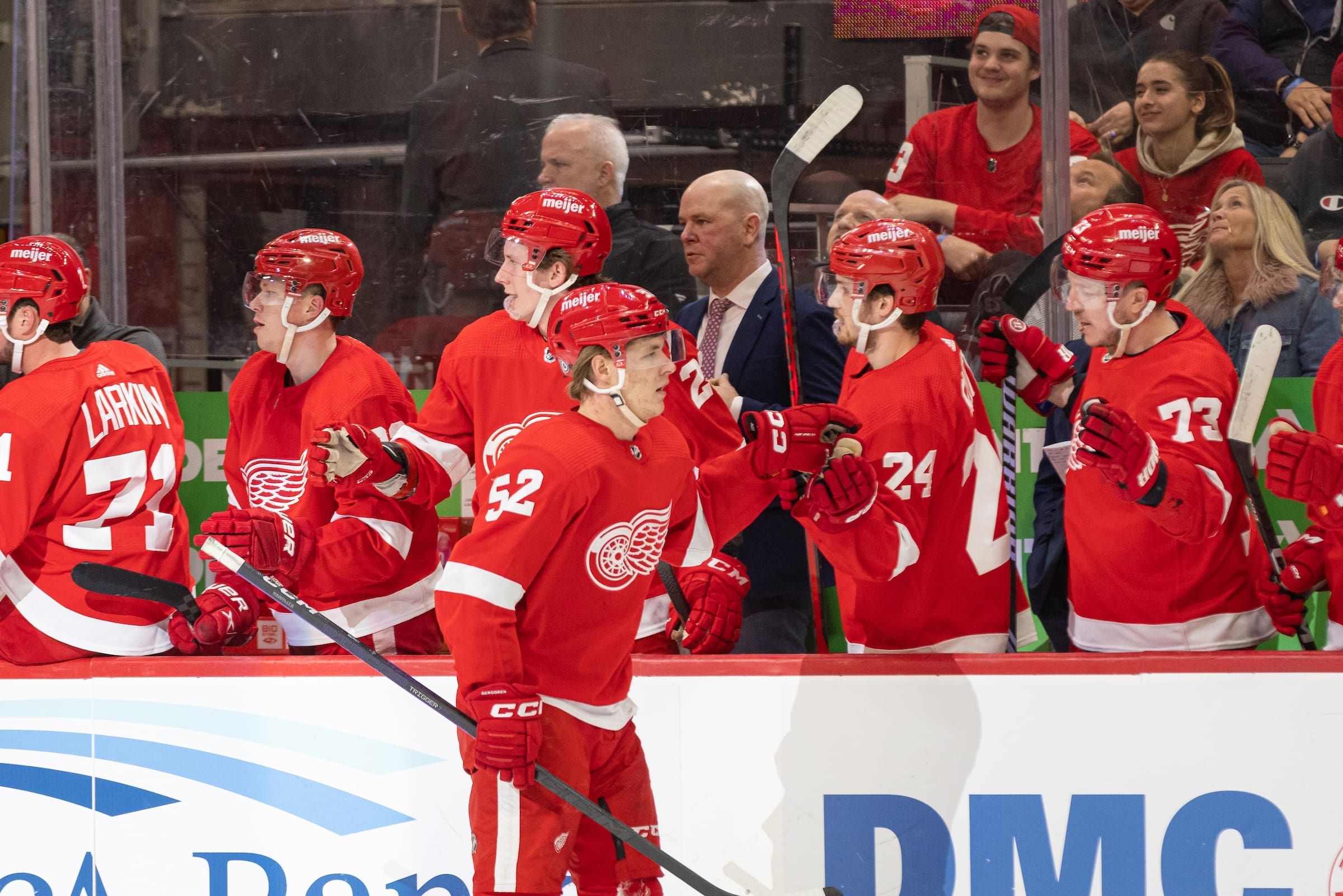 Detroit Hockey Now's Red Wings Review series is assessing every player who held a significant place in the fortunes of the 2022-23 Detroit Red Wings season. We'll be looking at the highs and lows they experienced during the recently-completed campaign, as well as what the future holds for them in Detroit. Today, we feature forward Jonatan Berggren
Jonathan Berggren
Position: Left Wing
2022-23 totals (GP-G-A-P): 1
Contract Status: Signed through the 2023-24 season at an AAV of $925,000
Season Synopsis
The complexity and perplexity that is Jonatan Berggren's career with the Detroit Red Wings was on full display at both ends of the spectrum this week. On the one hand, he was presented with acknowledgement as the club's rookie of the year. At the same time, while playing for Sweden at the IIHF World Championship, despite collecting a point in every game during pool play, Swedish coach Sam Hallam was benching Berggren for Sweden's quarterfinal loss to Latvia. Skating as Sweden's 13th forward, Berggren saw just 3:10 of ice time the entire game.
Jonatan Berggren 🇸🇪
pic.twitter.com/ulgdXdZzRk

— Florian Azeltyr (@azeltyr) May 18, 2023
"It's all about consistency at that age," veteran Red Wings forward Andrew Copp said. "Hopefully he'll find a way to kind of solidify himself as an NHL player for next season."
That's the bottom line with Berggren, 22. He has a lot to offer to teams in the offensive zone. However, he also has much to learn about how to play the game with discipline and consistency when not in possession of the puck, or in the attacking zone.
2022-23 Red Wings Highlights
From the moment he was given his recall from AHL Grand Rapids to the Red Wings on Nov. 10, Berggren was turning heads. He would collect an assist for his first NHL point in his Nov. 10 debut against the New York Rangers. Two games later, Berggren would tally his first NHL goal at Anaheim.
"I thought Bergie was a nice surprise coming in," Detroit forward David Perron said. "I think there will be even more competition next year for him to come, so I think he needs to have a good summer as well."
BERGY BERGY BERGY! 🍔

Jonatan Berggren has been named the 2022-23 Red Wings Rookie of the Year by @TheDSportsMedia!

📰 » https://t.co/aM6oBWiYH1 pic.twitter.com/YUcLjaxLyG

— Detroit Red Wings (@DetroitRedWings) May 23, 2023
Playing in 67 games, Berggren led all Swedish NHL rookies in scoring. He ranked among the NHL's rookie leaders with 15 goals (7th), 28 points (14th), five power play goals (T3rd), nine power play points (T7th) and a 15.3 shooting percentage (3rd). His hooting percentage was the highest of any Red Wings rookie (minimum one shot per team game) since Henrik Zetterberg finished at a 16.3% in 2002-03.
2022-23 Red Wings Lowlight
Long goalless droughts were populating Berggren's stat line. He tallied once in 11 games from Dec. 29-Feb. 9. Over his last 20 games of the season, the young Swede was good for just three goals.
"I have no problem saying he took a dip in his game towards the end of the year," Red Wings coach Derek Lalonde said of Berggren. "Understandable for young players. We asked a lot of those guys. After the (NHL trade) deadline his role increased more and there was an obvious dip in his production, and in some of his five-on-five play."
 What Does His Detroit Future Hold?
It's easy to see Berggren playing a bigger role in Detroit's future. It's equally feasible that at some point, he could be valuable as part of a package moved to upgrade the club's roster. As a rookie, Berggren was showing flashes that he can be a productive offensive player.
FanDuel Sportsbook Promo #1
ALL STATES WHERE LEGAL
GET THE APP
SIGNUP BONUS
$1000 No Sweat Bet


$1000 No Sweat Bet
BET NOW
That being said, there was also solid evidence that his game is a long way from being a finished product. His defensive decision making often left his teammates in a lurch. Another issue with Berggren was too many needless penalties in the offensive zone or away from the play.
"A very important offseason," Lalonde said. "You would hope there's a natural growth and progression in his game and he'll be better for it once camp starts next year."