The Daily: Red Wings Seider vs. Yzerman For World Honors; Cossa Chased, Walleye Ousted
Germany facing Canada in IIHF World Championship gold-medal game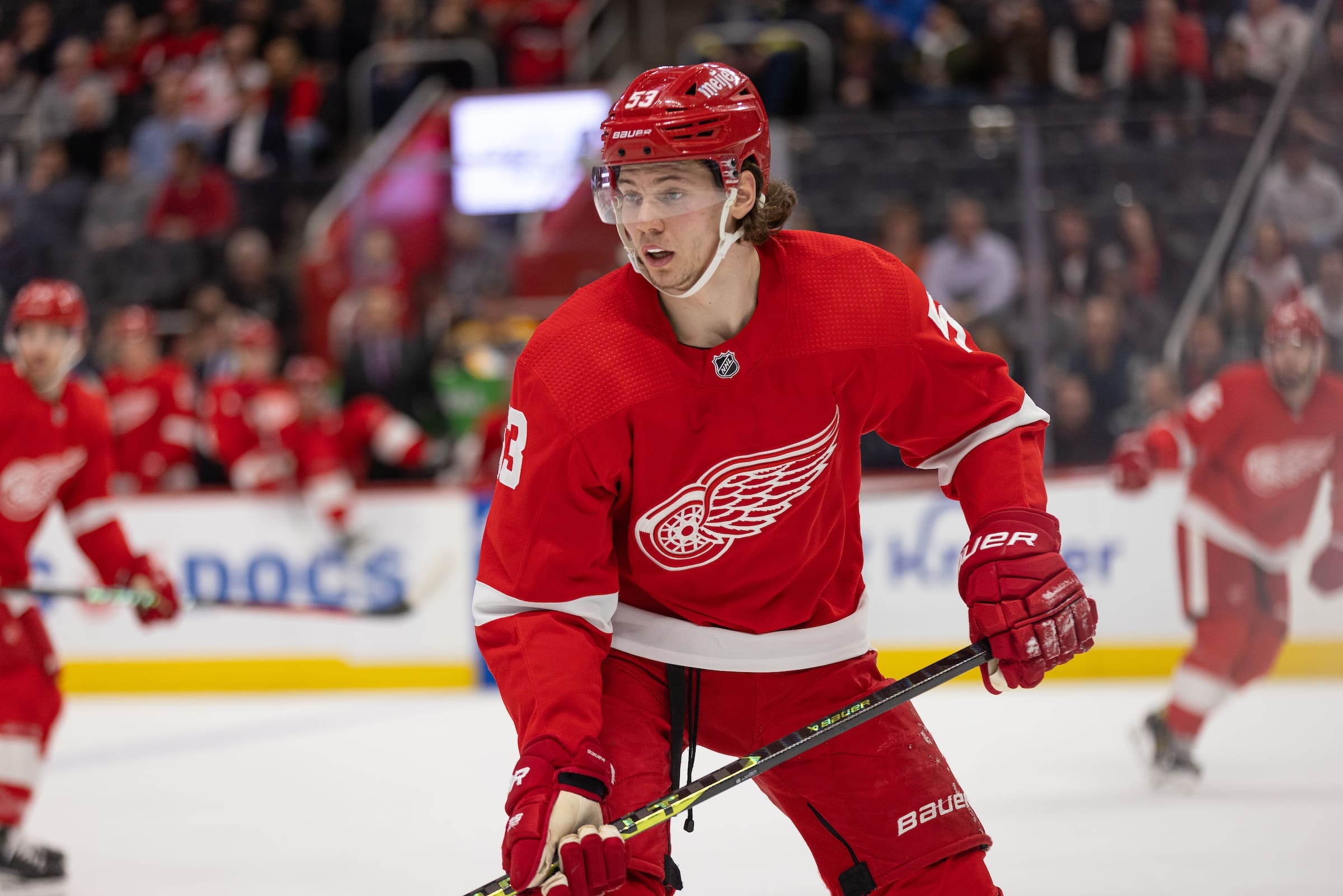 In his first NHL entry draft as GM of the Detroit Red Wings, Steve Yzerman selected German defenseman Moritz Seider at sixth overall. Yzerman held the belief that Seider would develop into a world-class player.
Since that day, Seider has done nothing but prove his boss to be correct. Sunday, that prognosis could prove to be much to Yzerman's chagrin.
Seider and the Germans will be facing Canada in the gold-medal game at the IIHF World Championship. Yzerman is assistant GM of the Canadian squad. Red Wings assistant coach Alex Tanguay is filling a similar role for Canada.
HEADING TO THE FINALS‼️🇩🇪🎉 @deb_teams #IIHFWorlds #USAGER pic.twitter.com/NEhsO0C1eG

— IIHF (@IIHFHockey) May 27, 2023
Germany beat the USA 4-3 in overtime in Saturday's semifinals to advance. They are guaranteed their first medal at the worlds since winnng silver in 1953. Germany also earned silver in 1930 but has never won the gold medal.
"Many people wrote us off before the World Cup," Seider told Eishockeynews.de. "We have now shown it to them. We've secured a medal and now we're one step away from making even more history."
In the bronze-medal game, the USA will be facing Latvia. Red Wings coach Derek Lalonde on the USA coaching staff. Detroit prospect Carter Mazur, who finished last season with the AHL Grand Rapids Griffins, is playing for the American squad.
Red Wings In Case You Missed It
Red Wings Offseason
Ultimately, the Idaho Steelheads were proving to be too much for Sebastian Cossa and the Toledo Walleye to handle. In Game 5 of the WCHL Western Conference final, Red Wings 2021 first-round pick Cossa was chased from the net. He gave way to fellow Red Wings prospect John Lethemon after allowing four goals on nine shots in 30:08. Iadho went on to win the game 5-1 and took the best-of-seven series 4-1.
Hockey Now Network
Florida: Yes, that was Florida Panthers star Matthew Tkachuk joshing with Shaq as part of the NBA on TNT show.
Vegas: Panic in Sin City? After winning the first three games of the Western Conference final, the Vegas Golden Knights have dropped two in a row to the Dallas Stars.
Pittsburgh: Should the Pittsburgh Penguins walk away from the contract of goaltender Tristan Jarry?
Philadelphia: GM Daniel Briere says that he'll consider trading Philadelphia Flyers goalie Carter Hart.
Washington: According to published reports, Spencer Carbery is still in, while Bruce Boudreau is out in the Washington Capitals coaching search.
Boston: Might former Boston Bruins GM Peter Chiarelli really be the next GM of the Toronto Maple Leafs?
Buffalo: Just beating the deadline, the Buffalo Sabres were signing 2019 first-round pick Ryan Johnson to an entry-level contract.
Montreal: Will the Montreal Canadiens be signing prospects Frederik Dichow and Joe Vrbetic? If not, they'll be relinquishing draft rights to the two netminders on June 1.
BetMGM Sportsbook
States: All States Where Legal
GET THE APP
SIGNUP BONUS
UP TO $1,000!


Up To $1000 Paid Back in Bonus Bets
BET NOW
Colorado: Will Johnson will the Colorado Avalanche opt to keep on their defense? Erik or Jack?
Chicago: Looking back at the season former Red Wings goalie Petr Mrazek enjoyed with the Chicago Blackhawks.
Nashville: The latest news on the coaching search of the Nashville Predators.
Calgary: Today's hot topic is Calgary Flames coaching candidates.
San Jose: It's been 15 years since a goaltender the San Jose Sharks drafted made the NHL. That was former Grand Rapids Griffins netminder Harri Sateri.