Red Wings Review: Joe Veleno's Future
The 2022-23 season was Veleno's first full NHL campaign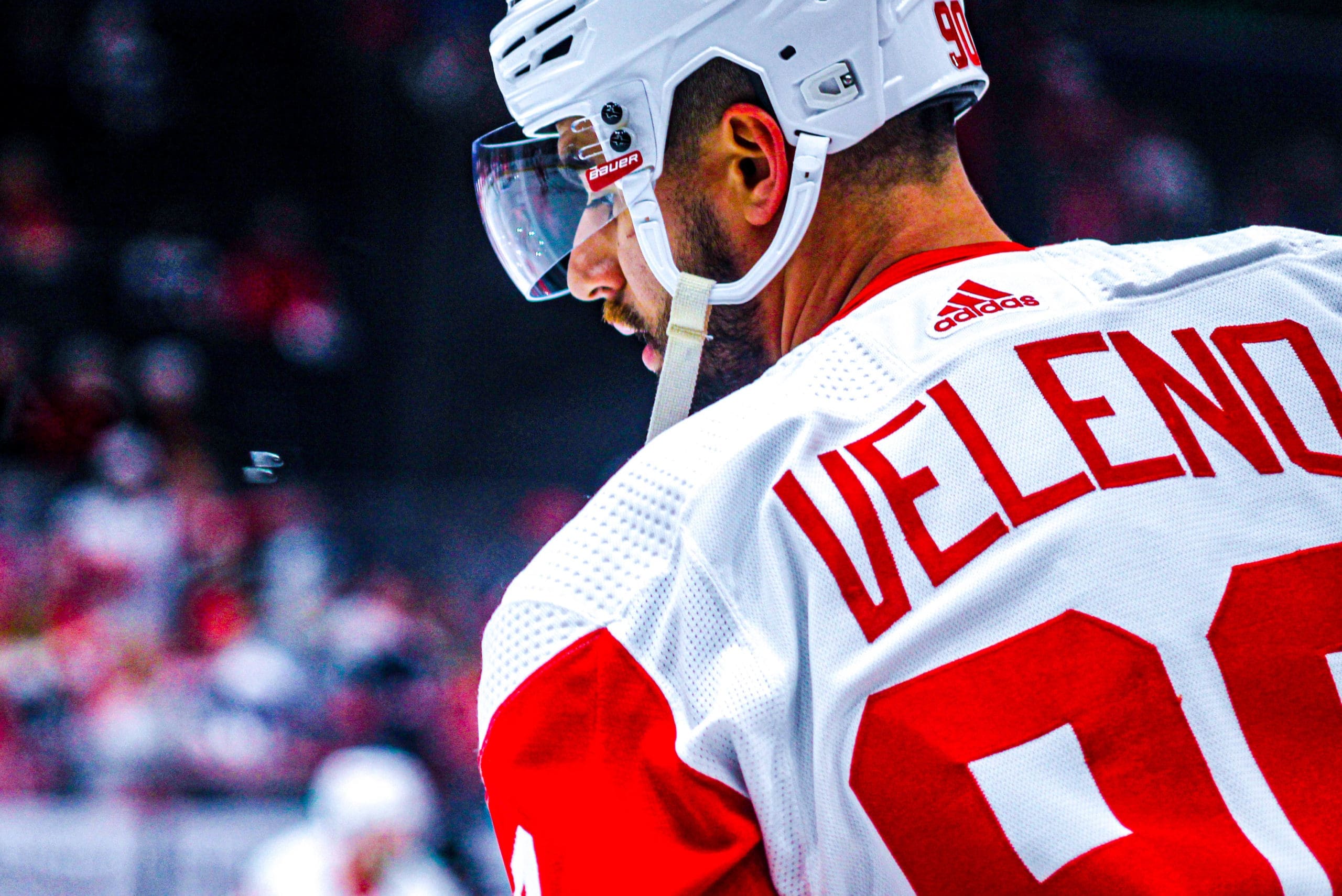 Detroit Hockey Now's Red Wings Review series is assessing every player who held a significant place in the fortunes of the 2022-23 Detroit Red Wings season. We'll be looking at the highs and lows they experienced during the recently-completed campaign, as well as what the future holds for them in Detroit. Today, we feature Joe Veleno
Joe Veleno
Position: Center
2022-23 totals (GP-G-A-PTs-): 81-9-11-20
Contract Status: Will be a restricted free agent (RFA) this summer
Season Synopsis
There were a number of positive developments for Detroit Red Wings center Joe Veleno during the 2022-23 NHL season. He posted career highs in all offensive categories while playing in 81 games during what was his first full season in the show.
Joe Veleno appeared to stomp on Nino Niederreiter during a game at the men's World Championships

(via @SEllisHockey) pic.twitter.com/D2aouSYkPm

— B/R Open Ice (@BR_OpenIce) May 20, 2023
However, his last act on the ice for the year will be the one that everyone remembers. Playing for Canada at the IIHF World Championship, Veleno was issued a five-game suspension for kicking his skate blade down on the leg of Switzerland's Nino Niederreiter, effectively ending Veleno's tournament.
"I accept the sanction from the IIHF and apologize for my actions," Veleno said afterward in a statement.
2022-23 Red Wings Highlights
Veleno assembled a six-game point streak from Dec. 19-31. He was collecting 2-4-6 totals through this span. Veleno tallied the game-winning goal Jan. 19 at Vegas.
Red Wings tied up 1-1 at the first intermission vs. the Rangers. Joe Veleno has the lone goal for the Wings! #LGRW pic.twitter.com/fo0MuhMxAj

— Woodward Sports Network (@woodwardsports) November 11, 2022
"I thought it was a decent year," Veleno said. "I've obviously taken some strides in my game and developed in a lot of areas.
"I'm gonna work really hard this summer and become a better hockey player and be taking other steps next year come training camp."
2022-23 Red Wings Lowlight
Over the final 33 games of the NHL season, Veleno accounted for just 2-2-4 numbers. He was pointless for 20 consecutive games from Feb. 15th March 25. He was also goalless for 25 games in a row from Feb. 9 through March 30.
While he can't continue to have such gaps in production, the fact of the matter is what Veleno is capable of bringing to the ice shouldn't only be meaasured on the scoresheet.
"A lot of people look at the numbers, the production offensviely," Veleno said. "In their mind, they'd like for me to be that type of player. Obviously I think everyone wants to.
"I think there's different parts that go with the game of hockey and I think for me a lot of my game relies on me being a two-way center, being responsible in my own zone. That's still something I want to be better at. Be better defensively and I think overall just being harder to play against.
"If I can do those things well, if I can be hard to play against it will result in me being on the ice more and having more of the coaches trust."
 What Does His Detroit Future Hold?
While there certainly appears to be more clarity as to whether Veleno has an NHL future – he does – exactly what that future will be remains behind cloud cover. Can he score enough to be a top-nine forward? Or is Veleno destined for fourth-line duty as an NHLer?
We still don't know. At 6-foot-1 and 203 pounds, Veleno definitely possessed the tools to be a physical presence on the ice. He frankly admits that he needs to up his game in this area.
"That's definitely one thing that I want to bring to the table," Veleno said. "I've got the size for it and the ability to be hard to play against. It doesn't necessarily mean I should go out of my way to run guys. I don't think I'm that type of player.
"I think what I could do is use my intensity and my physicality and my size to win more puck battles and more races."
If Veleno can score between 12-15 goals per season and play with a physical presence, he can be a valuable Red Wing for many years to come.
FanDuel Sportsbook Promo #1
ALL STATES WHERE LEGAL
GET THE APP
SIGNUP BONUS
$1000 No Sweat Bet


$1000 No Sweat Bet
BET NOW
I think I could, I think I have that ability in me," Veleno said of delivering those qualities with more consistency. "I just gotta keep working at it. There were times obviously when I was a little frustrated. I missed on a lot of chances, I mean good quality Grade-A chances this year that probably could've resulted in goals.
"I gotta bear down a little bit more and focus a little bit more. The work that I'm gonna put in this summer will translate to that."