Yzerman Has the Cap Space to Make Some Noise This Summer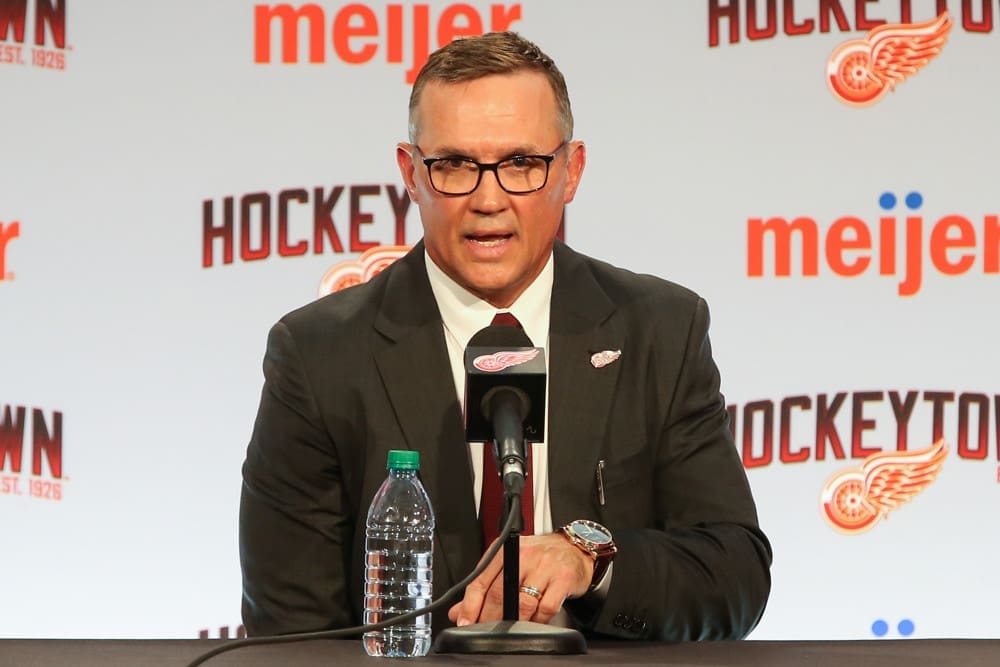 GM Steve Yzerman has more than $31 million in salary cap space heading into this offseason. That gives him the opportunity to be as aggressive as he was last summer when he acquired Ville Husso in a trade and signed a handful of free agents.
Depending upon how you see Detroit's roster, he has already committed about $52 million to 14 players. That does not include Joe Veleno who is a restricted free agent, or Marco Kasper or Simon Edvinsson or Albert Johansson who probably have the best chance among youngsters to make the team. It does not include Elmer Soderblom who could be on the opening day roster. But he needs to show well at training camp.  Austin Czarnik is signed, but isn't on our list because he likely to have the same role he had last season when he was a Griffins player unless Detroit had injury issues.
If we estimate a new Veleno deal for a $1.4 million per season cap hit over for two seasons, we have Yzerman at just under $30 million to spend with eight players to sign.  If we believe it's likely Edvinsson will make the team, based on where his game was at with Detroit late last season, then Yzerman has just over $29 million with seven players left to sign.
Before we go further, let's remind ourselves that detail-oriented Yzerman will be looking ahead, knowing that he needs to re-sign Moritz Seider, Lucas Raymond and Michael Rasmussen next summer. Those contracts won't be cut-and-dry as re-signing Veleno.
Yzerman's Buying Power
If Soderblom, Johansson or Kasper make the team, it enhances Yzerman's buying power because all three are are on standard entry level deals paying them less than $900,000.
Bottom line: Yzerman has the cap room to bring in a high-priced difference-maker through a trade or free agent signing.
Even Yzerman doesn't know exactly what he will do this summer, because he has no idea who is willing to come to a rebuilding Detroit team or what kind of money specific players want. He doesn't know what options will present themselves. But the Red Wings have a list and it seems clear Yzerman wants to be aggressive. He will be looking in the goalie market for a proven veteran to back-up Husso. He is also hunting for goal scorers, a veteran right-shot defenseman and some size and toughness. There was plenty of discussion in last season's aftermath about making sure the Red Wings will possess more push-back next season.
Yzerman will look into the trade market. Will he call  Toronto about William Nylander or Mitch Marner? Or, Calgary about Tyler Toffoli? The issue for Yzerman in trade scenarios is that teams are usually looking for youngsters and draft picks in return. It doesn't seem that Yzerman is in the position to make those kind of  deals. But you also must factor in that Yzerman has a history of being able to make deals.
And he is never predictable.