Gotta See It: Sparkling Clear Footage of 1953 Red Wings vs. Canadiens
Detroit and Montreal met five times in the playoffs between 1951-58.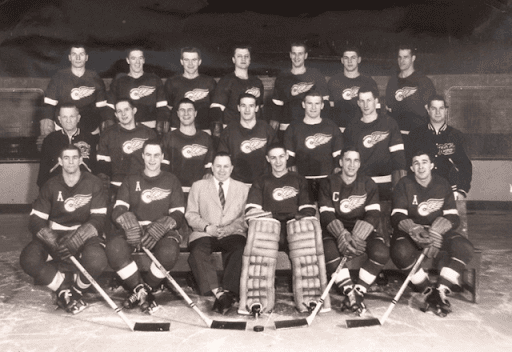 In the 1950s, there was no more fierce rivalry in the NHL than the Detroit Red Wings and Montreal Canadiens. Between 1950-59, the two teams won nine of the 10 available Stanley Cup titles. Twice Detroit beat Montreal in the final series, while the Canadiens got the better of the Red Wings one time in the final and twice in the semifinals.
The Montréal Canadiens playing the Detroit Red Wings at The Forum in 1953. credit: NFB pic.twitter.com/4M7fiPKLOm

— Morgan Cameron Ross (@Morgan_C_Ross) June 1, 2023
Check out this crystal clear footage shot by the National Film Board of Canada. It's from a 1953 game at the Montreal Forum between the Habs and Wings. The action not only provides an eye-witness account of the rivalry, it also opens a window into the intense dislike the teams held for each other. It's obvious from the up-close video on display that the NFB cameras were given unique access to film this game.
Fierce Battles Between Canadiens And Red Wings
There's a massive collision between defensemen Benny Woit of Detroit and Montreal's Dollard St. Laurent. Red Wings defenseman Marcel Pronovost his also laid out by a stuff bodycheck as he's seeking to carry the puck into the Montreal zone. Twow of hockey's most determined competitors clash in a fierce board battle when Montreal's Maurice (Rocket) Richard becomes entangled with Detroit captain Ted Lindsay. In later action, Richard delivers a two-handed baseball swing slash across the right ankle of Detroit's Gordie Howe.
FanDuel Sportsbook Promo #1
ALL STATES WHERE LEGAL
GET THE APP
SIGNUP BONUS
$1000 No Sweat Bet


$1000 No Sweat Bet
BET NOW
Gordie Howe's inate ability to slow the game down his pace and take control is also evident. You also get to see the spectacular work between the pipes displayed by Terry Sawchuk.
There's even a cameo appearance by the original Newsy Lalonde. No, not current Red Wings coach Derek (Newsy) Lalonde, but Edouard (Newsy) Lalonde. He was the star of the Canadiens when the NHL was born in 1917. Lalonde was a two-time NHL scoring champ with the Habs, in 1918-19 and 1920-21. He just happened to be in attendance at the game, and the cameras caught in his seat, watching the action unfold.