Red Wings Pick Buchelnikov Russian U23 Selection
Russian U23 squad part of next month's Sochi Tournament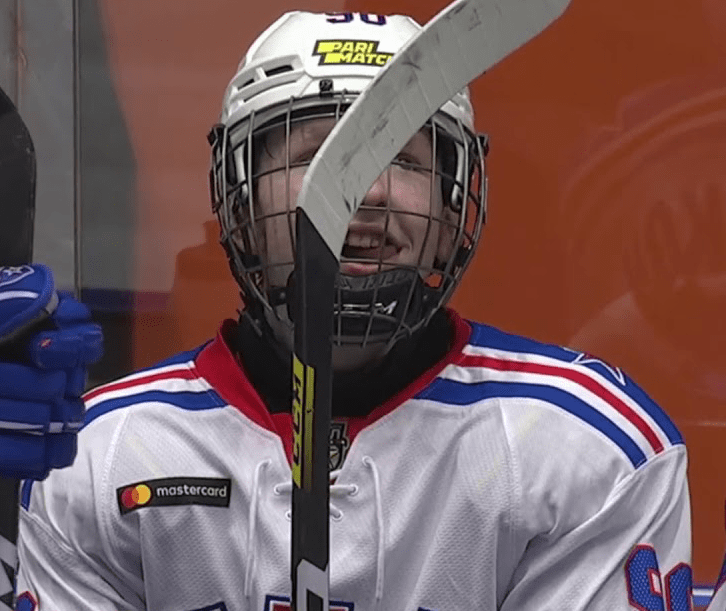 Russia may still be banned from international hockey, but that won't be preventing Detroit Red Wings draftee Dmitri Buchelnikov from representing his country.
Russia's under-23 national team will be playing in the upcoming Sochi Tournament. The event is one of the biggest KHL preseason tourneys, often serving as a showcase for upcoming Russian talent. With the unveiling of the team selection earlier this week, Buchenikov's name was on the list.
#FueledByPhilly Matvei Michkov, #LGRW Dmitri Buchelnikov, #NJDevils Arseni Gritsyuk and the rest of SKA start off training camp with a run. 🏃 #KHL pic.twitter.com/bP96zZHFBS

— Hockey News Hub (@HockeyNewsHub) July 23, 2023
Buchelnikov, 19, also saw action in last season's Sochi Tournament. Playing for the Russian U25 squad, he wound up collecting 3-2-5 totals through five games, earning him recognition as the top forward of the tournament. Two of his goals were game winners.
The player who Detroit made the 51st selection of the 2022 NHL entry draft is among nine SKA St. Petersburg players who were earning selection to the Russian U23 squad. The select team of young Russian stars will play games against Sochi (August 3), Admiral (August 5), Avangard (August 7) ​​and SKA (August 8).
Buchelnikov Still Uncertain Of 2023-24 Team
At this time where Buchelnikov will be playing his club hockey during the upcoming season remains uncertain. Early in the offseason, there was strong speculation that SKA would be loaning him to another KHL club. Lada and Sochi were the favorites to land Buchelnikov's services on loan. Top 2023 draftee Matei Michkov was a loanee to Sochi by SKA last season.
However, to date, there's been no announcing of a transaction involving Buchelnikov, who is under contract to SKA through the 2024-25 season. He split last between SKA-1946 of the Russian Junior League (MHL) and SKA Neva of the Russian Second Division (VHL).
FanDuel Sportsbook Promo #1
ALL STATES WHERE LEGAL
GET THE APP
SIGNUP BONUS
$1000 No Sweat Bet


$1000 No Sweat Bet
BET NOW
Buchelnikov accounted for 15-13-28 totals in 35 regular-season games with SKA Neva. In a brief fling in the junior ranks, he was good for 5-7-12 totals in just four games with SKA-1946.
He also was making his debut in the KHL, compiling 1-1-2 totals in 10 games for SKA.
"This experience showed me what I need to work on and in what aspects I need to improve," Buchelnikov told Championat.com. "In SKA, they just show me everything. We have analysis of matches, where they talk about all the mistakes."
Buchelnikov also has regular meetings with Red Wings Russian scout Nikolai Vakourov to discuss his progress.
"When he comes to matches, he talks about some shortcomings and minuses that need to be corrected," Buchelnikov explained.
During his draft year, Buchelnikov wound up second in the MHL scoring race with 31-43-75 totals in 56 games for SKA-1946.