Detroit Red Wings superstar Gordie Howe rookie card sells for record $210,330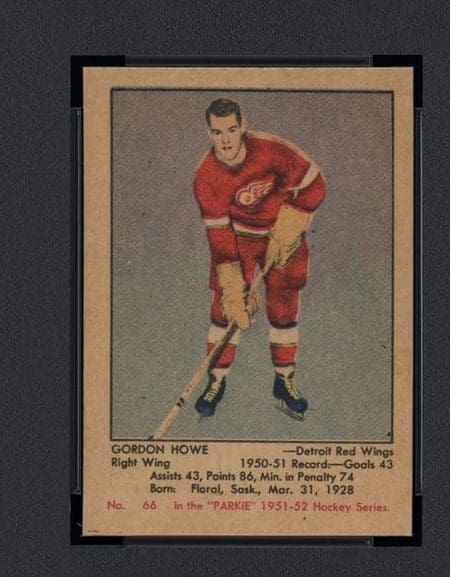 Former Detroit Red Wings superstar Gordie Howe is as valuable as a hockey card is he was as NHL superstar. A PSA-graded 1951 Parkhurst Howe rookie card sold for $210,330 on May 23 through Goldin Auctions.
It is the highest amount ever paid for a Howe rookie card. The card was graded 8.5 out of 10, making it one of the top three Howe known graded cards.
"The market does seem a little bit out of whack, but a lot of wealthy people are bringing new money into the market," said Steve Charendoff, owner of Rittenhouse trading cards and an avid collector of graded sports cards.
PSA graded 34 Howe rookie cards at 8 out of 10, and two at 8.5 and one at 9.0. No Howe rookie card graded at 10.
The big Howe sale comes during a period when graded trading card sales have wildly escalated.  Two weeks ago, a 1979 Wayne Gretzky rookie card, a PSA 10 grade, sold for $3.75 million. That was three times the price a PSA 10 Gretzky sold for two months before.
"A think a lot of people who are bringing in the new money probably never saw Gordie play," Charendoff said. "But they probably did see Gretzky play and probably have an appreciation of the greatness of the guy."
Trading card prices skyrocketing
Charendoff said he has seen the cards of baseball prospects go for $15,000. On eBay, someone is asking for $499.99 for Red Wings' prospect Moritz Seider's rookie card.
Today, someone is offering a Howe rookie, graded a PSA 8, for $95,000
"You are left wondering, 'What's going on here?,'" Charendoff said. "You have a trading card of someone who hasn't set foot on a major league field selling for more than a Tom Seaver rookie."
It is hard to guess what the PSA 9 Howe would go for if it came to the market.
Even lower graded Howe rookies are costly
The Goldin Auctions Howe card sold for more than Howe earned playing for the Red Wings. Howe made $45,000 in 1968-69. His salary increased to $100,000 salary in 1969-70 and 1970-71. Those were his last two seasons with the Red Wings. Howe and his two sons were paid $2.2 million over four years to jump to the World Hockey Association to play for Houston.
If you have your heart set on a Gordie Howe rookie, it is now costly to get even a low grade version. A review of eBay shows even lower grade Howes are selling for $10,000 or more.