Former Red Wings Goalie Hasek Doubting He'll be Picked to Run Czech Hockey
Former Detroit Red Wings Goalie Dominik Hasek thinks he's too opinionated to be named President of the Czech Ice Hockey Association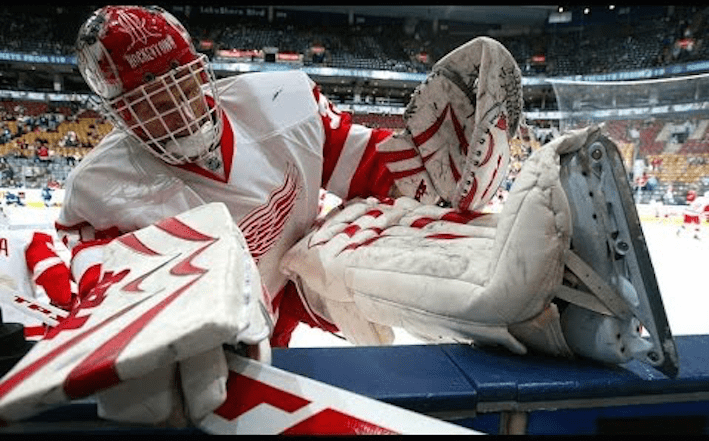 Former Detroit Red Wings goalie Dominik Hasek is of the belief that the Czech Ice Hockey Association needs him to be their new president.
"No one else can pull people around me like I do," Hasek told Czech webiste iSport.cz. "No one else can go to this job with such commitment."
SIGNUP BONUS
UP TO $250


BONUS MONEY
BET NOW
At the same time, Hasek is of the opinion that he's not the preferred choice as the next president of the Czech Ice Hockey Association.
"Someone doesn't want a change," Hasek said. "I'm third now."
Certainly, Hasek, 57, isn't someone to sugarcoat his message. He has always worn his heart on his sleeve and expressed exactly how he felt on an issue, even if it was going to hurt some feelings.
Hasek A Czech Icon
As an NHLer, Hasek won six Vezina Trophies and two Hart Trophies. He's the only goaltender in NHL history to win successive nods as league MVP.
Serving three separate stints with the Red Wings, Hasek won Stanley Cup titles in 2001-02 and 2007-08. During the 2002 postseason, he became the first goalie in NHL history to record a shutout in each of the four rounds of the Stanley Cup playoffs.
On this day in 2002, @DetroitRedWings' Dominik Hasek stopped all 17 shots he faced to become the first goaltender to have a shutout in each of the four rounds of the Stanley Cup Playoffs #Hockey365 #LGRW pic.twitter.com/p2ORWFXBe8

— Mike Commito (@mikecommito) June 10, 2022
However, in his homeland, the man known as The Dominator will be revered forever for delivering the 1998 Nagano Winter Olympic gold medal to the Czech Republic. That was the first year in which NHLers competed at the Olympic Games and it was Hasek who stole the show.
"All kids loved him and wanted to be like him," Colorado Avalanche Czech goalie Pavel Francouz said during media day at the Stanley Cup final.
Selling His Plan
Hasek is up against four others for the position in charge of Czech hockey. The other candidates include Jiri Slegr, his teammate with the Cup-winning 2001-02 Red Wings.
Since announcing his candidacy, Hasek has spent much of his time visiting the various Czech hockey clubs to share his vision for the sport in their country.
Frankie on Hasek being biggest influence. pic.twitter.com/R1EDm7cryD

— Darren McKee (@DMacRadio) June 14, 2022
"Yes, I have already visited almost everyone, about sixty people who did not refuse," Hasek told iSport.cz. "Above all, I talked to those I went around from the beginning and listened to their ideas.
"From this I have prepared a program or rather a certain vision, which I want to promote if I am elected. And I gradually acquaint everyone with this program. Of course, preferably in person again."
Voting to determine a new president of the Czech Ice Hockey Association will be taking place on Saturday, June 18.