Red Wings Daily: Great One Wore it Best, But Mr. Hockey Wore it First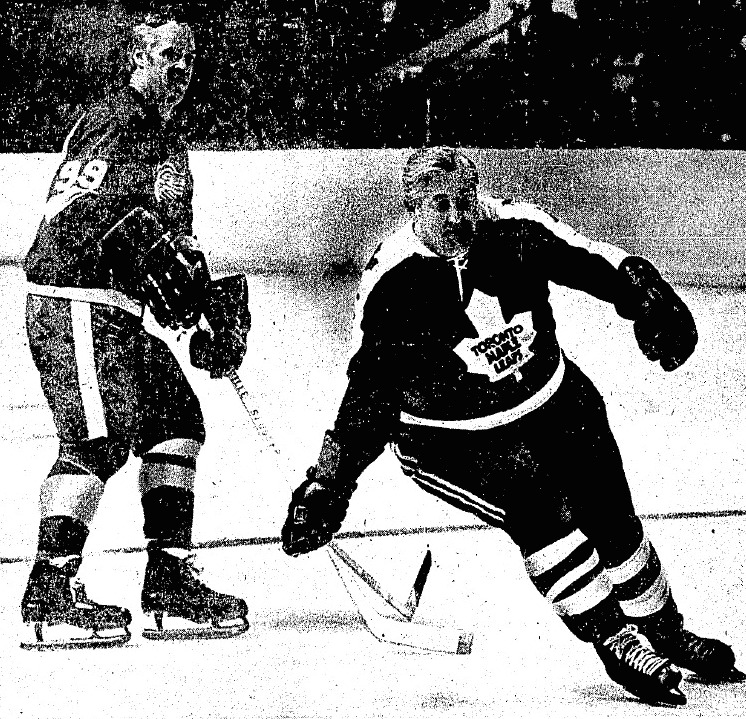 The photo from the Toronto Star of a Detroit Red Wings vs Toronto Maple Leafs NHL oldtimers game from the early 1970s is black and white and grainy. Yet you can clearly make out that the Detroit player in the pic is none other than Gordie Howe.
What's that number on the arm of Mr. Hockey's Red Wings jersey?
No. 99?
Yes, that's what it is. The Great One, Wayne Gretzky certainly wore it best. But of these two legendary hockey icons, it's now evident that Gretzky's childhood hero wore it first.
It's too bad Gordie Howe and Wayne Gretzky never got to face off – hang on, being told that happened and it was glorious … pic.twitter.com/l5MjISImFd

— Super 70s Sports (@Super70sSports) December 13, 2020
There's no explanation in the cutline why Howe's sweater – adorned for 24 seasons in Detroit with No. 9 – has doubled down on the nines. Other than his rookie season with the Red Wings when he was No. 17, Howe wore No. 9 for the remaining 31 seasons of his astonishing major pro career.
Gretzky first donned No. 99 in the OHL with the Sault Ste. Marie Greyhounds in 1977-78. He did so because veteran center Brian Gualazzi was already wearing No. 9 for the Soo.
Hockey insiders have long considered Wayne Gretzky, Sammy Davis Jr., and Gordie Howe the ultimate dream line. pic.twitter.com/fOW8f8IVwV

— Super 70s Sports (@Super70sSports) September 19, 2021
For much of his career prior to that and with Canada at the 1978 World Junior Championship, Gretzky wore No. 9 in honor of Howe, his favorite player.
Red Wings In Case You Missed It
The Red Wings are hoping they got a sleeper pick with 2020 seventh-round draft choice Brennan Ali
Former Red Wings goalie Dominik Hasek is offering criticism of Czech players opting to sign to play in the KHL
The Buffalo Sabres also were seeking Detroit first-round pick Marco Kasper and were even trying to trade picks with the Red Wings so that they could select him
Hockey Now Network
Vancouver: The Vancouver Canucks will have prospects on both of Sweden's World Junior teams – the one playing next month and the one that will begin the next tourney in December.
Montreal: The Montreal Canadiens are hiring former NHL defenseman Stephane Robidas as an assistant coach.
Calgary: Trying to figure out the forward lines through all the recent changes with the Calgary Flames.
Vegas: Brayden Pachal, captain of the Vegas Golden Knights AHL farm club the Henderson Silver Knights, is signing a new contract with the club.
San Jose: Chris Morehouse, most recently the New York Rangers' director of North American scouting, will be named the new Director of Amateur Scouting for the San Jose Sharks.
Colorado: As good as Colorado Avalanche defenseman Cale Makar was looking while winning the Conn Smythe Trophy in the Stanley Cup playoffs, it turns out he was even better than everyone was thinking.
Florida: A way-too-early look at the lineup the Florida Panthers will go with for the 2022-23 NHL season.
SIGNUP BONUS
UP TO $250


BONUS MONEY
BET NOW
Islanders: The New York Islanders spent $50,000 on 25,000 tickets for Friday's $1.28 billion Mega Millions lottery draw. If they hit a winner, the plan is to split the profits 50-50 with season ticket holders. This would never work as a Red Wings promotion. Everyone knows Detroit has no luck in the lottery.
Philadelphia: Restricted free-agent forward Owen Tippett and the Philadelphia Flyers agreed to terms on a two-year deal that has an annual $1.5 million cap hit.
Washington: The Moscow Dynamo youth club had a surprise visitor. It was Washington Capitals captain Alex Ovechkin.
Boston: What do these current and former Boston Bruins have in common with Chevy Chase? They've both gone on a European vacation . . . and it's on film.
Pittsburgh: The Pittsburgh Penguins are one among many NHL teams dealing with a salary cap crisis.