Red Wings Prospect Hanas a Hockey Cross Trainer
Cross Hanas considers himself first and foremost to be a playmaker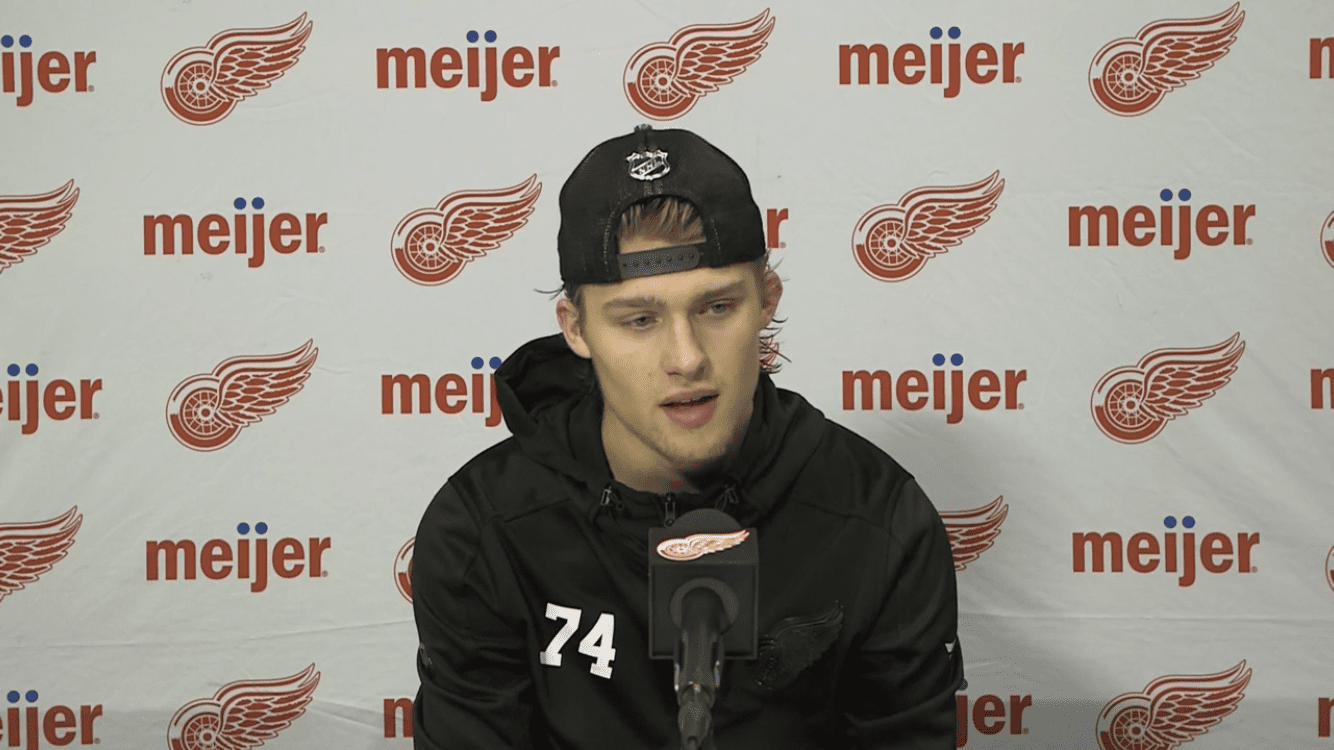 Detroit Red Wings propsect Cross Hanas isn't as much about fitting into a box as he is about checking off boxes.
Playmaker? Yes, that would be his forte.
"I think of myself as a playmaker," Hanas said. "I like making plays. Setting guys up is kind of what I find myself enjoying. I've been that way my whole life."
Goal scorer? Sure, when the opportunity arises, he'll be happy to finish them off.
"I love to score, obviously but I think setting guys up is a big part of my game," he said.
SODERBLOM → HANAS! 🚨🚨#DRWPT pic.twitter.com/aNsWlvACuV

— Detroit Red Wings (@DetroitRedWings) September 17, 2022
Power-play performer? He certainly possesses all the requisite skills.
"I think just sticking to what I'm best at, making smart plays and being a good offensive guy, but also keep growing my defensive area of the game," Hanas said. "I'm just trying to show them that my two way game is getting a lot better. Just trying to prove that, too."
Penalty killer extraordinaire? Hanas believes his insights as an offensive player make him the ideal one to work on the kill.
"If you're on the defensive side, but you kind of know what the offensive guy is maybe thinking, you can kind of be in the right spot there," Hanas explains.
Responsible enough to defend a lead? That's an objective Hanas has worked hard toward mastering.
"I can play both sides of the puck and both sides of the special teams," Hanas notes. "I'd say that was probably the area where I grew the most this year."
Hanas A Revelation For Red Wings
Hanas is proving to be a delightful surprise for the Red Wings during the club's NHL Rookie Tournament in Traverse City, Michigan.
A year ago upon his arrival at this destination, he was without an NHL contract. Hanas was coming off a dreadful year in which he bounced around, looking for a place to play during the pandemic.
DraftKings Bet $5 Win $150
All States Where Legal
GET THE APP
SIGNUP BONUS
BET $5, WIN $150


New Player Bonus
BET NOW
"I had a tough time going to Lincoln of the USHL with some of my teammates (during the pandemic)," Hanas said. "I went through a lot of adversity there."
This fall, he's showing up here after signing an entry-level deal with the Red Wings. Coming off a career year. an 86-point season for the WHL Portland Winterhawks, Detroit's 55th overall pick in the 2020 NHL entry draft is brimming with confidence. He's preparing to battle for ice time with the AHL Grand Rapids Griffins, the top farm club of the Red Wings.
Maturity Showing On And Off Ice
"Cross, he's put on some good, healthy weight," Grand Rapids coach Ben Simon said. "He looks stronger. You can tell that he's matured quite a bit just in the way he conducts himself off the ice, on the bench.
"Just little idiosyncrasies that you can tell he's matured as a kid and also as a player."
Hanas, 20, believes that his confident nature evolved from a stellar year with Portland in which he led the club in both assists (60) and points.
"Just kind of getting back to normal in Portland where I feel comfortable, where the coaches trust me," Hansas as the cause and effect that led to his breakout campaign. "The coaches really believed in me. I know I can play my game in Portland.
"This year they had a lot of confidence in me, being one of the older guys, one of the scorers for the team. I was put in a lot of key situations, which is good for my game. I was getting more confidence out there."
— Detroit Red Wings (@DetroitRedWings) September 17, 2022
He's maximizing that confidence in Traverse City. The 6-foot-1, 174-pound left-hand shooting right winger is showing 1-2-3 totals from two games.
"Every time you come to these, it's just a little bit faster than everywhere else," Hanas said. "The ice seems a little bit smaller, and everybody seems a little bit bigger and stronger. It's just one of those things you gotta prepare for and be ready to go.
"For me it's just proving that I can play and that I belong here."
Consider that bridge Cross-ed.