Griffins' L'Esperance Savors Playing Close to Home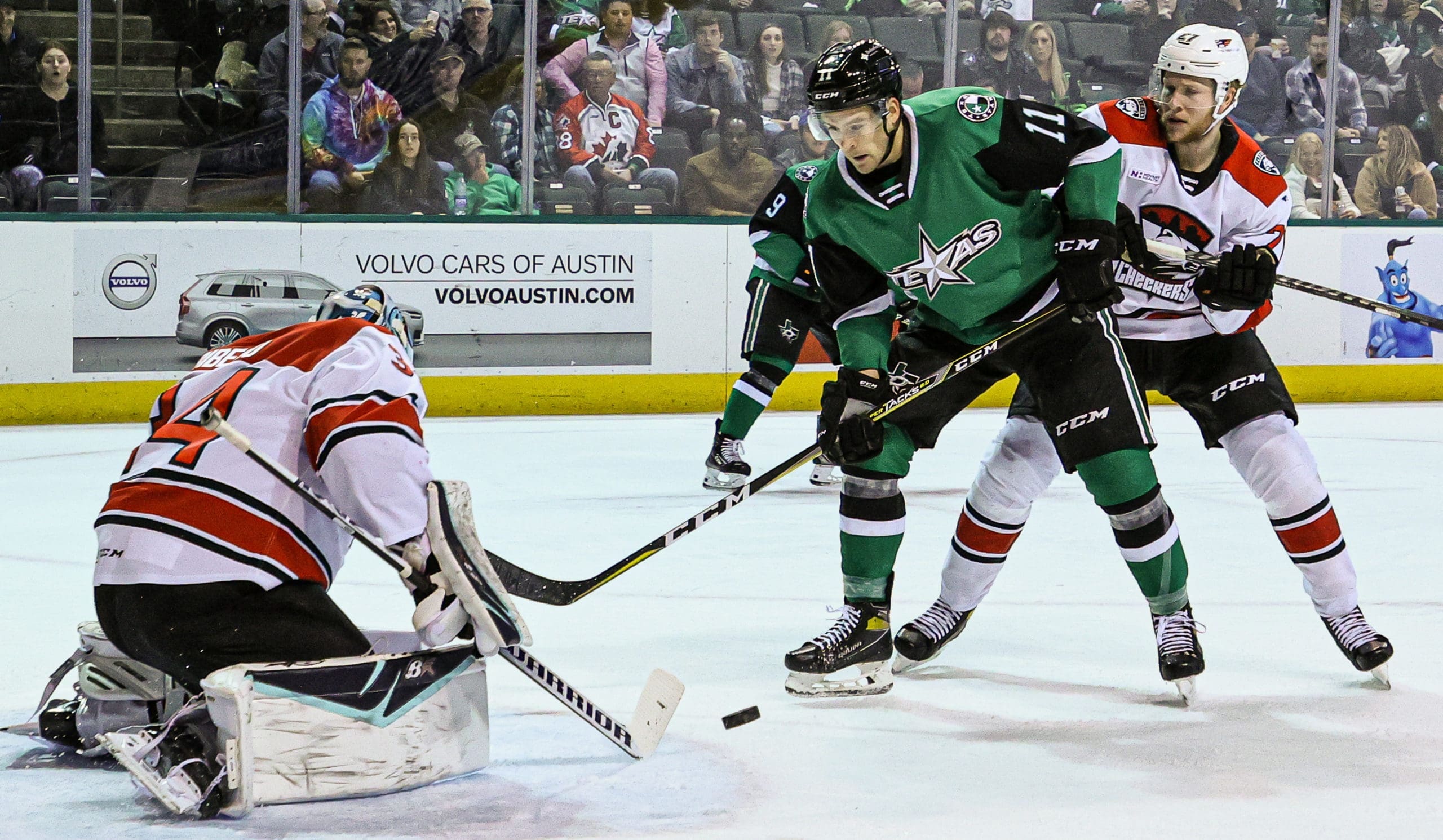 Joel L'Esperance had never played many games within driving distance of his hometown of Brighton.
He had played in the USHL for the Tri-City Storm, based in Nebraska, then at Michigan Tech, for the AHL's Texas Stars (based near Austin) and the NHL's Dallas Stars.
In the summer of 2022, as a free agent, "I was trying to get a little closer to home," he said.
"I wanted to get a little closer to family, and it worked out that Grand Rapids was interested," he said, "and that's where I ended up signing."
L'Esperance signed with the Griffins and led the team in scoring with 25 goals and matched a career high with 49 points.
Closer to home
And the relative proximity to home was a plus as well: Grand Rapids is 114 miles from Brighton.
"It was a good move for Joel," says his mom, Julie. "Getting closer was great so that I could get out to his games and he could come to my house on Sunday afternoons when he didn't have a game or whatever. Being with the Red Wings was great, too."
L'Esperance, one of 10 children, has tickets for family at most Griffins games and others within driving distance in the Midwest.
He's had a taste of the NHL, scoring five goals over 33 total games in three seasons with the Dallas Stars. He is hoping to earn more.
Still has dreams
"I think every player at the American League level still has aspirations of making it again or getting a chance again at the NHL," L'Esperance said. "Having an American League contract, it isn't in your mind as much. I focus on helping the young guys, teaching them what you know and try to be helpful that way. And then, hopefully, your chance comes."
As far as playing in Grand Rapids is concerned, "I would have to say that of all the arenas in the (AHL) it's one of the best as far as fans go," he said.  "I feel the fans understand the game more than some of the places that have (AHL) teams."
L'Esperance grew up in a hockey family. His older brothers, Dan and Alan, played for Brighton High School, and Alan played one season at Michigan Tech.
"They both played a big part of my career," he said. "They were quite a bit older than me and I watched them play for Brighton. I thought I would be, too, but I got the opportunity to play AAA (travel hockey), and everything kind of fell into place."
Prepping for another season
L'Esperance is now married and lives in Houghton in the offseason. He is preparing for his second season in Grand Rapids and whatever happens after that.
"The biggest thing I focus on is my speed and quickness," he said. "It's been my Achilles' heel my whole career. (It's) just something that doesn't come naturally to me as it might to others. I think over my career it's improved. And you want to focus on the things you're good at, my scoring touch and things around the net. all that good stuff."
L'Esperance does find the net often. He's had more goals than assists in all but one of his pro seasons and has five goals with no assists in the NHL.
At 27, he's considered a veteran in the AHL. Veterans are players who have played at least 260 professional games (AHL and NHL) and teams are allowed to dress only six veterans per game
So he faces both a roster challenge as well as battling Old Man Time.
"I would like to play as long as I can," he said. "I think it depends on how the body's feeling and how my (immediate) family is feeling. It's not an easy life for them when you're on the road for half the hockey season."
BetMGM Sportsbook
States: All States Where Legal
GET THE APP
SIGNUP BONUS
UP TO $1,000!


Up To $1000 Paid Back in Bonus Bets
BET NOW
Family time
But there are benefits, too, as when L'Esperance played in a preseason game for the Wings against Chicago last September 28.
"It was great," Julie L'Esperance said. "I took a couple of friends and we got to visit the Larkins. (We knew them) when Joel played (travel hockey) with Dylan, and yeah, it was a good time."
Joel's father, Ron, died in 2021.
"He would be thrilled to have Joel playing here," Julie L'Esperance said. "We get to what games we can as a family. It's fun for all the nieces and nephews to (attend) games when he's close to home and his siblings."
Joel L'Esperance graduated with a degree in information systems management, but that has been put on hold.
"It's a mental commitment," he said of playing. "You don't want to have one foot out the  door when you're still trying to make it in hockey."
So he works out and chases the dream as best he can for as long as can.