Allen: What the Red Wings Might Have to Give Up to Land Jack Eichel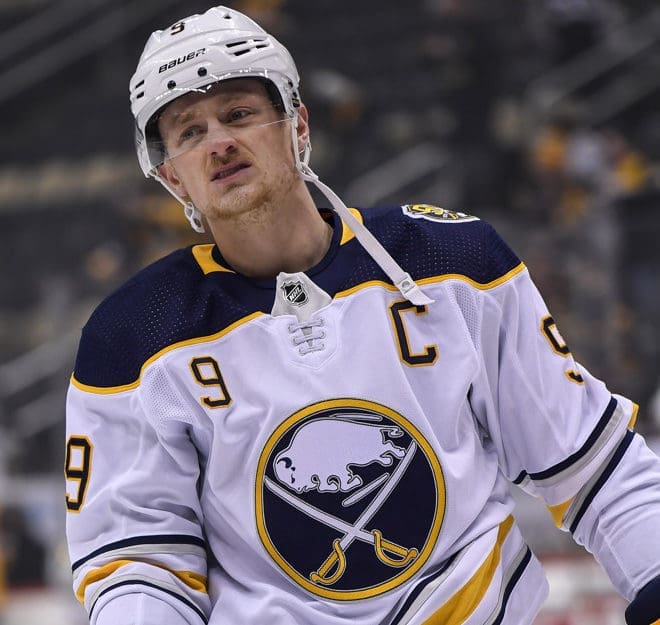 Detroit Red Wings fans may like the romance of acquiring Buffalo Sabres center Jack Eichel more than the reality of what it would take to complete a trade.
New York Post sportswriter Larry Brooks has reported that the New York Rangers have talked to the Sabres about Eichel. According to Brooks, "the Sabres want at least four pieces that would be equivalent of first-rounders in exchange for Eichel."
Brooks said he isn't sure whether the Rangers are seriously interested in Eichel or just investigating what it would take. According to Brooks, the Rangers previously talked to the Sabres after about a trade when Jeff Gorton was GM but talks broke off when the Sabres wanted the Rangers No. 1 pick. That pick became Alexis Lafreniere.
Five known teams interested in Eichel
The Los Angeles Kings, Anaheim Ducks, Columbus Blue Jackets and Minnesota Wild are the other teams that have been linked to trade talks about Eichel. No one has reported the Red Wings are involved in talks. But Brooks' reporting gives us an idea of what it might cost for the Red Wings to become involved in trade talks.
Presuming the reporting is accurate, you could envision the Sabres asking for the Red Wings two first round picks, plus Lucas Raymond and Filip Zadina. (We will assume that the Sabres realize the Red Wings aren't going to give up Moritz Seider).
You don't like that much, do you? That would disrupt the "Yzerplan" to build this team, right?
How about the first-round picks, plus Dennis Cholowski and Michael Rasmussen?
Better?
What if the Sabres asked to switch Tyler Bertuzzi for Cholowski? Bertuzzi wasn't a first rounder, but he is a first-round equivalent. If not Bertuzzi, how about Joe Veleno?
Eichel is a proven No. 1 center
You are probably getting the idea the Sabres want a bountiful return for Eichel. The number of assets is a difficult ask of a rebuilding team. Four first-round equivalents is at least two years of rebuilding
Just a reminder that these are fictional offers. We are not reporting the Red Wings are pursuing Eichel. This is an exercise designed to illustrate what it would cost to land Eichel if the Red Wings were interested. The offers are made up to fit the New York Post narrative that the Sabres want four players who are first-round equivalents.
Eichel was the No. 2 pick in the 2015 draft, and averaged 27 goals per season for five years. He was injured last season, and has completed his rest and rehabilitation for a disk injury. Brooks reported the Sabres haven't yet allowed teams access to his medical record. Presumably, that would come if sides get close to a deal.
The lure of Eichel for the Red Wings would be that he could become the team's No. 1 center and Dylan Larkin could be the No. 2 center. Eichel has five years remaining on a contract that averages $10 million.