Cossa Signs Entry-Level Deal: Wings Intrigued By First-Round Pick's Life Experiences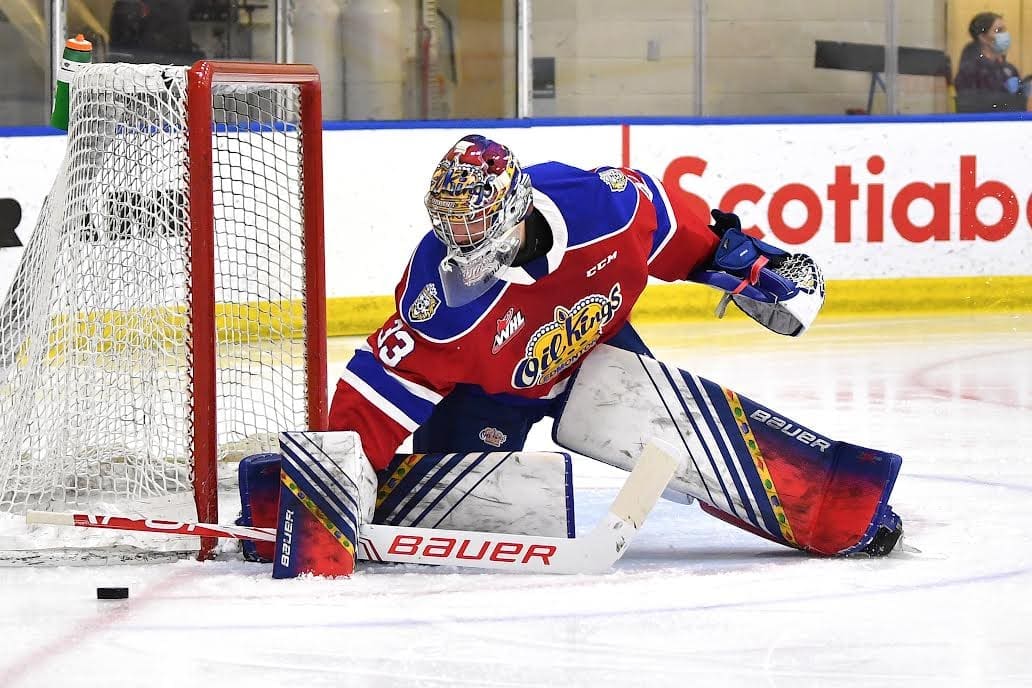 The Detroit Red Wings locked up their goalie of the future on Friday, signing Edmonton Oil Kings netminder Sebastian Cossa to a three-year entry-level contract.
There were a number of variables that went into the decision the Red Wings made to trade up and acquire Cossa with the 15th pick of the 2021 NHL entry draft.
Talent and raw physical ability were certainly factors in the choice.
"I think the exciting part is getting a 6-foot-6 athletic goaltender with very good technique and technical points in his game as well," Red Wings director of amateur scouting Kris Draper said. It was something that we felt was very intriguing to the team.
"A goalie with second effort, third efforts on pucks, big, strong, very good skater and his compete and work ethic."
His swagger also didn't hurt one bit. No one believes that Cossa will be an NHLer more than Cossa does.
Just the beginning! Extremely proud to officially join the Red Wings organization! Thanks to all my family, the entire @EdmOilKings organization, and all of my coaches and trainers who have supported me along the way. #LGRW https://t.co/dWKhO5syzw

— Sebastian Cossa (@SebastianCossa) August 15, 2021
"He's pretty articulate and he's very personable," Red Wings GM Steve Yzerman said of Cossa. "He's not shy, he's confident."
Then there was what he's been through in 18 years on the planet.
Threatened By Wildfires
Cossa, like all Canadian junior players, saw his last two seasons signficantly curtailed by the COVID-19 pandemic. That was annoying and disappointing. However, what Cossa and has family endured in their hometown of Fort McMurray, Alberta may have actually prepared him for the impact of the novel coronavirus.
"He's had some pretty interesting life experiences," Red Wings GM Steve Yzerman said.
In May of 2016, when Cossa was 13, wildfires threatened to wipe out their entire town. The fires came within two blocks of Cossa's family home.
"There was so much uncertainty that I can remember leaving my door open when I went to bed [at] night so I could hear if someone came knocking to tell us we had to leave right away," Cossa told OilKings.ca. "I wanted to be ready."
Along with his parents Gianni and Sandra and his brother Nicholas, they were forced to evacute. The Cossas ended up living with relatives in Edmonton and Calgary over a three-month span.
Residing in an elevated area of Fort McMurray, the Cossa were among the lucky ones. Although their home did suffer some smoke damage, it didn't burn down.
Flooding in 2020
Four years later, shortly after Cossa returned home following the cancelation of the WHL season, a blocked ice flow caused extensive flooding in Fort McMurray. Again, the elevation of the location of their home saved the Cossas from feeling the brunt of this disaster.
Regardless seeing such tragedy up close has certainly shaped Cossa's outlook on life.
"Luckily our house wasn't damaged in the fire or the flood," Cossa said. "But with the fire, being away from home for three months just worrying, it was just really understanding what you can control, what you can't.
"I just focused on what I can control and didn't worry about the things I can't. Just focus on myself and the places I'm going to be going. Obviously, with the tragedies in Ft. McMurray there's nothing you can do there. Just trying to make the best out of a worse situation."
Yzerman is also of the belief that his unique journey to this point is helping to shape Cossa's outlook as a goaltender.
"Our guys are confident that he has the mental makeup that it takes to be a real good goalie," Yzerman said. "You've got to be able to roll with the punches and shrug off bad goals, bad games and deal with a lot of adversity, maybe more so than any other position in our sport."