There Are "A" Holes In Red Wings Lineup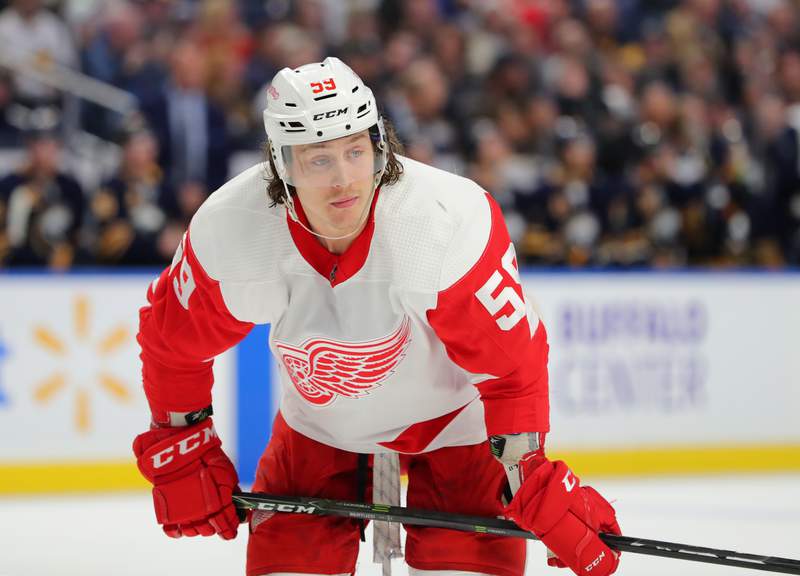 There are "A" holes in the Detroit Red Wings lineup. Two of them, to be precise.
The depature of Luke Glendening to the Dallas Stars via free agency saw the exodus of one of two players who served as an alternate captain for Detroit last season. Then, Frans Nielsen, Detroit's other 2021 wearer of an A, was recently bought out of the remaining time on his contract.
That means the Wings will need to name replacements for both players prior to the start of the 2021-22 season. While this won't be viewed as a big deal like last year's naming of Dylan Larkin as captain was, they are still important roles to be sure. That could be especially true if for any reason Larkin's season-ending neck injury were to slow his return to the lineup.
So, who looks to be likely candidates for the alternate captain's roles? Well, in the minds of us here at Detroit Hockey Now, there are two obvious candidates to wear an A on their jersey for the Wings this season.
Tyler Bertuzzi
Locked in to a two-year deal and rebounding from a season-ending back surgery, Bertuzzi is the ideal type of the player to be a leader. He's willing to do whatever is necessary to help the team.
Looking forward to more of this from @Dylanlarkin39 and @tylerbertuzzi of the @DetroitRedWings #LGRW pic.twitter.com/2An6quYjzk

— Between The Whistles Detroit (@WhistlesDetroit) August 31, 2021
Issuing an A to Bertuzzi would also be another step toward handing the team over to the future. As longtime Wings like Niklas Kronwall, Glendening, Justin Abdelkader and Darren Helm have departed in recent seasons, it's clearly been a case of a changing of the guard.
It's no secret that the Detroit brass thinks highly of Bertuzzi and the qualities he brings to the team. Bertuzzi is the ideal lead by example type of player.
Marc Staal
The main reason that Wings GM Steve Yzerman was so quick to get potential UFA Staal's name on a contract before he could hit the open market was because of the leadership role he so embraced. In his first season as a Wing, Staal mentored Detroit's youngsters on the back end.
"We're signing him to play with our young left D and be a good leader and be the guy that he was on our team last year," Yzerman said.
"Excited to be back"

More from Marc Staal's media availability.
🎥: https://t.co/HEHLcdvHbm pic.twitter.com/TO9Xw0nh2p

— Detroit Red Wings (@DetroitRedWings) July 26, 2021
It's certainly a familiar role for Staal. He wore an A for the New York Rangers from 2010-20. His brother Jordan is currently captain of the Carolina Hurricanes. His brother Eric previously served as Hurricanes captain.
Clearly, Staal is embracing the leadership role he is filling in Detroit.
"I really enjoyed myself," Staal said of his first season with the Wings. "The organization, the team, the way we were playing, what's been going on there, it's fun to be a part of."
Other Candidates
Let's take a look at some of the other players on the Wings roster and offer an explanation as to why we ruled them out.
Filip Hronek needs a bit more seasoning before he should be put into a leadership role. But he might be the ideal player to succeed Staal as an A when that day comes. Robbie Fabbri is hurt too much and there's uncertainty about his long-term future with the Wings. Danny DeKeyser's injury woes will likely also rule him out as a candidate.
Nick Leddy is just arriving on the scene, so it's unlikely he'd wear a letter in his first season as sa Wing. Sam Gagner might garner some consideration but it's unlikely that Yzerman would want to go with two veterans on one-year deals as alternate captains.
One player who wouldn't look out of place wearing a letter is forward Adam Erne. If the Wings decide not to put the A on Bertuzzi, then Erne would be the next likely choice.