Ten Detroit Red Wings Storylines to Follow in Second Half of Season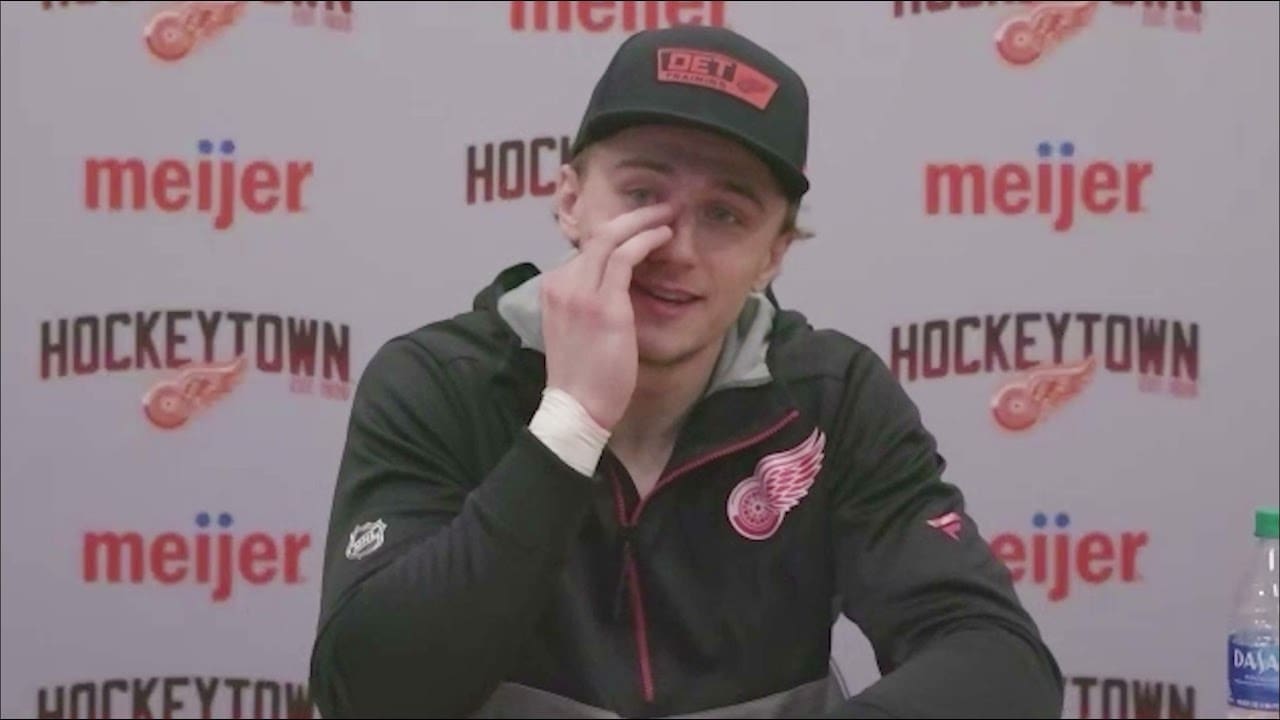 The Detroit Red Wings are nine points behind the Boston Bruins for a playoff spot in the Atlantic Division. To make matters worse, the Bruins have four games in hand.
The chance of earning a playoff spot is slim. But the Detroit Red Wings will be an interesting team to watch in the second half of the season for a variety of reasons. Here are 10 storylines to follow:
1. Vrana Return
It's easy to forget the Red Wings are playing the season without the player who was supposed to lead the team in goals. Jakub Vrana (shoulder surgery) should be back this month. He will have rust. But it will be interesting to see what coach Jeff Blashill does with the top two lines.
Does he play Vrana with Lucas Raymond and Dylan Larkin? That would allow Tyler Bertuzzi to stay on the second line with Robby Fabbri and Pius Suter. That line has been more productive since Bertuzzi joined it.
Or, will Blashill move Bertuzzi back with Larkin and Raymond and insert Vrana with Fabbri and Suter? Vrana's return gives the Red Wings better options.
BetMGM Sportsbook
States: All States Where Legal
GET THE APP
SIGNUP BONUS
UP TO $1,000!


Up To $1000 Paid Back in Bonus Bets
BET NOW
2. Yzerman Surprise
Keep in mind that you never hear about what Yzerman is going to do before he does it. He plays his cards as close to his vest as any general manager in the NHL, including Lou Lamoriello and David Poile.
Teams are looking to move salary and Yzerman may be looking to add a defenseman who can play in their top six next season and beyond. Yzerman has poked around the marketplace. He did kick the tires on Jakob Chychrun. But can't imagine he would be willing to give up his first round pick. That's one of the Coyotes' demands.
It's uncertain whether Yzerman will get someone, because it might be easier in the offseason. But it's a possibility.
3.  Veleno's Growth
Moritz Seider and Lucas Raymond have played so well that you may be overlooking that the Red Wings want Joe Veleno to be part of the rebuild. He's a solid player. Veleno can check, play physical and skate. The only question is whether he can score. The two goals and two assists he registered in the Grand Rapids' Griffins' two games last weekend is a reminder that he has potential to produce offense.
It will be interesting to see how Blashill plays him in the second half. Playing Veleno on the third line with Michael Rasmussen and Filip Zadina makes some sense. But how about Veleno centering Zadina and Namestnikov once Vrana returns? Rasmussen could center the fourth line.
4. Swedish Playoffs
The Swedish League regular-season ends March 15. The NHL and American Hockey League seasons don't end until the end of April. Even if Frolunda makes a playoff run, defenseman Simon Edvinsson could be signed and play his first games in North America this season.
The Red Wings want Edvinsson to earn his spot next season. but that doesn't preclude the team from bringing him over this season to give him a taste of the North American game.  The expectation around the NHL is Edvinsson will be playing for Detroit next season.
Perhaps the Red Wings might bring over prospects Eemil Vero, Elmer Soderblom and Albert Johansson to play some games for Grand Rapids.
5. Leddy Trade
The Red Wings won't try to extend defenseman Nick Leddy. The Red Wings will attempt to move him to a contender. It seems like several teams are looking for a defenseman. One of the selling points for Leddy is the Red Wings would probably be willing to retain half of his salary.
That's important, considering many teams have very little cap room available. At the start of the season, it seemed like the Red Wings might possibly squeeze a first round pick out of Leddy. But there are other defensemen ahead of Leddy  on the desirable list. Leddy is probably going to go for a second-round pick, which is what the Red Wings gave up to get him.
Trading for Nick Leddy: good or bad decision? #LGRW pic.twitter.com/W4YPtSqvav

— WingsNation (@TheWingsNation) February 7, 2022
6.  Zadina Potential
If you listen to what Blashill has said about Zadina this season, he has not given up on him. Zadina is only 22 and does produce shots and opportunities.  But he hasn't proven he can finish at the pro level. Will he pull his game together? He will get more shots in the second half of the season.
We are starting to hear Zadina mentioned in trade rumors, but that may be speculation more than fact.  What the Red Wings have to consider is whether he could be like Anaheim's Troy Terry. He is 24 and his game finally has come together this season.
7.  Namestnikov's Future
Vladislav Namestinikov has had a quality season. Detroit Red Wings management and coaches like him quite a bit because he is both skilled and versatile. He can score and the Red Wings don't have enough scorers. He's also a good teammate. Wouldn't be surprised if Yzerman gets him signed for next season.
It also would not be surprising to see the Red Wings deal Namestnikov to a contender looking for secondary scoring. Then, the Red Wings would try to re-sign him in the offseason.
8.  Berggren  Promotion
Jonatan Berggren is figuring out the pro game in Grand Rapids. He has 29 points in 37 games.  But he's not quite there yet. Steve Yzerman says he likes to see players dominating at the AHL before he promotes them to the NHL. Berggren isn't dominating yet. He just went six games without a point.
He might get a chance to play with the Detroit Red Wings later in the season. But it could still be into next season before he is truly ready for the NHL.
9.  Larkin's Best
It's important that Larkin and Bertuzzi don't have any dips in their production in the second half.  Yzerman needs to know that this is who these players are. Consistency is important for rebuilding seasons. Larkin and Bertuzzi and have been dominant performers for the half of the season. Can they do it for a full season?
10. Calder Race
It's been 57 years since the Detroit Red Wings had a player win the Calder Trophy as Rookie of the Year. They have two excellent shots with Moritz Seider and Lucas Raymond.
Right now, it seems like Seider would have an edge because he helps his team in more ways. But both players are worthy candidates.
If one of them wins the Calder against an exceptional field, it adds even more evidence that the Red Wings are headed in the right direction.