Red Wings Were First NHL Team To Sign Black Player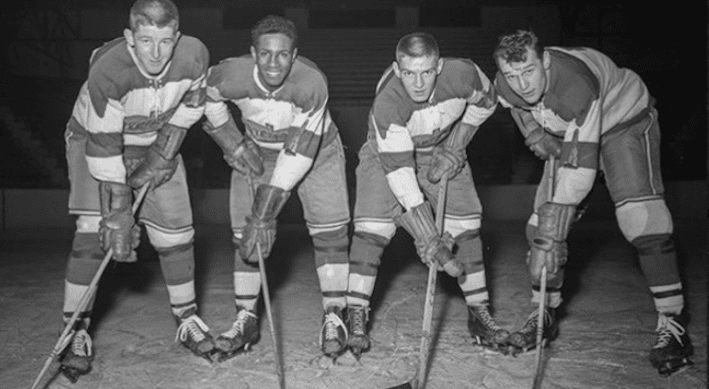 As Black History Month is wrapping up Monday, certainly there's a rich legacy involving the Red Wings and black players. Brian Johnson was the first to break the color barrier with the Wings, playing three games during the 1983-84 season.
Tony McKegney, a 40-goal scorer in the NHL, also suited up for the Wings, Last season, Detroit was counting three black players in defensemen Trevor Daley and Madison Bowey and forward Givani Smith. This season, the Wings briefly engaged Smith's sibling Gemel, giving the club their first brother act in 53 years.
SIGNUP BONUS
UP TO $250


BONUS MONEY
BET NOW
However, what isn't as widely known is that the Wings were the first team to sign a black player to an NHL contract.
Before Willie O'Ree, there was John Utendale.
Signed With Red Wings In 1955
O'Ree became the NHL's first black player with the Boston Bruins in 1958. Last month, the Bruins retired the No. 22 jersey of Hockey Hall of Famer O'Ree.
However, three years earlier in 1955, the Red Wings signed Utendale, making him the first black player to be under contract to an NHL club. He started out playing with their Edmonton Oil Kings club in the Western Canada Junior Hockey League. During the 1954-55 season, Utendale was named to the WCJHL All-Star Team.
John Utendale was the first Black player to sign an NHL contract when he signed with the Red Wings in 1955. Utendale never suited up for Detroit but continued playing until 1969. After hanging up his skates, Utendale earned his Doctorate in Education #Hockey365 #BlackHistoryMonth pic.twitter.com/4TdrP77zQf

— Mike Commito (@mikecommito) February 27, 2022
On Dec. 18, 1956 Utendale was called up to make his pro debut. He suited up for the Western Hockey League's Edmonton Flyers.
"I'm convinced he's one of the finest skaters I've ever seen," Flyers coach Bud Poile told the Edmonton Journal on the eve of Utendale's pro bow.
Utendale Fashioned Elite Career As Educator
Utendale spent six seasons in the pro game. He even skated briefly as O'Ree's linemate with the Quebec Aces. However, the closest he came to skating in Detroit was a stint with the Windsor Bulldogs in the OHA Senior A League.
While still playing senior hockey, Utendale was earning his teaching certificate from the University of British Columbia in 1961. He then enrolled at the University of Alberta, earning his Bachelor of Education degree.
The incredible legacy of former T-Bird, Dr. John Utendale – University of British Columbia Athletics https://t.co/DofIkQ43DK

— Sven Butenschon (@BootsSven) February 20, 2021
Later, Utendale moved to the USA, earning his Master's degree at Eastern Washington State College. He was hired as a professor by Washington State University. At WSU he served as academic coordinator for the athletic department, and as a member of the Washington State Human Rights Commission, all while earning his Doctorate in Education.
Staying involved in hockey, Utendale served as an assistant training coach with the U.S. Olympic team that won the gold medal at the 1980 Lake Placid Winter Olympics.
Utendale died in 2006 at the age of 69.