Smiths Facing Wild, Ending Red Wings' 53-Year Brother Act Drought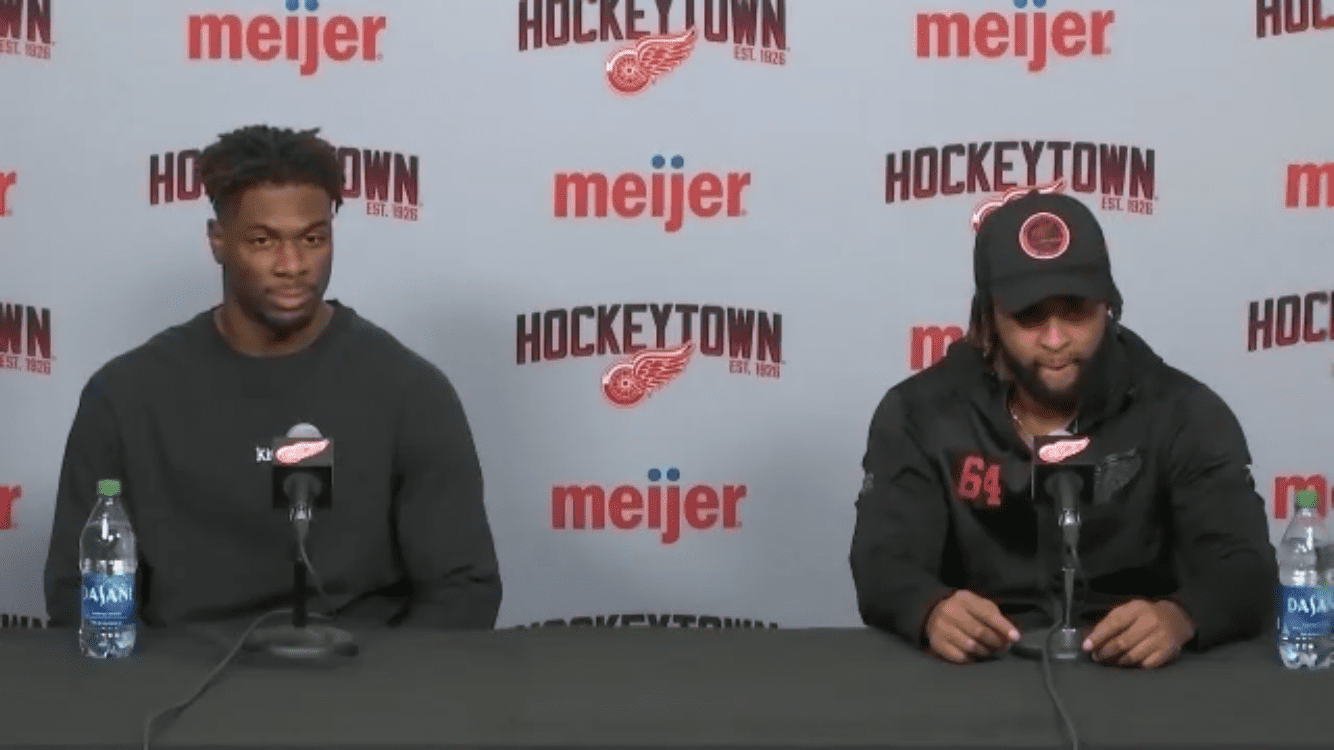 It's finally happening. Siblings Gemel and Givani Smith will be playing their first game together as Detroit Red Wings teammates on Monday against the Minnesota Wild.
"I'm excited," Gemel Smith said. "Obviously, it's the coolest thing."
The last time they suited up brothers was a history-making night for the Detroit Red Wings.
On March 30, 1969, the Red Wings closed out the regular season by dropping a 9-5 decision to the Chicago Blackhawks at Chicago Stadium. Gordie Howe collected two goals and two assists to finish the season with 103 points. In the process, he became the first Red Wings player to post a 100-point campaign.
In the loss, Frank Mahovlich netted his 49th goal of the season. At the time, that was also a Red Wings regular-season record. He collected an assist on a power-play goal Garry Unger. Frank's younger brother Peter Mahovlich wasn't as productive. His lone mark on the game sheet was a second-period tripping penalty.
The Little M looks to be about 14 years old. 😁
Pete and Frank Mahovlich. #redwings #leafs #habs #pens pic.twitter.com/LXzXVVLhU4

— The Hockey Samurai 侍 (@hockey_samurai) February 7, 2022
No brothers have skated as Red Wings teammates since that game. Until tonight.
Vladislav Namestnikov is out with an undisclosed injury. Joe Veleno will jump up from the fourth line to take his spot. Gemel Smith is slotting into Veleno's fourth-line center role between Givani and Sam Gagner.
First Time Smith Brothers Will Skate As Teammates
Gemel was offering a scouting report on what Red Wings fans should be expecting from this brother duo.
"I'm more like a playmaking player and he's a big body who creates space," Gemel said. "I think it will go well. I've got speed, I play with tenacity. He's a big body, likes to hit and get in there, so I think it will complement each other pretty good."
Their off-ice personas also seem to be suited to their roles on the ice.
"He's a little bit different personality than I am," Gemel explained of Givani. "He's more like . . . he's not a mean person but he's more the grumpy kind of guy.
"We're just two different people so we like to give each other space. But we're both obviously pretty excited to have this opportunity."
Per Blashill, both Gemel Smith and Givani Smith will be in the lineup tonight.

— Detroit Red Wings (@DetroitRedWings) February 14, 2022
It will be the first time at any level of hockey that the two brothers have performed on the same team.
"I think that's a big piece of it," Detroit coach Jeff Blashill said. "I think it's really cool.
"Ultimately, we're in the winning business and we're trying to put the best lineup up and those types of things aren't the reasons why we make those decisions but I'm also human. I have a brother and I never got to play with him.
"I think it would have been really cool to do that and it'll be an awesome experience for those two."