Red Wings Teammates Smiths Will Share Ice But Not Room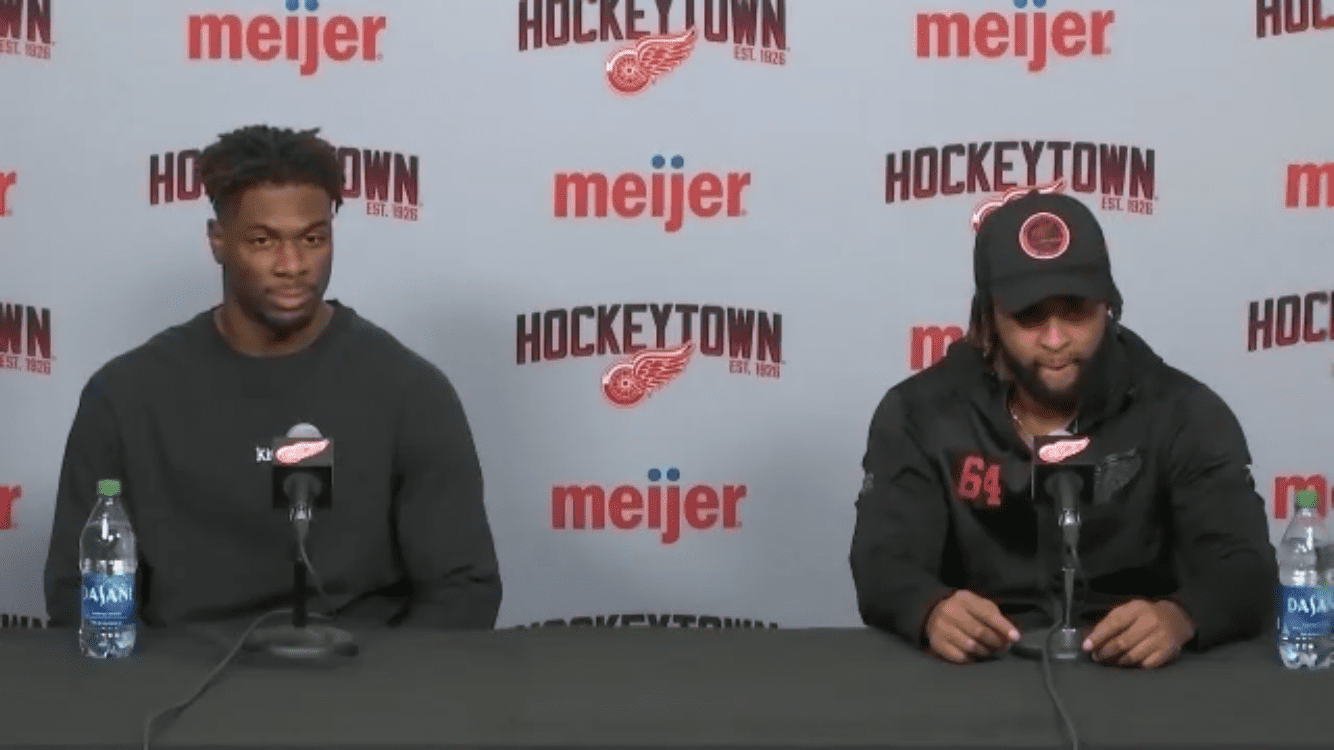 Detroit Red Wings teammates?
Yes, Givani and Gemel Smith are down with that.
"We play a lot together in the summertime," Givani Smith said of his brother. "We train together, so we're always together on the ice and off the ice.
"So now it's like we're together playing hockey for real now. It's crazy. It's insane."
It's happening.
Red Wings coach Jeff Blashill wouldn't confirm that Givani is going to be in the lineup as the Red Wings play host to the Dallas Stars on Friday at Little Caesars Arena. Gemel took part in Friday's morning skate, his first appearance with his new club since being clamed on waivers from the Tampa Bay Lightning on Wednesday.
Taking a pregame nap on Wednesday, Gemel missed the text from Lightning GM Julian BriseBois that he'd been claimed on waivers. He awoke to discover a tweet with his name and an octopus.
Initially, he reacted the way we all do to news posted on social media. He didn't believe it.
"It was a dream come true for me," Gemel said. "I'm excited to play with him, alongside him. It's an opportunity that doesn't come by that often."
Smiths Have Distinct Playing Styles
While brothers, the two couldn't be more disparate when it comes to playing styles.
"I think he's a power forward, big and strong," Gemel Smith said of 6-foot-2, 215-pound right-winger Givani. "He can get in a guy's face and take it hard to the net. He's got a good shot."
As for his own game, Gemel likes to wheel and deal.
"For me I know I'm a fast player, 5-foot-10, 203-pound Gemel said. "I like to play with skill. I'm a puck possession player. I like to keep the puck on my stick and play with it.
"I'd say that's my best ability, the ability to keep the puck and play with it, and my speed and my tenacity."
Red Wings Fan Growing Up
Gemel is actually doubling down when it comes to realizing dreams. Growing up in Toronto, he was a massive Red Wings fan.
"My favorite player was always Sergei Fedorov, so I had a Fedorov jersey and my favorite goalie was Dominik Hasek," Gemel explained.
"It was just something, a team that I first loved since I was like three years old. I just always stuck with them."
When they do play together, the Smiths will be Detroit's first brother act to share the ice as Red Wings teammates since Frank and Pete Mahovlich on March 30, 1969. Gemel will also be the first player in franchise history wear No. 64.
"We've never played together and never played against each other ever, so this is the first time we're ever going to be on a team together," Gemel said.
As much as they are all about the togetherness, there is somewhere that the draw the line on sharing.
"No, he's not rooming with me," Givani Smith said. "We used to have bunk beds growing up, so I don't want that anymore."
Asked who got the top bunk, Givani rolled his eyes and pointed toward his older brother.