Jakub Vrana Practices With Red Wings' Second Line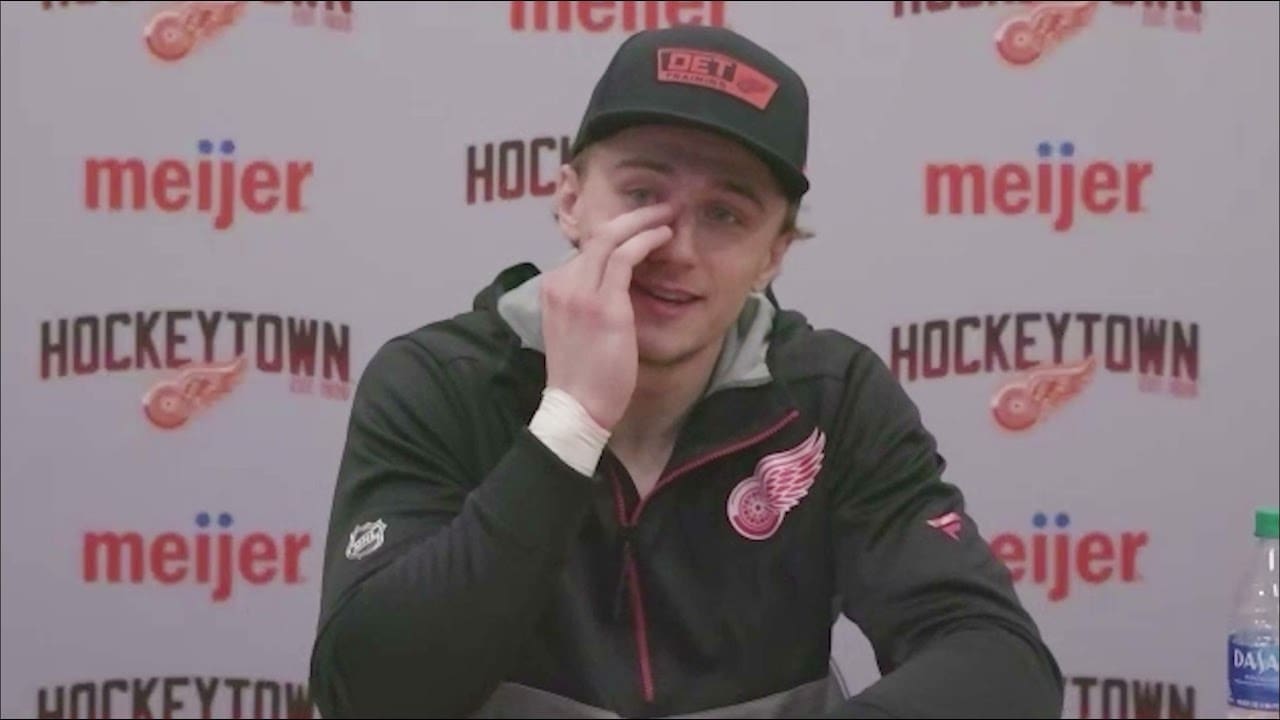 Jakub Vrana took another step toward rejoining the Detroit Red Wings lineup today when he practiced on the second line with Robby Fabbri and Pius Suter.
That allows Tyler Bertuzzi to return to the first line with Dylan Larkin and Lucas Raymond. The Red Wings play the Coyotes Tuesday at Little Caesars Arena.
"I'll know more tomorrow," Red Wings coach Jeff Blashill said. "Right now no definitive answer with him. We're just moving around different spots in the lineup. I really don't know who's going to play tomorrow and who's not, or what the lines are going to look like. We looked at some different stuff today. I'm not sure that's how we're going to go at all because Jakub's availability is not yet determined."
Vrana hasn't played all season, but has skated for a while. He recently was cleared for contact.
"He seems to be doing well," Blashill said. "It's one of those things that you do well until you don't. As much as we want to replicate it and get him prepared for it, it won't be the same as the game. Ultimately, when the time is he's cleared, that's the surgeon's decision and the surgeon at that point would feel comfortable that he can take those hits and you just never know for sure, so we'll see."
Vrana was expected to be the Red Wings' leading scorer.  He was injured in the first few minutes he was on the ice at training camp.
DeKeyser on Waivers
"There's a lot of different things to look at," Blashill said. Who you're going to match the other team against. If I decide to use Larkin in a match line against, let's say, the (Nick) Schmaltz and (Clayton) Keller line for them tomorrow, I don't know that I want to put Jakub in that spot right off the bat where he's got to be so responsible defensively that he's going against the other team's best. That doesn't mean he won't play against good players, but I'm not sure that's the best thing for him yet. He hasn't had tons of reps, so if he does play that would be something we would consider. I'm not sure I loved the lines today. So we're going to go back, watch practice and make a decision."
The Red Wings need to clear a roster spot for Vrana and that was taken care of when they placed Danny DeKeyser on waivers Monday afternoon.  arlier in the day, the Red Wings had called up Joe Veleno from Grand Rapids because Carter Rowney went on the injured list. He suffered a lower body injury blocking a shot against Tampa Bay Friday.
"I don't anticipate (Rowney's injury) being long-term," Blashill said. "We put him on the IR today, so he's out through at least … He could be available for Saturday's game, so he'll miss the two home games for sure. It made sense to us because that appears to be the minimum timeline that he'd be out and then we'll see if he's available on Saturday."