Red Wings Defensive Deficiencies Are Debilitating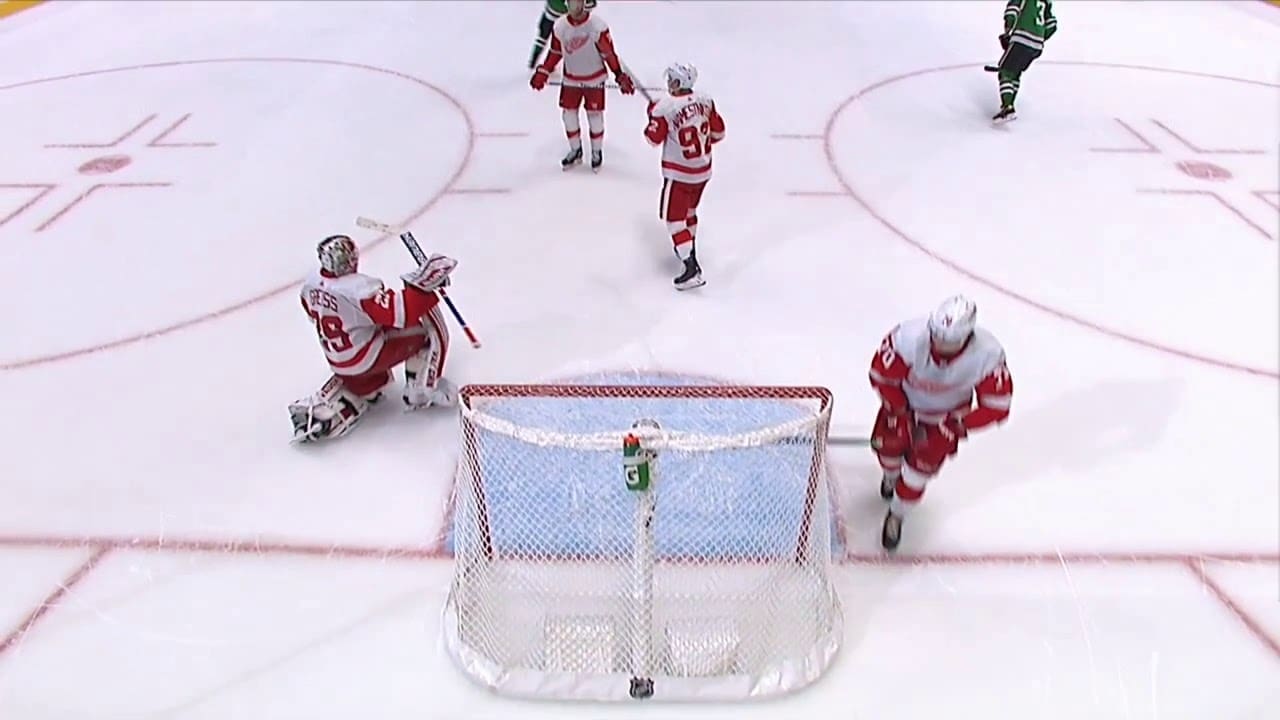 Perhaps it's time to rename the local NHL team the Etroit Red Wings, because it's become abundantly clear during the 2021-22 NHL season that Detroit has no D.
Through 79 regular-season games, the Red Wings have surrendered five or more goals in 32 of those games. That's 40.5 percent of all of their games during the 2021-22 campaign in which the Wings are coughing up at least five goals. It's hard to win consistently when a team needs to score at least six goals in almost half of their games.
Entering the season, the Wings were a hopeful bunch when it came to their defensive game. They went eight deep in NHL-caliber rearguards. Detroit coach Jeff Blashill was suggesting it was the deepest defense corps he'd suited up in his seven seasons as the club's bench boss.
YOU LOVE TO SEE IT.

Rakell has 17 points (7G-10A) in 15 career games against the Red Wings, including points in four-straight games (3G-5A) vs. them. pic.twitter.com/wco8VNKjhR

— Pittsburgh Penguins (@penguins) April 23, 2022
So what happened? How did optimism so quickly turn into "Oh My God, did you see that total breakdown in D-zone coverage?"
"I don't know if I can pinpoint any one thing," veteran Red Wings defenseman Danny DeKeyser of the team's defensive demise. "For the most part, when we've been good, we played with a lot of energy. We defended with five guys, where everybody's in the right spot. In the D zone we're taking away the middle of the ice. We're blocking point shots, blocking the scoring zone from the crease, that kind of thing.
"Sometimes where we're not our best we just kind of get away from that. We get a little bit loose. There's too many seams in the D zone."
Red Wings Going From Bad To Worse
The scary part is as the season's gone on, it's gotten worse. Detroit has grown more porous when it comes to allowing goals as the season has been progressing.
The Wings gave up five or more goals in three October games. It happened four times each in November, December, January and February.
However, the number jumped to seven games in March and is already at six games in April. The Wings have surrendered five or more goals in four of the last five games and 14 times over their past 28 games.
The Red Wings lost so bad we all got Little Caesars gift cards as an apology pic.twitter.com/JAzLEck50L

— Justin (@TheYzerPlan) April 23, 2022
Blashill cited personnel losses through injury and trade that have taken key defensive players out of the team's lineup for the recent surge in goals against.
"As we've kind of went through the season, unfortunately we lost some guys that I would say were reliable kind of defensive players and so then you're kind of learning on the fly," Blashill said. "And sometimes learning on the fly as you play teams like we played today (7-2 loss on Saturday to the Pittsburgh Penguins) can be difficult defensively because you can't make a mistake."
Not The Worst But Not Far Off
Should the Wings allow five or more goals in each of their remaining three games this season – Sunday and Friday at the New Jersey Devils and Tuesday at the Toronto Maple Leafs – they'd crack the top three for the most games of this nature since the launch of the NHL's expansion era in 1967-68.
The current Wings own a share of fourth spot on this season with the 1982-83 team. It's the 1981-82 club that's third at 35 games.
SIGNUP BONUS
UP TO $250


BONUS MONEY
BET NOW
Amazingly, in second spot are the 1984-85 Wings. It's amazing, because despite allowing five or more goals in 38 games, those Red Wings actually qualified for the Stanley Cup playoffs.
The worst of the bunch is easily the worst Detroit squad of all-time, the 1985-86 Red Wings. En route to finishing 17-57-6, in 51 of 80 games, the red light illuminated behind the Detroit net at least five times. In 20 games, Detroit allowed seven or more goals. Double digits entered the Red Wings net during five games.
Red Wings Worst Goals Against Seasons*
| Goals Against | 1985-86 | 1984-85 | 1981-82 | 2021-22 | 1982-83 |
| --- | --- | --- | --- | --- | --- |
| 5 Goals Against | 18 | 16 | 14 | 17 | 14 |
| 6 Goals Against | 13 | 12 | 8 | 5 | 8 |
| 7 Goals Against | 10 | 5 | 5 | 6 | 5 |
| 8 Goals Against | 2 | 3 | 8 | 1 | 8 |
| 9 Goals Against | 3 | 1 | 0 | 1 | 0 |
| 10 Goals Against | 4 | 1 | 0 | 1 | 0 |
| 11 Goals Against | 0 | 0 | 0 | 1 | 0 |
| 12 Goals Against | 1 | 0 | 0 | 0 | 0 |
| Total Games | 51 | 38 | 35 | 32 | 32 |
*Since 1967-68 NHL Expansion
Of further note, in the case of all but one of these five teams, there was a coaching change, either during or following the season and in the case of the 1985-86 Wings, both. Harry Neale was fired 35 games in the 1985-86 season and replaced by Brad Park. Park was dismissed at season's end.
Nick Polano was replaced by Neale following the 1984-85 season. Wayne Maxner gave way to Billy Dea after 69 games of the 1981-82 season. Polano replaced Dea for the 1982-83 campaign. He was the only one to survive to the next season following 1982-83.
However, that wasn't just his first year on the job, it was the first year of a major change in direction for the Wings. The Ilitch family had just purchased the team. They installed Jimmy Devellano as GM and Polano was his hand-picked coach. They weren't about to blow it all up after one bad year.
That isn't the case with Blashill. He's been on the job since 2016. Any way you add it up, no matter how you do the math, Detroit's current defensive woes certainly don't bode well for Blashill's future in the position.