Examples of Yzerman's Rebuild Philosophy are Everywhere in the Playoffs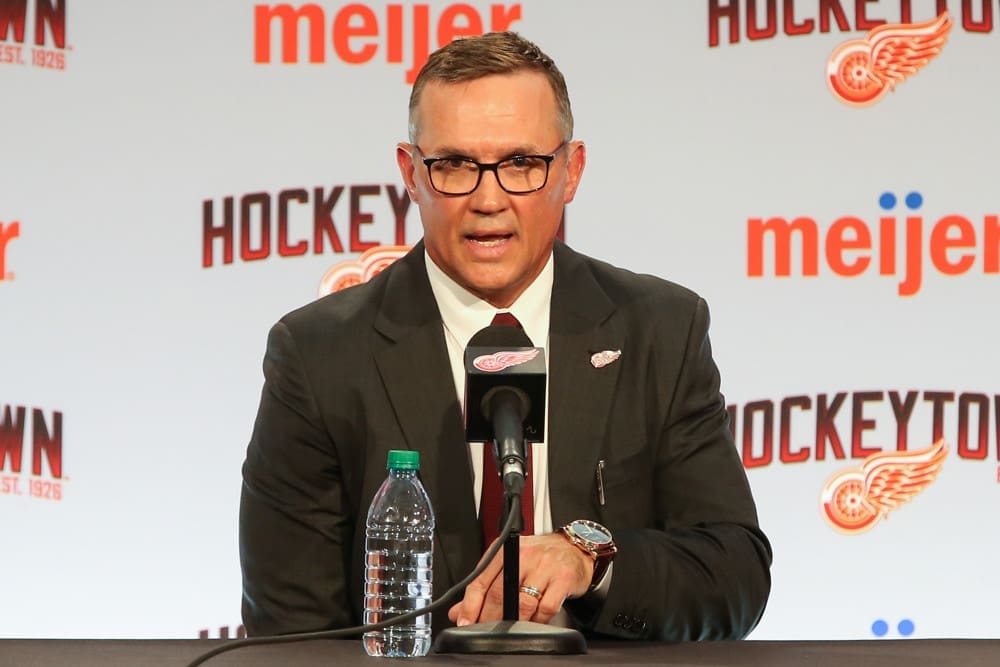 The Detroit Red Wings may not be in the playoffs, but there's plenty for them to take note of while watching. Some of the words general manager Steve Yzerman used to describe his philosophy blend in with the teams seeing the most success in this year's playoffs.
While it's still early, here are some parallels from the teams experiencing success and how it intersects with Yzerman's rebuild philosophy.
Pressure Shouldn't Override Practical Patience
Yzerman has spoken to it and pooh-poohed the insistence on a timeline. Instead, he's looking to build the best hockey team he can without bowing to the pressure.
"Quite frankly I think it'll be easier for me to be patient than it will for yourself," Yzerman said when asked about a timeline.
"You want to see results and I understand it. For me, I've got to show some improvement. I can't sit here forever, 'Hey, be patient everybody. We're gonna get there, we're gonna get there.'"
For more evidence of that, look no further than Joe Sakic. The Colorado Avalanche are up 3-0 in a lopsided series against Nashville, showing no mercy. It wasn't too long ago, however, that Sakic was being second-guessed and the pressure for Colorado was reaching fever pitch. Despite Sakic being a legend in Denver, fans were growing restless.
Sakic kept his foundational players, drafted well in spite of losing out in the 2017 lottery they should have won (Cale Makar), and stuck with his maligned coach (Jared Bednar). The patience paid off. Five seasons later, the Avalanche are Stanley Cup favorites and steamrolling through the round that can be a true test.
The playoffs can certainly change quickly, as last season showed which had many clamoring for Bednar's head (again). A season later, so far–so good. Again, it can change quickly, but in a round where many contenders have slipped, the Avalanche look stronger than ever.  Sakic ignored the noise and stayed the course, something Yzerman has preached since taking the job in 2019.
Timely Coaching Changes Matter
In another vein, Edmonton's Ken Holland fired Dave Tippett when he was ready and promoted Jay Woodcroft, who jumpstarted the Oilers and went 26-9-3 after taking the helm. Though Edmonton lost game one to Los Angeles, they've outscored the Kings 14-2 in two games since.
Might Edmonton finally exorcise the playoff demons that have haunted the club? If indeed they do, a little bit of patience while knowing when to pull the plug may pay dividends.
Yzerman's end goal, then, is right in making the decisions that make the most sense at the right time.
"The danger becomes you start to get a little maybe impatient, desperate," Yzerman said.  "I'm not sure what the right word is and then you do something stupid. I don't need any help doing anything stupid.
"Like I'll probably do it without any. The fewer times I can do that. Anytime I've tried to force something, force a trade, force a signing, I've kind of regretted it for different reasons. I think you just have to remain patient."
Organizational Depth is Essential for the Red Wings
The facets bear out with the Pittsburgh Penguins on this one. Up two games to one against the New York Rangers, the Penguins have been hammered by bad luck between the pipes. Tristan Jarry is still unavailable. Casey DeSmith exited Game 1 during overtime and underwent core muscle surgery, ruling him out for the playoffs.
Enter Louis Domingue, who backstopped the Game 1 triple overtime victory. He held strong during a hairy 7-4 triumph that saw the Penguins surrender a three-goal lead. They survived, and it was the depth around Domingue rescued the Penguins from certain doom.
So not only do the Penguins have a "next man up" mentality in net, but they also have it throughout the organization. For a team that has relied upon Sidney Crosby and Evgeni Malkin for over 15 years, they've been able to find the players later in the draft or acquiring in trades to keep the team in the Stanley Cup chase.
The Red Wings "Yzerplan" has not only strived to hit home runs with the high picks, but find those gems in the later rounds. Yzerman has also mined the trade route to pick up key pieces, too.
Pittsburgh has been quite good in this department.
Elmer Söderblom with his 1st goal for the men's national team! #LGRW pic.twitter.com/l0EB2ROvyI

— IcehockeyGifs (@IcehockeyG) May 1, 2022
Red Wings Rebuild on the Right Track
It was Pittsburgh's secondary scoring that got the job done in Game 3, courtesy of Evan Rodrigues, who the Penguins snagged from Buffalo. Bryan Rust is another example, a third round pick in 2010 who has four points in the playoffs so far. The Penguins have been skilled in finding the right players, and having the depth for when luck just isn't on their side.
In his three years, Yzerman has restocked what was a barren prospect pipeline with high end talent that is already producing at the NHL level (Moritz Seider and Lucas Raymond). He's made smart trades that have helped tremendously in acquiring Jakub Vrana, Robby Fabbri, and Alex Nedeljkovic to name a few.
Though he's been coy with his plans for free agency, there may very well be options for the Red Wings in the offseason.
Harkening back to the earlier lesson, not forcing things has gone a long way for Yzerman. The teams succeeding have certainly made their mistakes, but have struck at the right time.
Yzerman knows how to do this better than anyone. Just look at Tampa Bay.
Though it's another season without the playoffs, the performance from those succeeding give Yzerman credence in how he's building the Red Wings.