Edvinsson's Goal: Emulate Seider, Raymond and Make Red Wings Roster
Simon Edvinsson's objective is to make the Detroit Red Wings roster out of training camp this fall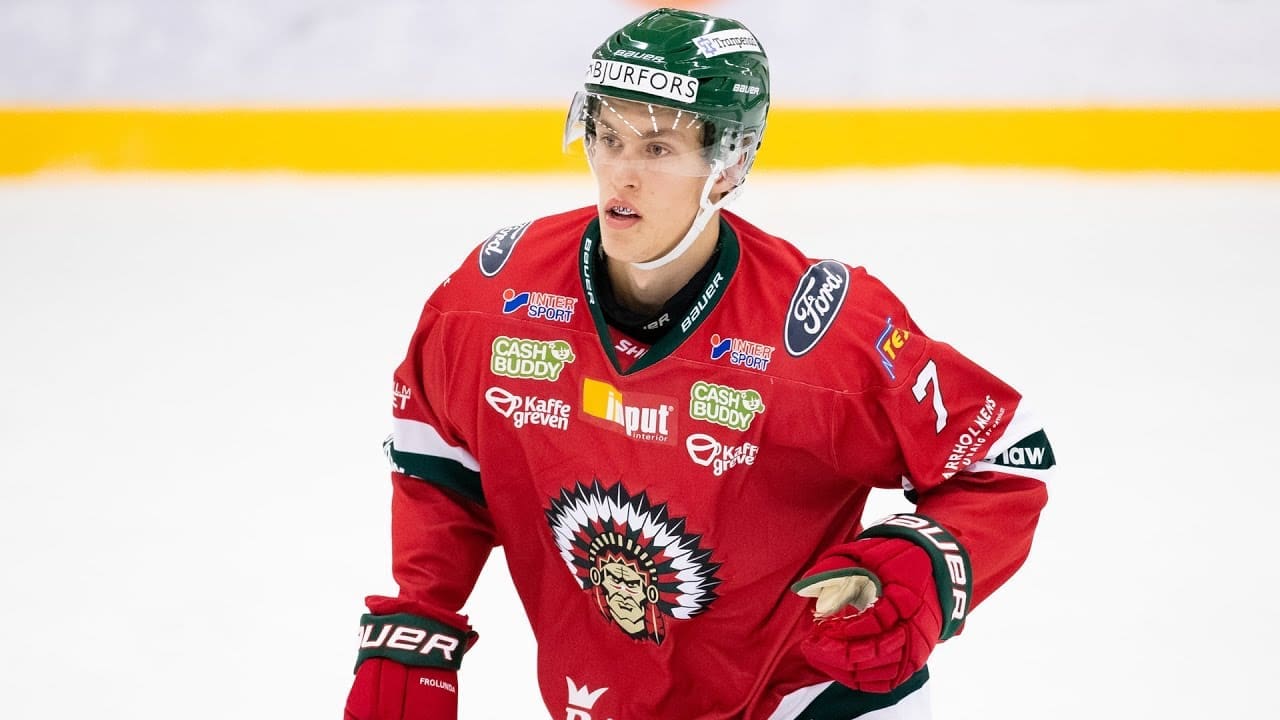 From afar, Simon Edvinsson was watching as rookies Lucas Raymond and Moritz Seider were playing starring roles with the Detroit Red Wings. Both players were fresh out of the Swedish Hockey League.
Toiling for Frolunda, the same SHL club that produced Raymond, Edvinsson was working quietly toward a similar objective – to earn a spot with the Red Wings right out of training camp when he moved to North America for the 2022-23 season.
"The goal is to make the same journey that Lucas Raymond and Moritz Seider did last winter," Edvinsson told writer Johan Rylander of gp.se.
Simon Edvinsson knows what he's targeting next season:

"-The goal is to make the same journey that Lucas Raymond and Moritz Seider did last winter."

He now weighs in around ~210lbs.

"-A lot has happened in a summer."

— IcehockeyGifs (@IcehockeyG) June 23, 2022
He's been getting first-hand knowledge of the task that is in front of him. Edvinsson is spending the summer in Sweden, working out with his former and future teammate Raymond.
Seider is looking forward to the chance to help Edvinsson make that leap to the NHL.
"I've never had a chance of meeting Simon, so I'm really looking forward to that," Seider said. "I think everyone is looking forward to all of the (new) guys (arriving). Our future is so bright. I think the fans are as excited as I am to see all the guys.
"Hopefully I can even help them a little bit to adjust to North American ice, or just the North American lifestyle a little bit. I'm pumped to see whoever's coming over."
Seider, winner of the 2021-22 Calder Trophy, spent the 2020-21 season in the SHL with Rogle. He was named the league's top junior-aged player, as well as the SHL's best defenseman. The Red Wings made Seider the sixth selection on the 2019 NHL entry draft. He was the first player drafted to Detroit by current Red Wings GM Steve Yzerman.
Edvinsson Bulking Up
Edvinsson was chosen sixth overall in the 2021 NHL entry draft. In between, Detroit tabbed Raymond with the fourth overall choice in 2020. Edvinsson signed an entry-level deal with the Red Wings in April. He was a finalist for SHL rookie of the year and EHC Young Player of the Year.
The summer training appears to be paying dividends. He's reporting that he is now carrying 210 pounds on his 6-foot-4 frame.
"I can feel it," Edvinsson says of the additional strength. "It feels like I'm on the right track.
"A lot has happened in a summer."
Not one to loosely throw around praise, Yzerman is maintaining optimsim that Edvinsson can in fact follow in the path laid out by Seider.
I think he's in consideration for it, yes," Yzerman said of the possibility of Edvinsson making the club out of training camp. "He had a very good year.
"Frolunda, we've had several players go through there. They're a very good team, very good organization. He played very well for them this year. He's big. I say big, he's strong. He can skate really well.
"He does have a chance, yeah. I want to say a real good chance to play in the NHL next year. It's a bit of an educated guess based on okay, this is what Moritz Seider did in the Swedish League last year. Kind of compare him to that. Can he have a similar impact? He's a different player than Moritz, really. Both very good, young prospects but there's a little bit of a difference in the two of them and we'll see how he does.
"I'm optimistic and we'll see."
World Juniors Up First
Edvinsson will be part of the Swedish squad that is playing in the IIHF World Junior Championship in Edmonton in August, just a few weeks before he'll be reporting to camp with Detroit. He was also on the team last winter in the tournament that was called off due to an outbreak of COVID-19.
SIGNUP BONUS
UP TO $250


BONUS MONEY
BET NOW
"It's a pity that we are not allowed to pick up where we left off," Edvinsson told gp.se. "This summer has been important to me and the world junior championship will be important to me."