How Red Wings Coach Derek Lalonde is Like Jeff Blashill; and How he Isn't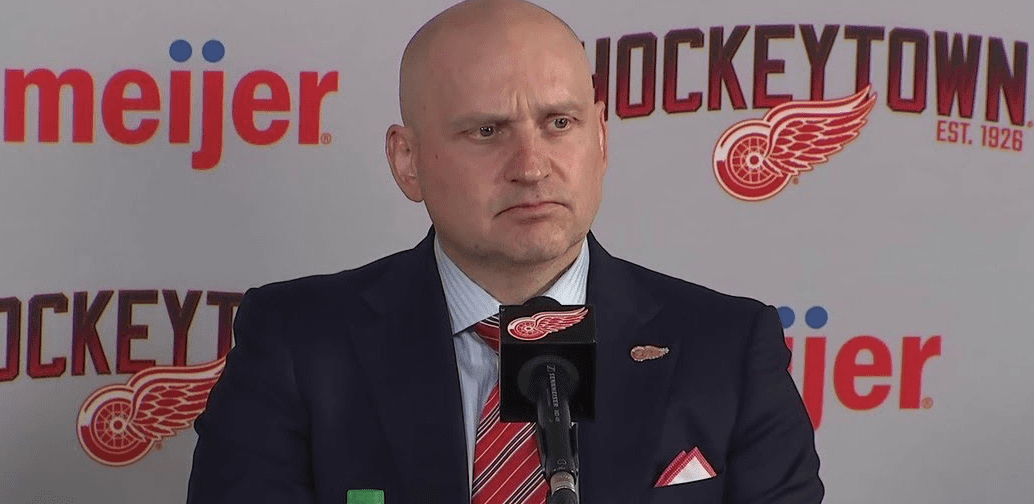 By now. you've certainly heard some Detroit Red Wings fans make the remark that in hiring Derek Lalonde as head coach, the team has basically replaced Jeff Blashill with a virtual clone.
To be true, there are similarities in the career trajectories of both men. Both were AHL head coaches. In each instance, Detroit is the team giving them their first NHL head coaching job. But to make such a sweeping statement without digging into the background of both coaches is all kinds of wrong.
So without further adieu, let's look at how Lalonde and Blashill are alike . . . and how they are different.
Lalonde, Blashill Were College Goalies
Blashill played goal at Ferris State. During his Detroit tenure, Jeff Blashill often referred to his goaltending skills in a self-deprecating manner.
Lalonde was a netminder in NCAA Division III hockey at SUNY-Cortland State. He credits that tenure for helping shape his career.
"My first year I was one of five goalies," Lalonde told reddragonnetwork.org. "I barely touched the ice until my sophomore year. By the time I was a senior I played in most of the games and my teammates named me the team's Red Letter Award winner. It was one of my greatest accomplishments."
Some Similarites:
Both Worked Under Bob Daniels As NCAA Assistants
Lalonde was an assistant coach at Ferris State from 2003-06. Blashill was an assistant coach at Ferris State from 1999-2002. Both give credit to Bulldogs coach Bob Daniels for helping top shape them both as coaches and mem
"I think Bobby Daniels has done as good a job as anyone in college hockey the last 15 years," Blashill said. "I love the university and what they provided me. I'm a Bulldog, my wife's a Bulldog. My kids have a lot of pride in Bulldogs."
They Each Were Clark Cup Champions
In 2008-09, Blashill guided the Indianapolis Ice to the USHL Clark Cup championship. Three years later in 2011-12, Lalonde took the Green Bay Gamblers to a Clark Cup crown.
One of my favorite Derek Lalonde stories of all time…

A fan in South Carolina sat behind the Walleye bench…he had a poster calling him Uncle Fester from Addams Family. After the game (a playoff game, btw) Lalonde came back out & signed the poster & took pictures. 🤣🤣🤣

— Jordan Strack (@JordanStrack) June 30, 2022
"My introduction to Derek was when he was in Green Bay," Red Wings GM Steve Yzerman said. "One of our scouts, when I was at Tampa, we were at a game and I got to meet Derek. I first knew him a little through Green Bay."
The Differences:
Lalonde Is Vastly More Experienced At The NHL Level
When Blashill took over for Mike Babcock behind the Detroit bench in 2015, his NHL experience was a total of one season working as Babcock's assistant. Lalonde has spent the past four seasons as the right-hand man to Jon Cooper in Tampa Bay.
During that time frame, Tampa Bay has won a Presidents' Trophy, three Eastern Conference titles and two Stanley Cup championships.
SIGNUP BONUS
UP TO $250


BONUS MONEY
BET NOW
"He's being around winning programs, he knows what it takes," Yzerman said. "You can point out discipline, work ethic, everything we expected will be elevated and that's what good teams do."
Lalonde Is A Two-Time Stanley Cup Winner
When people start complaining about Lalonde's work behind the Red Wings bench, he can always pull a Patrick Roy. Lalonde could put his two Stanley Cups in his ears and drown out the noise.
He's worked a bench through a trio of Stanley Cup final series. Tampa Bay was the first team in nearly four decades to play in three successive Cup finals.
Thank you for everything, @CoachLalonde!

Best of luck in Detroit. pic.twitter.com/8EtiniODVK

— Tampa Bay Lightning (@TBLightning) June 30, 2022
"Learning the NHL and then the growth of obviously the playoff runs," Lalonde listed as tohow his Tampa Bay experience is providing the preparation he'll be needing to run the Red Wings. "The intensity was immense. The growth from the team (that in 2018-19 set) the NHL record along with the Red Wings of winning 62 games and not playing the right way (and losing in the first round of the playoffs) to ultimately get to where we wanted to be.
"There was ton of growth in that. I grew immensely from the experiences you have to go through."