Yzerman: Red Wings Will Draft Best Player Regardless of Position at No. 8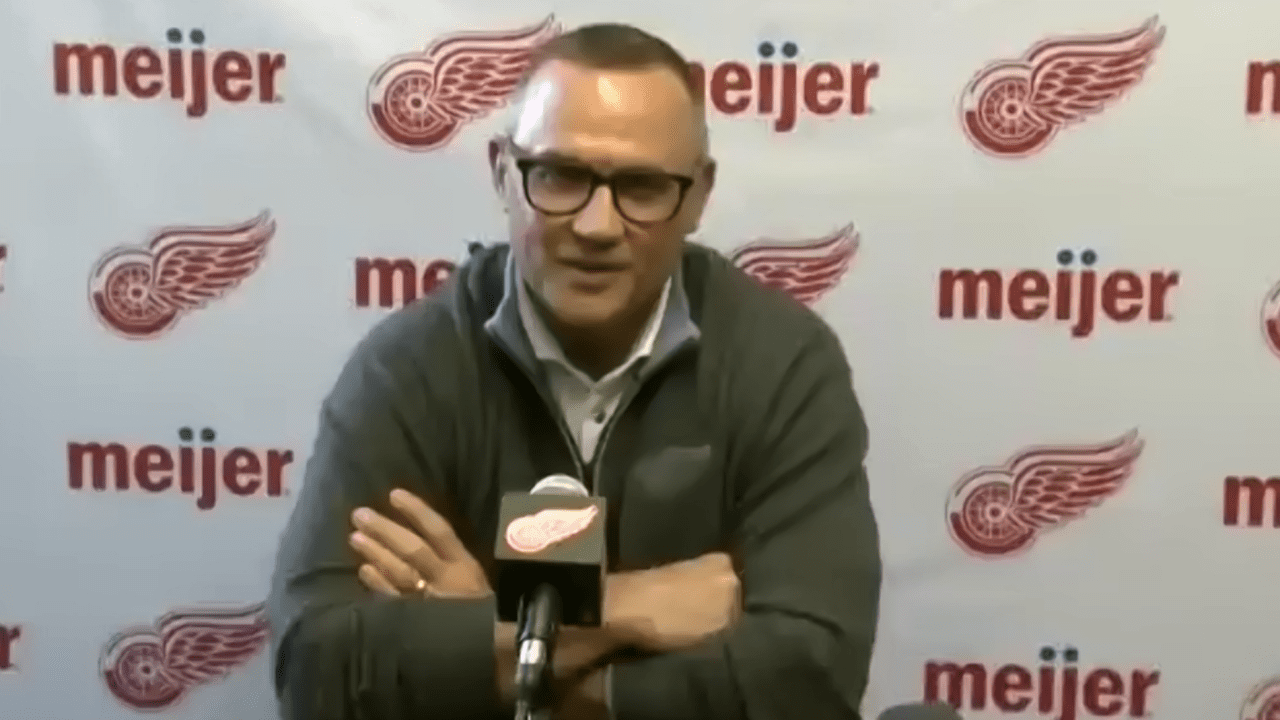 Steve Yzerman was amused at the suggestion that NHL general managers will be more inclined to wheel and deal now that they are together again on the NHL draft floor.
"Believe it or not, it's not like we just wander around the room looking for somebody, open up the raincoat and sell them a watch or something like that," he joked. "…There is a bit of a plan to it."
The Detroit Red Wings general manager met with the media on a zoom call Tuesday and talked about the state of his team heading into the draft Thursday and Friday in Montreal. Yzerman indicated he has confidence about landing a future NHL player with the No. 8 pick.
"I only know what we're thinking," Yzerman said. "I don't know what other teams are thinking, but we feel pretty good about where we are and we think we're going to get a good prospect that will help us."
Red Wings Not Focused on Centers
Yzerman did shoot down the idea that he's looking specifically for a center. He said that's not how the NHL draft works. The NHL isn't the NFL or NBA. When you are analyzing 17- and 18-year-old players who won't be in the NHL for a while, you simply take the best player.
"We won't be making a decision at least in the first round based on position," Yzerman said.
Fans may read that as posturing. But it's not. In the first, maybe early into the second round, GMs don't target positions.
That approach could change as the draft progresses.
"As we go through it and go into later rounds and you look at the current draft and see if we've drafted three right-shot defensemen or three goalies or something, we may be looking at different positions," Yzerman said.
No Decision on Staal or Gagner
Yzerman addressed some other issues, like the fact that he has told the Red Wings' free agents, such as Sam Gagner and Marc Staal, that he won't be able to tell them whether he wants to re-sign them.
"I'm going to see if I can improve our team and I will get back to them," Yzerman said.
In other words, Yzerman doesn't want to commit to anyone before he explores his options. It's clear that Yzerman wants to improve this team. The Red Wings have $35.7 million in cap space, according to CapFriendly.com. That's for 15 contracts. It doesn't include money that will go to restricted free agents Filip Zadina or Mitchell Stephens.
Yzerman Ready to Deal
He has taken note of the Nashville Predators acquiring blue chip defenseman Ryan McDonagh for a minimal return. With several teams looking to reduce their salary cap number, Yzerman is in a position to make a deal like the Predators did. He just needs to find the right partner.
"We're open," he said. "We have cap space. I want to try to use it wisely because it can disappear in a hurry. Two ways of potentially using it for us are maybe you get a player – you look at Tampa's deal with Nashville, Nashville gets a pretty darn good defenseman … Tampa was in a spot they had to move the contract, weren't really in a position to ask a lot in return for Ryan McDonagh. "
The Red Wings would like to find their own deal like that.
"We're looking at these teams that have to move players just to be cap compliant to start the season," Yzerman said. "In those situations you look at the player and what impact they're going to have on your team and what they cost or you look at other deals potentially where you're maybe helping someone out, alleviate their cap issues, for various reasons, maybe you're getting an asset. We've done those in the past."
Yzerman Mum on Larkin Contract
Yzerman made it very clear that he won't be discussing the state of contract talks with Tyler Bertuzzi and Dylan Larkin.
"I'd be happy to answer questions on the draft and leave it at that," he said, bluntly. "I have no desire and will not have any updates on contract negotiations on any of our players."
SIGNUP BONUS
UP TO $250


BONUS MONEY
BET NOW
This is the first time teams have come together for the draft since 2019. COVID-19 forced the NHL to draft remotely the past two seasons.
"I personally like doing the draft remotely, albeit the second day was kind of a death march for everyone," Yzerman said. "The draft floor is kind of hectic. The first round in particular. The building is sold out. It moves slower, so it's not as big a deal but we're all on the floor, we're kind of packed at our table. There's not a lot of room, a lot of distractions."