Red Wings of Tomorrow: Joren Van Pottelberghe
Swiss goalie Joren Van Pottelberghe has been on the Red Wings prospect radar since 2015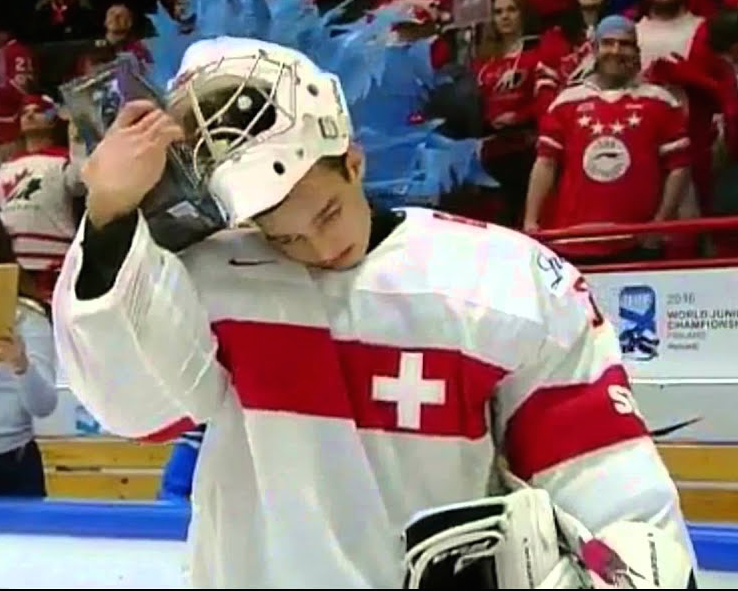 Red Wings of Tomorrow is assessing every prospect in the Detroit Red Wings system and what they are projecting to be in the future. We'll be looking at the strengths and weaknesses of their game, as well as what the future holds for them as they advance through the Detroit organization. Today, we feature goaltender Joren Van Pottelberghe
Joren Van Pottelberghe
Position: Goal
How Acquired: Selected 110th overall in 2015 NHL Draft
2021-22 Stats: (GPI-GAAA-SV%) 44-2.23-.921 (with Biel HC)
Contract Status: Unsigned
Anticipated 2022-23 Team: Biel HC (Swiss League)
Prospect Synopsis
Technically, goaltender Joren Van Pottelberghe is still classified as part of the prospect pool in the Detroit Red Wings organization. However, it's been seven years since the Red Wings selected the Swiss netminder in the 2015 NHL entry draft. To date, his only appearances on North American ice as part of the Red Wings system have come during summer development camps.
"I have not really thought about it that much," Van Pottelberghe said of playing in North America. "I'm more focused on playing as much as possible in Switzerland, to get as many games as possible."
🔔 OPEN MARKET ADD for June 16 🔔@EastonsScouting (Paul Easton)
1) Joren van Pottelberghe – G, Detroit

There are now 4,597 hockey players registered on the @UFFSports platform: https://t.co/GjXMPhELIh pic.twitter.com/uCVFrIHf5V

— UFFS Hockey Scouts (@UFHL_Scouting) June 16, 2022
Van Pottelberghe was playing for Linkoping of the Swedish League when the Red Wings claimed him in the draft. He's spent the past six seasons performing in his homeland – three with Davos, one with Kloten and the past two campaigns with Biel. Among his teammates with Biel is former Red Wings forward Damian Brunner.
Fluent in four languages – English, Swedish, German and Dutch – Van Pottelberghe's parents are originally from Belgium.
Estimated Time of Arrival in Detroit
Van Pottelberghe is coming off his best season as a pro, posting a .921 save percentage and 2.23 goals-against average for Biel.
Unfortunately, he ended up suffering a strain of the anterior cruciate ligament as well as a bone contusion of the tibia in goalmouth collision late in the season.
Oddly enough, in May Biel would sign Finnish world championship netminder Juho Okinuora to be Van Pottelberghe's netminding partner for the 2022-23 season. However, Okinuora's contract was including an out if an NHL deal came along. He ended up signing with of all teams, the Red Wings.
Last week, Biel signed another Finnish netminder, former Grand Rapids Griffins puckstopper Harri Sateri, to pair with Van Pottelberghe.
BetMGM Sportsbook
States: All States Where Legal
GET THE APP
SIGNUP BONUS
UP TO $1,000!


Up To $1000 Paid Back in Bonus Bets
BET NOW
Detroit GM Steve Yzerman is fond of saying that goaltenders take longer to develop. It's been seven years now for Van Pottelberghe and he's at best seventh or eighth on Detroit's goalie depth chart. Then again, his NHL rights do belong to the Red Wings. As long as that's the case Lloyd Christmas might note, so you're saying there's still a chance?
"It's something that pushes you, when you know you have a chance," Van Pottelberghe said. "When you get to the practices it's something in the back of your head that pushes you a little more in your workouts on the ice."