Red Wings Daily: These Days, Tomas Sandstrom Is Putting Out Fires
Former Red Wings forward Tomas Sandstrom went from starting fires to putting them out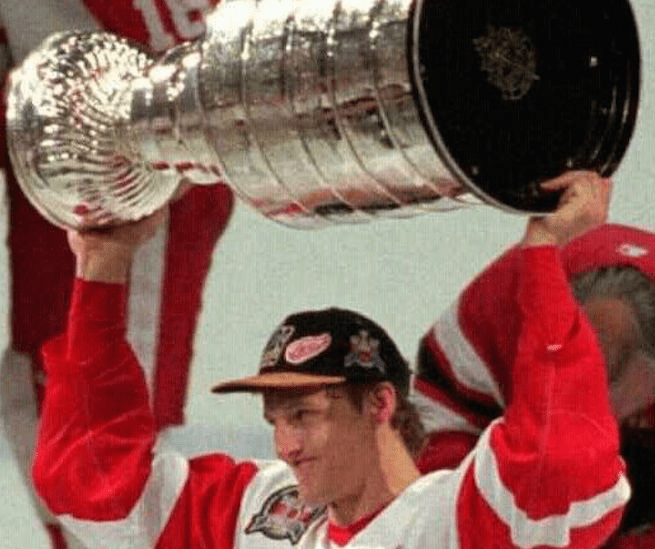 During a 15-season NHL career that included a Stanley Cup win with the Detroit Red Wings in 1996-97, Tomas Sandstrom gained a reputation for starting fires on the ice. He was an agitator, a button pusher, a shift distruber.
Since retiring from the game in 2002, he's been devoting his life to putting out fires. Sandstrom, 57, is working as a firefighter in Trelleborg, Sweden.
"It's good, I enjoy my job," Sandstrom explained to Expressen.se. "It's like being on a hockey team.
Tomas Sandstrom of the Detroit Red Wings holds up the Stanley Cup Championship, celebrating after Detroit beat the Philadelphia Flyers in the 1997 NHL Stanley Cup Finals. #TomasSandstrom #DetroitRedWings #Detroit #RedWings #StanleyCup #hockey #1990s pic.twitter.com/T32guVQhU6

— The Thrill of Victory (@ThrillVictory) April 24, 2022
"I went on temporary work for three, four years. Now I have been permanently employed for almost nine years. I work seven days a month."
During the free time offered him by firefighting, Sandstrom runs his own construction company. The guy who often operated his stick on the ice with a surgeon's precision still earns a living working with wood.
Sandstom Helped Make Red Wings Harder To Play Against
During that 1996-97, the Red Wings set out to become a team that was harder to play against. A trade with the Pittsburgh Penguins brought Sandstrom to Detroit. He arrived with a reputation for being a player who skated on the edge and often crossed over it.
"My playing style was unpolished, but I wasn't particularly ugly on the ice," Sandstrom said. "The game in the NHL was quite honest. But if you did something stupid on the ice, you had to pay for it."
Nicklas Lidstrom, Tomas Sandstrom and Tomas Holmstrom of the Detroit Red Wings celebrate winning the Stanley Cup in 1997. #NicklasLidstrom #TomasSandstrom #TomasHolmstrom #Detroit #RedWings #DetroitRedWings #StanleyCup #hockey pic.twitter.com/fjWpDahlyF

— The Thrill of Victory (@ThrillVictory) January 19, 2021
Sandstrom played just 34 regular-season and 20 playoff games for Detroit but it was enough to gain him his only inscription on the Stanley Cup.
While admitting he devotes little of his life today to hockey, Sandstrom still embraces all the game gave to him.
"I have seen a lot, met many wonderful people and had the best job in the world," he said.
Red Wings In Case You Missed It
Hockey Now Network
Pittsburgh: Should the Pittsburgh Penguins be considering bringing back veteran forward Brian Boyle?
Philadelphia: Top Philadelphia Flyers forward prospect Bobby Brink will miss five months following hip surgery
Washington: Prospect Hakon Hakelt of the Washington Capitals is invited to Germany's camp for the upcoming World Junior Championship
BetMGM Sportsbook
States: All States Where Legal
GET THE APP
SIGNUP BONUS
UP TO $1,000!


Up To $1000 Paid Back in Bonus Bets
BET NOW
Islanders: The New York Islanders are seeking to convince former defenseman Johnny Boychuk to join the team in a front-office position.
Florida: The moment that Matthew Tkachuk became available, the future plans for Jonathan Huberdeau and the Florida Panthers were destined to change.
San Jose: Coach David Quinn and GM Mike Grier appear to be sharing the same vision of the future for the San Jose Sharks.
Vegas: The departures of Max Pacioretty and Evgenii Dadonov mean the Vegas Golden Knights are suddenly lacking in depth on the wings.
Vancouver: Former Vancouver Canucks forward Jake Virtanen was found not guilty at his sexual assault trial.
Montreal: Defenseman Chris Wideman explains why he gave his Montreal Canadiens No. 10 jersey to 2022 first overall draft pick Juraj Slafkovsky.
Calgary: On the other hand, newcomer Jonathan Huberdeau isn't about to ask veteran Calgary Flames forward Mikael Backlund to surrender his No. 11 jersey.