Sundqvist Plans to Stand Tall On Red Wings Line with Soderblom & Rasmussen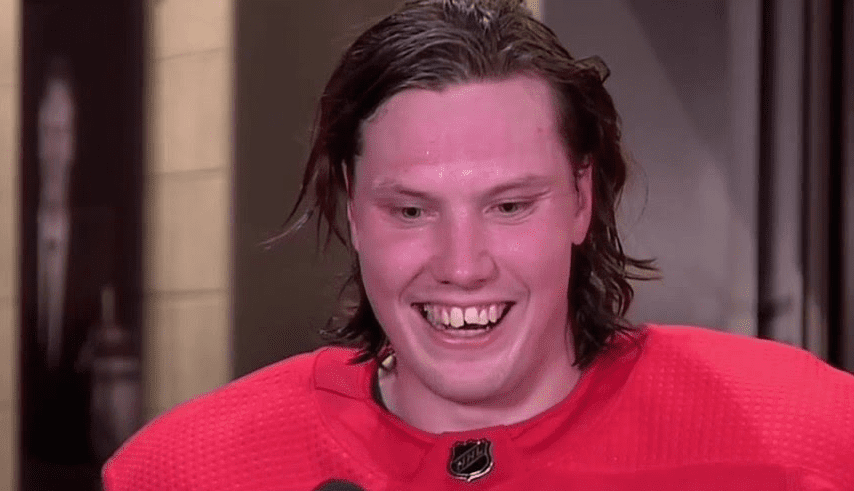 When Detroit Red Wings General Manager Steve Yzerman acquired Oskar Sundqvist from the St. Louis Blues, he mentioned that the winger was targeted for very specific reasons.
"It was an opportunity to bring in a bigger body that plays on the right side is a good penalty killer," Yzerman said. "That really filled a need for us, particularly on right wing and the size and the ability to kill penalties."
Heading into the 2022-23 season, the bigger body will actually be on the smaller side–when skating beside his two new linemates. Though shorter compared to 6'8 Elmer Soderblom and 6'6 Michael Rasmussen, Sundqvist will still hold his own.
Oskar Sundqvist flicks home the brutal New Jersey turnover to open the scoring for Detroit!#LGRW pic.twitter.com/vimare3idR

— Hockey Daily 365 l NHL Highlights & News (@HockeyDaily365) April 24, 2022
"I'm the smallest guy there," Sundqvist said.  "It's been feeling good the two times I've been practicing with them. Obviously, two really good players and big players. If we play together Friday (in the regular-season opener against Montreal), it will be a lot of fun."
A Big Line with Bigger Expectations
Sunqvist is feeling the best he has in nearly three years. Add in new linemates and a Red Wings team on the rise, and Sundqvist considers himself in the right place at the right time, regardless of who looms over him.
"I've usually been the biggest guy. It's a switch-around to be the smallest one," Sundqvist said.
The Red Wings have only gotten bigger as Yzerman has taken over. Though Sundqvist is the smaller one on the line, he stands at 6'3 and is part of a very deliberate plan to make Detroit more physically intimidating to matchup against. It also helps that a line with such stature can push the play, too.
Head coach Derek Lalonde sees a lot that goes well together on the line.
"They work. They communicate well," Lalonde said.  "There's times that I think that line can possess the puck and kind of win the field position battle if you will and have some extended zone time. They've shown that in practice. They're very hard to play against. It's something we'll probably look at on Friday."
Size, snarl. And hopefully for Detroit's sake some scoring, too.
BetMGM Sportsbook
States: All States Where Legal
GET THE APP
SIGNUP BONUS
UP TO $1,000!


Up To $1000 Paid Back in Bonus Bets
BET NOW
Sundqvist is Feeling Great
After fighting through injuries with St. Louis, there was still some nagging issues when he arrived in Detroit, For all intents and purposes, he believes the offseason rehabilitation he went through only made things better. He may even be able to play consecutive nights after the season opener on Friday.
That will of course be up to the medical and coaching staff to make the final call. But after struggling with knee issues through last season, Sundqvist finally sees some relief–which will only help his performance in Detroit.
Moving in to our new place in Detroit and got one of the most important things right away! Now all I need is to fill it up with some @urbanchestnut beers!!🍻 pic.twitter.com/LL518zg5Pb

— Oskar Sundqvist (@sundqvist32) September 5, 2022
"The whole last season I skated with one leg basically, so it was good to finally be pain-free, too." Sundqvist said.
Playing on a line as the shortest guy. Skating without aches. Sundqvist seems on his way to delivering on what Detroit was hoping for when they acquired him.
"I don't have any problems. It feels great," Sundqvist said.  "Happy to be pain-free for the first time in almost three years."