Every Other NHL Team Passes on Vrana at $5.25 Million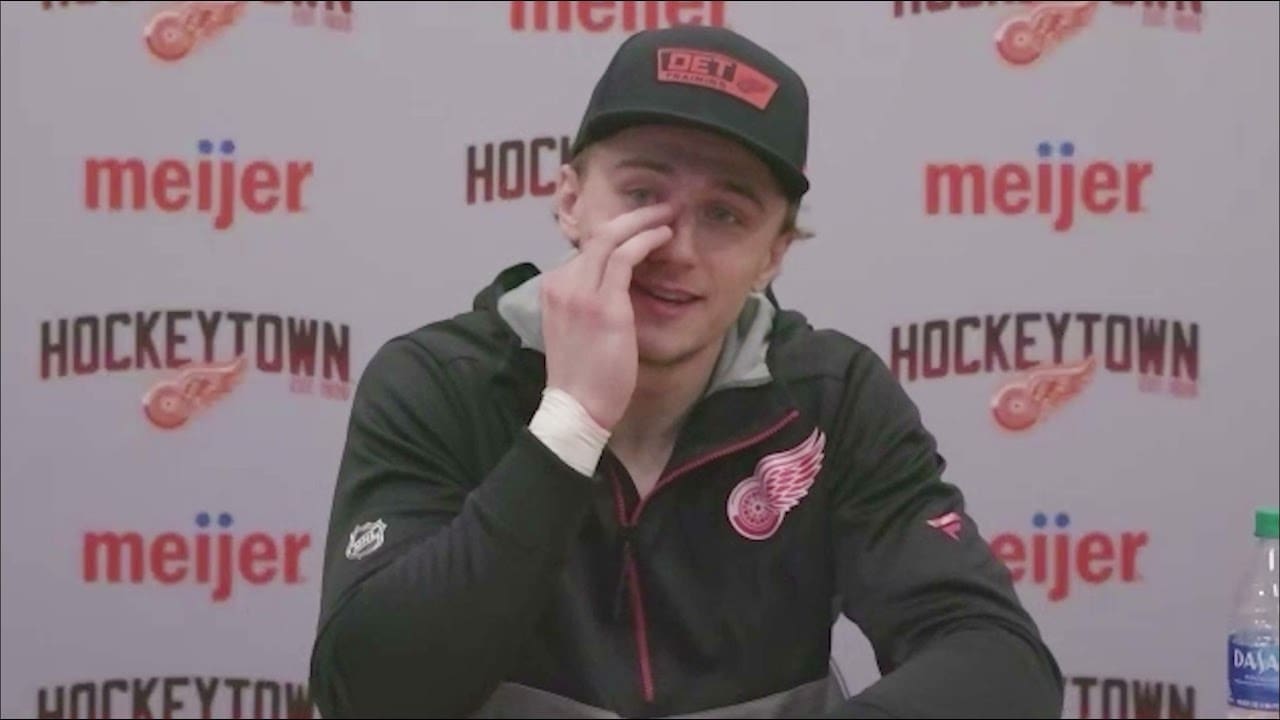 Detroit Red Wings forward Jakub Vrana cleared waivers Wednesday, leaving him in limbo as far as his NHL career is concerned.
He is on the Grand Rapids Griffins roster now until GM Steve Yzerman recalls him or trades him.
Coach Derek Lalonde didn't explain why the Detroit Red Wings waived Jakub Vrana, but did say he was on board with the decision. His future, or at least the next two seasons, are in Yzerman's hands.
"We talked about it thoroughly," Lalonde said. "Steve (Yzerman) and I discuss everything together. We're on the same page with everything. Ultimately, it's Steve decision. That's exactly why you probably need the manager-coach layer. But weighed everything and ultimately that's what we came up with."
DraftKings Bet $5 Win $150
All States Where Legal
GET THE APP
SIGNUP BONUS
BET $5, WIN $150


New Player Bonus
BET NOW
Lalonde said he didn't want to go into details out of respect for Vrana's privacy. He recently joined the Red Wings after spending more than two months in the NHL/NHLPA Players Assistance program.
"With the situation of where Jakub is in his coming back, private, personal to him," Lalonde said. "Ultimately, we had to make a decision and that was the decision,"
Because Vrana, 26, cleared waivers, the Red Wings can leave him in Grand Rapids as long as they want. Or, they could trade him. Playoff teams that need scoring might be more interested if the Red Wings would retain some of Vrana's salary. He has a deal, paying him $5.25 million per season, that extends through next season.
The Red Wings needed the roster spot to activate Robby Fabbri from the injured list. They will have to cut some again when Tyler Bertuzzi and Filip Zadina come back from injury."
Vrana Potential 40-goal Scorer
Coming into this season, Vrana was considered a candidate to be the team's leading goal scorer. He has scored 22 goals in 39 career games for Detroit. But staying in the lineup has been an issue. Last season, he opted against offseason surgery on his shoulder. And then needed in-season shoulder surgery that limited in to 26 games on the season.
This season, Vrana played two games in October before entering the NHL/NHL Players Assistance Program. He was reinstated Dec. 16. 
"Yeah, he does provide goals," Lalonde said. "I think where he is in his game, too, you hope to get back there. He's played three games in GR so far…So I just think he's in the process of getting his game in order to hopefully where it was. It's all part of it. I can't project where he's going to be for us or anyone else in time here because it's a little of getting his game back in order."
Erne Loses Lineup Spot
It's clear that the Yzerman is unhappy with Vrana. They wouldn't waive a player with his skill package if there wasn't some kind of issue.
"I think there's probably a lot that went into it," Lalonde said. "That's part of his privacy, especially where he's been over the last 3-4 months. I don't think it would be fair to him to go through any of the details."(managing the human side of it as a coach)."
Adam Erne will be scratched tonight to make room for Fabbri to play against the Devils. The Red Wings undoubtedly hope Fabbri and Bertuzzi's return will make up for Vrana's absence.
"You hope so. Obviously, we're scoring in this little win streak. We're not built like some of the other offensive top-end teams in the league. We have no problem with that. Fine with that. We're going to win with what we keep out of our net. We're 16-12-7 and we look at those wins and losses and they all look like that. The games we won it was about us keeping it out of our net."