Report: Red Wings' Bertuzzi Not On Trade Market (For Now)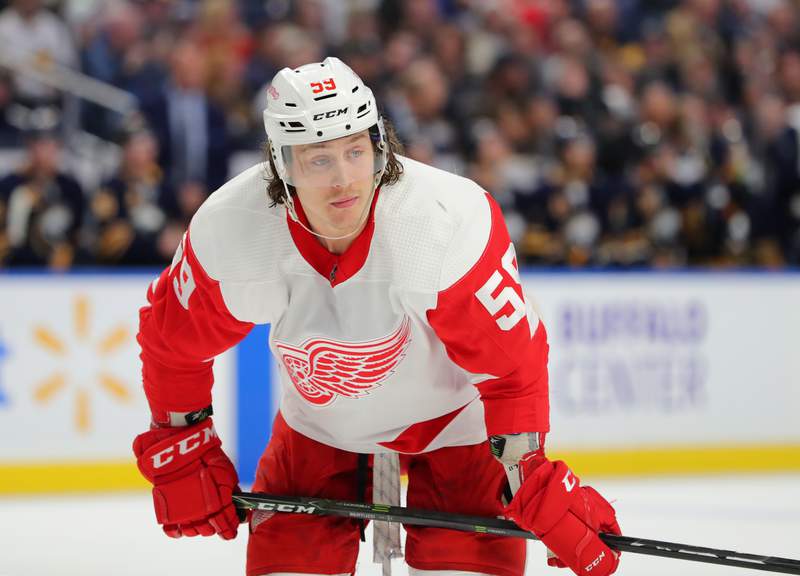 Elliotte Friedman reported on Hockey Night in Canada Saturday that Detroit Red Wings are presently not trying to trade Tyler Bertuzzi.
"The Red Wings will keep him as long as they make their run to the playoffs through the trade deadline," said Sportsnet's Elliotte Freidman said during the 32 Thoughts segment. "Things could always change, but that looks like where it stands."
Friedman said Detroit general manager Steve Yzerman wants to see if the Red Wings can be a legitimate contender to make the playoffs for the first time in seven seasons.
FanDuel Sportsbook Promo #1
ALL STATES WHERE LEGAL
GET THE APP
SIGNUP BONUS
$1000 No Sweat Bet


$1000 No Sweat Bet
BET NOW
The Red Wings had their five-game winning streak ended Saturday by a 4-2 road loss to the Seattle Kraken, but are still only three points out a playoff spot. The New York Islanders hold the last playoff spot in the Eastern Conference with 63 points. They have more regulation wins than the Washington Capitals who also boast 63 points.
The Red Wings, with 60 points, complete their road trip Tuesday with a game against the Washington Capitals who have been playing without Alex Ovechkin. He's in Russia dealing with the death of his father.
Bertuzzi Will Be UFA
Bertuzzi, a top line player for Detroit, is in the last season of his contract. He can become an unrestricted free agent this summer. It was anticipated that Yzerman and Bertuzzi would have difficulty negotiating a new deal, and that has occurred.
If Yzerman believes he can't reach an agreement, he has to consider moving him because the feisty forward has value in the trade market. Even though the Red Wings have not been a playoff team in his time in Detroit, it's assume he could be a prickly difference-maker in a playoff series.
But it seems as if Yzerman is placing playoff contention as a higher priority than getting something for Bertuzzi. At least for now. Maybe he believes the rebuilding Red Wings need that to take the next step. It's clear the Red Wings' fan base wants that.
Bertuzzi's value on the trade market may not be as strong as it would have been at the start of the season. He has missed the majority of Detroit's games thus far this season because of two separate injuries. But during the latter stage of Red Wings' recent surge (8-4 in their last 12 games) he has shaken off the rust to look like himself. Bertuzzi has seven points in his past seven games.
It seems likely that Yzerman won't make a final decision about Bertuzzi until much closer to the March 3 trade deadline. He will have a much better read on what Detroit's chances are of qualifying for the playoffs.