The Daily: Ex-Red Wings signee Olkinuora still struggling in Sweden; Top trade target Meier suffers injury
Olkinuora a loser in his first two SHL decisions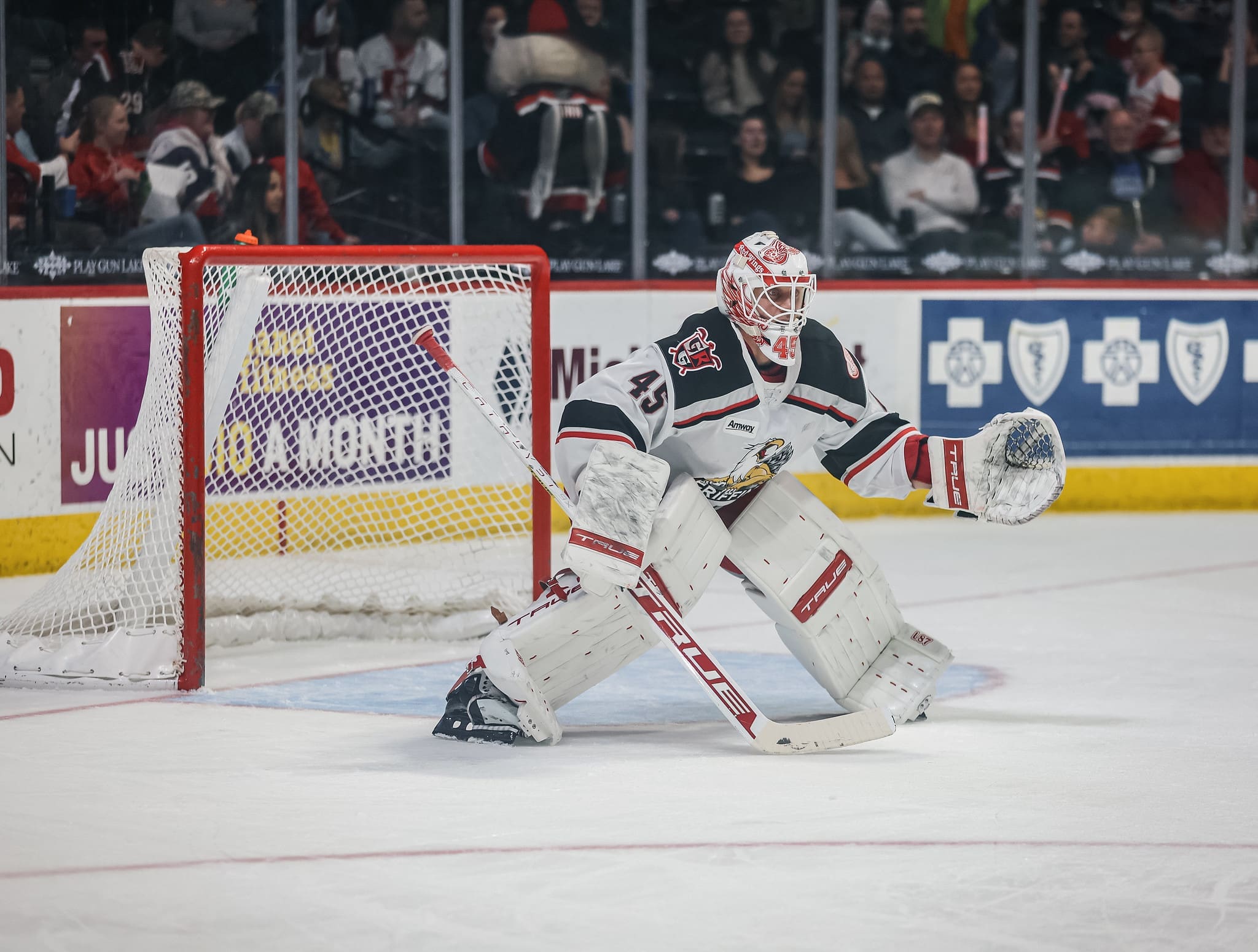 The Detroit Red Wings brought in goaltender Jussi Olkinuora in the hopes he'd challenge for a role on the club. The Finnish netminder was, after all, coming off a season in which he'd won an Olympic gold medal and world title and been named MVP of the latter tournament.
Instead, Olkinuora couldn't even cut it with the AHL Grand Rapids Griffins and was cut loose earlier this month. He quickly caught on in Sweden with Brynas of the SHL. However, it isn't going swimmingly for Olkinuora there, either.
Crazy how much Jussi Olkinuora has been a stand-out goalie internationally and completely lost on North American ice. He's signed with Brynäs, who've had goaltending nightmares and sit third-from-last with 12 games left in the SHL season. https://t.co/8XlquL0l4s

— Kevin Lacy 🇺🇦 (@KevinLacy22) February 3, 2023
He's made three appearances for Brynas and is 0-2. Olkinuora is showing a 4.38 goals-against average and .825 save percentage. Brynas is 13th in the 14-team SHL, in danger of relegation to the Allsvenskan.
There was a 5-2 loss to Linkoping to start. Next, Olkinuora came on in relief of Anders Lindback in a 7-1 loss to Oskarshamn, allowing four goals on 14 shots.
Pulling himself from the game, Lindback went straight to the dressing room and didn't rejoin the team on the bench. In Saturday's 2-1 loss to Leksands, Olkinuora got the start, allowing two goals on 14 shots. His backup was Isac Grönhagen.
"I am absolutely sure that we have two goalkeepers who are experienced and who will help us in the final stages of the season," Brynas coach Mikko Manner told Aftonbladet. I"'m so glad we have the two of them. I'm 100% sure they can handle this and help the team."
Griffins Keep Road Streak Going
The AHL Griffins were extending their road winning streak to five games via a 5-4 shootout win over the Manitoba Moose on Sunday. It was the first win by Grand Rapids in seven visits to Manitoba (1-5-1) though.
Victor Brattstrom stopped two shots in the shootout, with Austin Czarnik and Elmer Soderblom scoring for the Griffins. Brattstrom also collected an assist while earning the victory.
Red Wings In Case You Missed It
Red Wings Next Game
It's a game with huge playoff implications as Detroit is completing a five-game road trip on Tuesday at Washington against the Capitals. The Red Wings are two points behind the Capitals with three games in hand.
Hockey Now Network
Pittsburgh: Statistically, the third unit of the Pittsburgh Penguins is the NHL's worst forward line. And they're living down to that reputation.
Boston: What a difference a year has made for Boston Bruins forward Jake DeBrusk.
Montreal: In terms of their NHL trading outlook, is it deja vu all over again for the Montreal Canadiens?
Islanders: With their latest injury to Mathew Barzal, you have to wonder what it's going to take for the New York Islanders to take a look at speedy prospect Ruslan Ishakov.
Philadelphia: The Philadelphia Flyers have lost four in a row after falling to the lowly Vancouver Canucks.
Florida: The only consistency about the Florida Panthers this season is their inconsistency.
Washington: Losers of four in a row, about to face the Red Wings, the Washington Capitals are needing to rediscover their swagger.
Vegas: Jonathan Marchessault is the latest Vegas Golden Knights forward to be rediscovering his scoring touch. He was tallying twice in Saturday's win over the Tampa Bay Lightning.
DraftKings Bet $5 Win $150
All States Where Legal
GET THE APP
SIGNUP BONUS
BET $5, WIN $150


New Player Bonus
BET NOW
San Jose: Forward Timo Meier of the San Jose Sharks, one of the top trade targets inthe NHL, is questionable due to an upper-body injury.
Colorado: Minus Norris Trophy-winning defenseman Cale Makar, the Colorado Avalanche came storming back from a 3-0 deficit to edge the Edmonton Oilers 6-5.
Los Angeles: Blowing a four-goal lead, the Los Angeles Kings were able to rally. They were extending their win streak to four games via a 6-5 victory over the Arizona Coyotes.
Calgary: Discussing his scooter accident in Detroit, Calgary Flames defenseman Rasmus Andersson says he feels lucky to be alive.