Red Wings Lost Their Way After Spending 24 Hours in Playoff Spot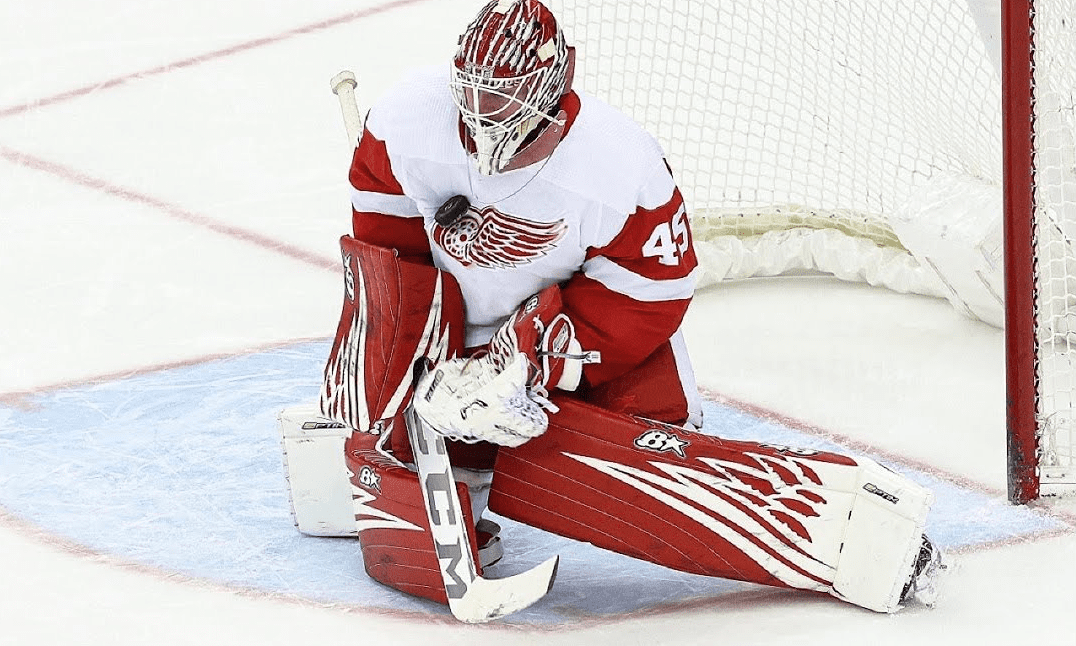 The Detroit Red Wings' playoff chances haven't completely collapsed. But the roof is sagging and damage caused by the loss to the New York Islanders is extensive.
"It's a lot of frustration right now since (the Islanders) changed the course of the game so late," Red Wings goalie Magnus Hellberg said.
The 4-1 setback against the Islanders was Detroit's fifth consecutive loss. Since moving into a playoff spot with a win against the New York Rangers nine days ago, the Red Wings have been outscored 24-8. They've given up 21 goals in their last four games.
They were leading 1-0 going into the third period, and then surrendered four Islanders goals to undermine their efforts in the first two periods.
"It was a big game for us, despite all the things going on," Red Wings captain Dylan Larkin said.  "A really big game for us."
The concept of a "four-point game" was on display in this result. Had the Red Wings won this game, they would have been three points behind the Islanders. Instead, they are now seven points behind the Islanders who currently have the top Eastern Conference wild card spot with 72 points. The Red Wings are six points behind the Pittsburgh Penguins who have the final wild-card position.
The air is leaking slowly out of the Red Wings' playoff balloon. That 24-hour period when they held a postseason position seems like eons ago.
Since then, Michael Rasmussen has been lost to injury, possibly for the season. Four players have been traded. Their starting goalie Ville Husso has a slight injury and they have forgotten how to score goals. They have scored two or fewer goals in four of their last give games. They have also lost for the first time in regulation after leading going into the third period. Before Saturday's loss, they were 19-0-2 when leading after two.
"I would like to be able to handle the third period a little bit better, maybe eat some minutes, maybe get to that first TV timeout still up a goal," Lalonde said. "Even at 2-1 I felt we were pushing pretty hard. I felt we were going to get some looks down the stretch, especially with the goalie pull. Unfortunately, we got ourselves in the box at the end."
As captain Larkin pointed out, the Red Wings played a solid road game for two periods.
"We came out in the third and we were just a little too hesitant," Larkin said. "Too much sitting back. We really tried to defend a full 20 minutes. They just kept coming and coming and we didn't push back enough."
Right now the Red Wings look like a team trying to sort out how they must play after all of these changes. Rasmussen, Filip Hronek, Tyler Bertuzzi and even Oskar Sundqvist were all significant players for different reasons.
The Red Wings have showed this season, when they had several injuries, that they can figure how to compete hard enough to stay competitive. They have been resilient this season.
DraftKings Bet $5 Win $150
All States Where Legal
GET THE APP
SIGNUP BONUS
BET $5, WIN $150


New Player Bonus
BET NOW
The problem is they may need time to pull themselves back together. And they are running out of time to make a major playoff push. It's hard for fans to stay excited after the loss to the Islanders.
"I think if we got this one tonight, this is probably crazy to say but we're still hanging around," Larkin said. "That's been the attitude the last two games. We're still right there. We gotta win hockey games.