Red Wings Husso Out; Chiasson, Zadina Uncertain; Edvinsson in Detroit to Stay
Edvinsson given full recall to Detroit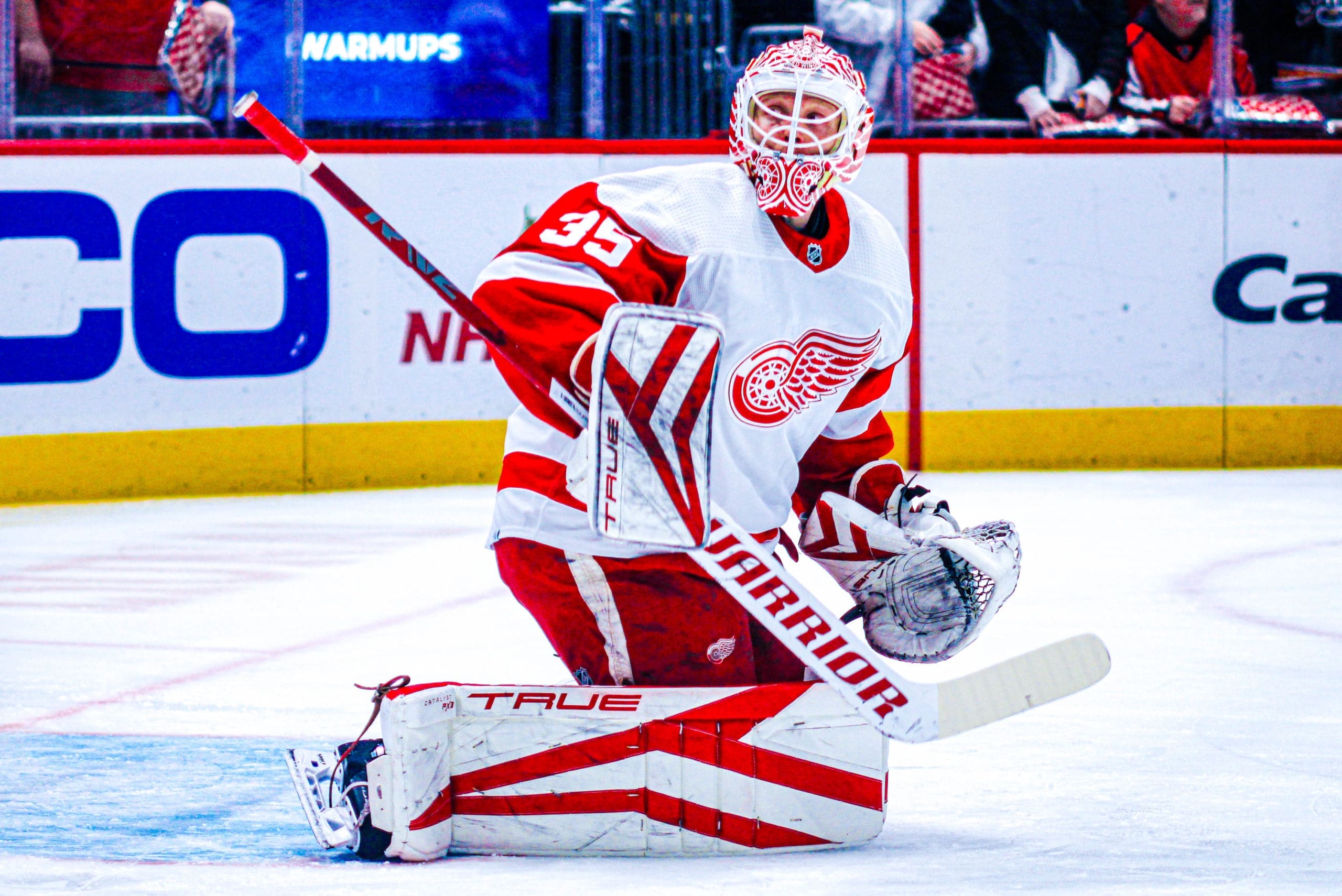 Detroit Red Wings goalie Villo Husso is out, but Simon Edvinsson is in.
As for Alex Chiasson and Filip Zadina, well, you're just going to have to wait and see.
In the latest injury updates for the Red Wings as they prepare for Tuesday's home date with the Pittsburgh Penguins, perhaps the biggest news of all is who isn't hurt. Defenseman Gustav Lindstrom has been deemed 100% fit.
That was forcing Detroit management to make a decision – do they return defenseman Simon Edvinsson to AHL Grand Rapids from his emergency recall, or do they keep him on a full recall?
Our @xfinity Player of the Week?

Simon Edvinsson! 🚨🙌 pic.twitter.com/tH4tEtRehh

— Detroit Red Wings (@DetroitRedWings) March 26, 2023
The choice the club is making is that Edvinsson is simply too good to be going back down to the AHL.
"I believe he's been officially recalled this morning," Red Wings coach Derek Lalonde said. "In reality, he'd have to be, knowing Lindstrom is 100 percent."
Red Wings Husso Still Sidelined
The news isn't nearly as good where Detroit goalie Ville Husso is concerned. Out the past two games due to a lower-body injury, there's currently no firm timetable for Husso's return to action.
"He's probably in a week-long evaluation with what he's dealing with, getting a couple different opinions on it," Lalonde said. "Still a couple days out before we know fully where he's at."
Husso's ailment is believed to be the result of the wear and tear that comes with the workload of a professional puckstopper.
"I think this is something that has been underlying for a couple years on him, which is very common for his nature of position," Lalonde said. "I think it's just come to the forefront now. So it's something I think they're going to evaluate in the next few days."
Chiasson, Zadina Likely Game-Time Decisions
Forward Alex Chiasson also wasn't practicing on Monday. His status for Tuesday's game is uncertain.
"Chiasson was unavailable for practice today because he was being evaluated during practice," Lalonde said. "He actually skated post-practice, so I'll know more talking to the training staff after."
Forward Filip Zadina, an absentee for Saturday's 3-0 loss at Philadelphia due to a lower-body injury, was practicing on Monday. However, determination of his status for Tuesday is still in the process of determination.
"Zadina, I don't know, will be how he feels after practice," Lalonde said. "Still has an underlying lower-body situation from his previous injury."
Defenseman Ben Chiarot (upper=body injury) was also back on the ice, but won't be suiting up on Tuesday.
"No, I wouldn't call Chiarot available," Lalonde said. "It was a good step in the right direction. Skating today, this has been right on the time frame, couple-week time frame we had talked about."
Surgery Ahead For Fabbri?
Lalonde also was hinting about the possibility that surgery could be in the future for injured Detroit forward Robby Fabbri.
"I think we're going to have news here the next couple of days," Lalonde said of Fabbri. "I don't expect him back the rest of the year. It's more of a cautious approach with him, looking more towards next year."
BetMGM Sportsbook
States: All States Where Legal
GET THE APP
SIGNUP BONUS
UP TO $1,000!


Up To $1000 Paid Back in Bonus Bets
BET NOW
Already having undergone three knee surgeries during his NHL career, Fabbri has been sitting out since being hurt in a leg-on-leg collision with Chicago's Tyler Johnson in a March 8 game. Lalonde wasn't ruling out surgery as a potential solution to Fabbri's latest issue.
"There is potentially," Lalonde admitted. "But I don't think it's going to be an aggressive type surgery. If there is, I think it's going to be a clean-up type thing, but they're still in the process of figuring it out."