Chiasson a Presence at Net Front for Red Wings
Chiasson has power-play goals in successive games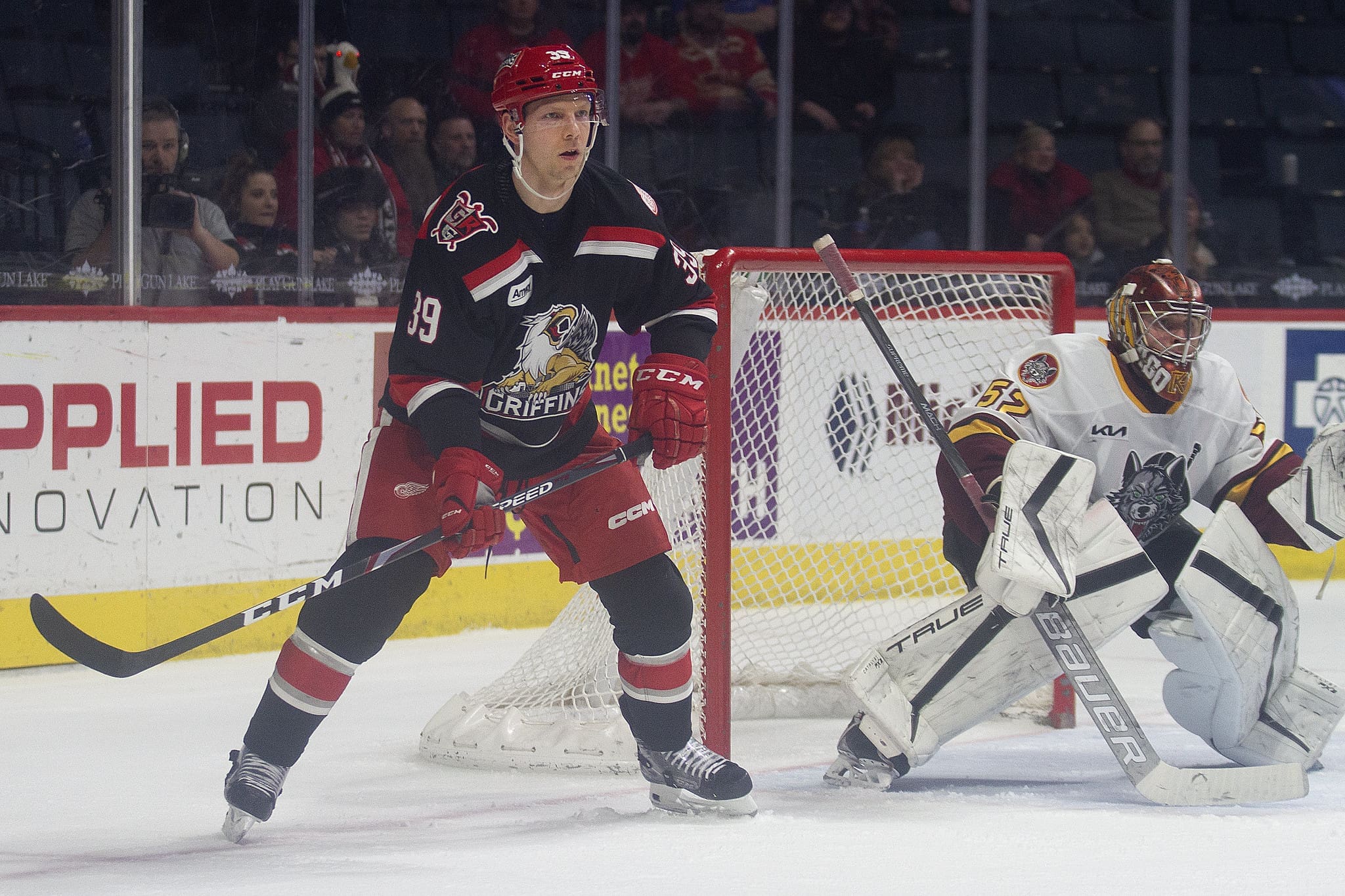 Dino Ciccarelli is among the admirers of the net-front work of Alex Chiasson for the Detroit Red Wings. He was in attendance at Little Caesars Arena on Sunday. Ciccarelli is someone intimately familiar with filling a similar role for the club. The Hall of Famer scored 608 NHL goals, most from within spitting distance of the blue paint of the goal crease.
He's not the only one impressed by Chiasson's knack around the net.
"He's brought energy, experience," captain Dylan Larkin said of Chiasson, an 11-year NHL vet who was getting a recall from AHL Grand Rapids following the NHL trade deadline. "I've known from playing against him he's really good on the power play, all the teams he's been on, and it's nice to have a right shot there.
"I've been really impressed with him and it's been great having him the last week."
Net Front No Place For Faint Of Heart
For much of the past three decades, the Red Wings were given the blessing of suiting up some of the best net-frotn players in the history of the game. Ciccarelli scored 107 goals over four seasons from 1992-96. Almost every one of those goals was requiring the asorption of significant punishment by the 5-foot-10 Ciccarelli from defenders much more physically imposing than him.
His departure was coincided with the arrival of Tomas Holmstrom to Hockeytown. No one defined like at the net front like Holmstom did. He's never an NHLer without his knack around the blue ice.
🔴 Signed to an NHL contract on March 3
⚪️ Four points in five games so far

Alex Chiasson is still living the dream with the @DetroitRedWings. 🥲 pic.twitter.com/O0JLPqUW7v

— NHL (@NHL) March 12, 2023
You wouldn't want to work in the area of the rink from where Holmstrom scored almost all of his 243 NHL goals. And you wouldn't want to live where Holmstrom grew up in Lulea, Sweden. It's a town near the Arctic Circle in which the residents are shrouded in darkness for 23 hours a day during part of each year.
For addiitonal protection, Holmstom used to encase the backs of his legs with chunks of foam like you find on the inside of your sofa. It was much like him – crude, but effective.
Chiasson Also A Net Front Master
Playing the game in the painful yet potentially productive area around the net – the dirty areas where players are scoring the so-called greasy goals – is second nature for Chiasson.
"Obviously, it's a position I've been comfortable with in the past," Chiasson said. "I've played there the past 4-5 years.
"Obviously, good opportunity for me and trying to make the best of it."
A+++ for creativity on this setup from Alex Chiasson! 🍎

📺: @NHL_On_TNT ➡️ https://t.co/LaJpv7c3yx #NHLonTNT pic.twitter.com/hHm0RYArr8

— NHL (@NHL) March 9, 2023
On the surface, filling the net front role might appear to be a simplified task. Get a big guy. Park him in front of the goalie. Have him knock in rebounds.
"It seems simple but there's a lot that goes into that," Red Wings coach Derek Lalonde said. "Timing, taking away the goalie's eyes, the ability to make a play on the goal line. It's not easy and we lost a guy that's been really good for us in Sunny (Oskar Sundqvist, traded to Minnesota)."
Not Everyone Cut Out For Role
Not everyone is cut out to be filling the role. During his Detroit tenure, coach Jeff Blashill sought to convince Anthony Mantha that he'd be a 30-goal scorer were he willing to occupy the net front on a regular basis. Blashill went as far as to show Mantha footage of a master of the role, James van Riemsdyk of the Philadelphia Flyers. But he was never able to convince Mantha to embrace the concept.
No one needed to explain the value of net front work to Chiasson. And at 6-foot-4 and 208 pounds, he's in possession of the physical tools to make him play effectively there. But there's a lot more than size that goes into net front expertise.
"Puck support, being able to be available. He can get the puck from the half wall. I think that has a part to do with it and then that timing of when to take the goalie's eyes, when to be available, those are things we're looking for."
Detroit Power Play Thriving With Chiasson
Chiasson has directly factored in all four power-play goals scored by the Red Wings over the past three games. He scored two of them himself. In Sunday's 4-3 win over Boston, Chiasson scored once with the man advantage and was screening Bruins goalie Jeremy Swayman on another power-pllay tally.
People are still talking about the behind the legs cross creas dish Chiasson made to Larkin. a power-play marker last Wednesday agains the Chicago Blackhawks.
"He's a pro," Lalonde said. "I think the guys appreciate him.
"Sometimes, when you look at power play net-front guys, everyone just looks at if they bang home a rebound, or if they make that play he made the other night, the backhand through his legs back door tap in to Larks."
DraftKings Bet $5 Win $150
All States Where Legal
GET THE APP
SIGNUP BONUS
BET $5, WIN $150


New Player Bonus
BET NOW
There's so much else going into being effective in the role. Chiasson is showing that he has all the necessary tools stored inside his tool box.
"I don't think it's an accident that our power play has got a little spark with his being that net-front guy," Lalonde said.