The Daily: Former Red Wings Smith Currently Ineligible For Stanley Cup Inscription; Mantha a Goner in Washington?
Smith doesn't meet Cup inscription qualifications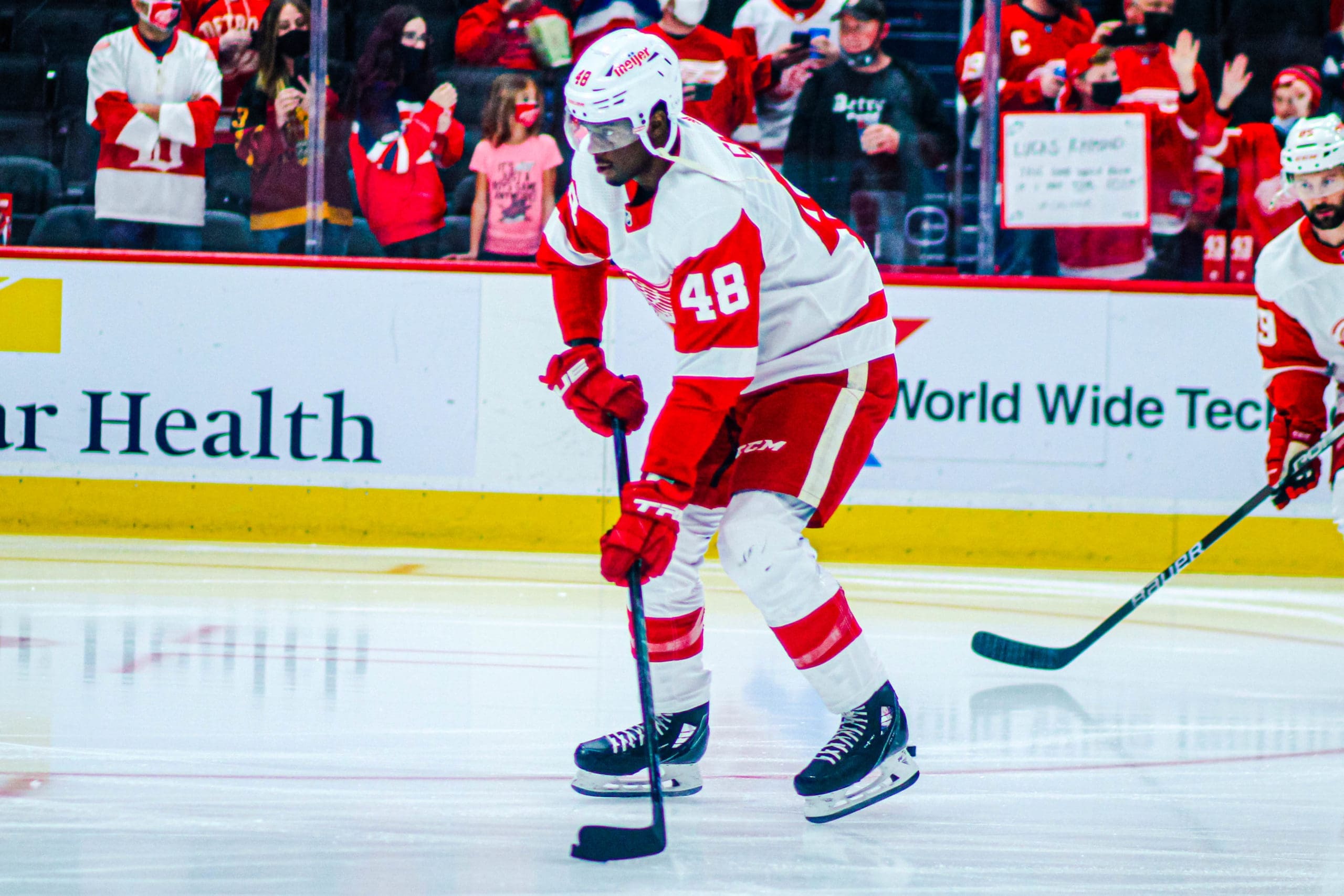 Things are looking grim for the Florida Panthers and former Detroit Red Wings forward Givani Smith in the Stanley Cup final. They are trailing the Vegas Golden Knights 3-1 following Saturday's 3-2 Vegas victory.
Should the Panthers find a way to rally and win the Cup, it won't do Smith any good unless he appears in a final series game. He only played 36 regular-season games this season. In order to qualify for a Stanley Cup inscription, Smith would've needed to play in 50% of Florida's games, which would be 41.
Givani Smith pic.twitter.com/APkS0xeFlR

— Caleb 🇨🇦🏒🏎 🇺🇦 (@caleb1193) June 4, 2023
The only other way he can earn a Cup inscription is to appear in a Stanley Cup final game. So far, Smith's only game in these playoffs came in the first round against the Boston Bruins.
Smith took the warmup for Game 4 of the final series, but did nbot dress.
Red Wings In Case You Missed It
Red Wings Offseason
While they don't yet know their opponent, the American Hockey League is confirming to the Grand Rapids Griffins, Detroit's top farm club, that they will be launching the 2023-24 AHL season wth a home game at Van Andel Arena on Oct. 13. In addition to their home opener, the Griffins will host their 26th annual New Year's Eve Celebration presented by Captain Morgan on Sunday, Dec. 31, along with Saturday games on Jan. 13, Feb. 10, Feb. 24, and March 2.
Hockey Now Network
Vegas: For the Vegas Golden Knights, the final 17 seconds of Game 4 of the Stanley Cup final felt like 17 minutes.
Florida: The Florida Panthers have no mnore losses to give in the Stanley Cup final.
Pittsburgh: New director of hockey operations Kyle Dubas intends to return the Pittsburgh Penguins to the annual NHL Prospects Challenge that is staged in Buffalo.
Boston: An NHL source says the Boston Bruins don't have what it takes to pry Pierre-Luc Dubois out of the Winnipeg Jets.
Buffalo: At the NHL Draft Combine, prospect Matthew Wood is drawing comparisons to Buffalo Sabres sniper Tage Thompson.
Montreal: With several NHL teams in the market for goaltending help, the Montreal Canadiens could find themselves in a position of strength thanks to their depth of netminders.
Philadelphia: A proposed TV series called Bullies will be based upon the era of the Philadelphia Flyers Stanley Cup-winning Broad Street Bullies.
Washington: Does former Red Wings forward Anthony Mantha have a future with the Washington Capitals?
BetMGM Sportsbook
States: All States Where Legal
GET THE APP
SIGNUP BONUS
UP TO $1,000!


Up To $1000 Paid Back in Bonus Bets
BET NOW
Chicago: An independent scouting servivce assesses the top five prospects of the Chicago Blackhawks.
Nashville: Former Nashville Predators tough guy Mark Borowiecki used to train with pro MMA fighters.
Colorado: Colorado Avalanche defenseman Samuel Girard has opened his home to evacuees of the Quebec wildfires.
Los Angeles: The defensive corps of the Los Angeles Kings is starting to take shape.
San Jose: The San Jose Sharks won't be bringing back winger Jeffrey Viel.
Calgary: Published reports are indicating that Ryan Huska will be the next coach of the Calgary Flames.