The Daily: Another Babcock in NHL; Former Red Wings D Konstantinov Joins Demonstrators in Lansing
Two Mike Babcocks in NHL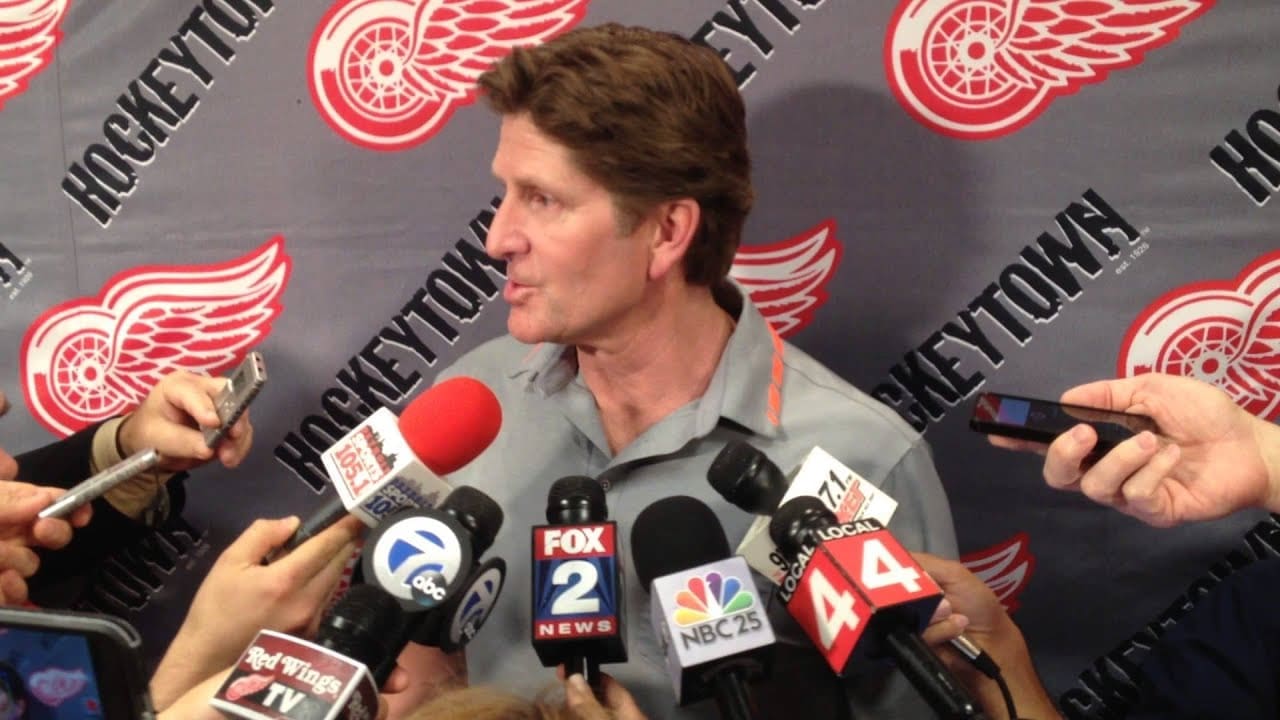 It was big news when everyone was learning that former Detroit Red Wings coach Mike Babcock would be returning to the NHL. His hiring as bench boss of the Columbus Blue Jackets recently went public. But it turns out that he isn't the only member of his family who will be coaching in the league next season. In fact, it's been a big month to be named Mike Babcock.
Michael Babcock, the 28-year-old son of the ex-Detroit coach, is the new skills coach for the St. Louis Blues. Last season, the younger Babcock was working with Detroit's Atlantic Division rivals the Ottawa Senators. His work there was including on-ice skill development. His tasks also involved pre-scouting of upcoming opponents and helping the coaching staff develop game plans.
Congrats to Michael Babcock on being named as a skills coach of @stlouisblues!#GoMack x #MissionMerrimack pic.twitter.com/dtwl07qDWW

— Merrimack Men's Hockey (@MerrimackMIH) June 15, 2023
Prior to that he was working for two years as an assistant coach with the University of Saskatchewan Huskies. During one of those seasons, he was serving on his father's staff.
Michael Babcock was a college hockey player at Merrimack. He would also play as a pro in France.
Red Wings In Case You Missed It
Red Wings Offseason
A familiar face was spotted among those demonstating recently at the Michigan state capital in Lansing. During a rally demanding changes to Michigan's no-fault insurance laws, former Red Wings defenseman Vladimir Konstantinov was among the demonstrators. He was one of a number of survivors of catastophic car crashes who were seeking reforms to the laws that were rewritten in 2019.
Konstantinov suffered permanent brain damage in a 1997 limousine crash shortly after the Red Wings won the Stanley Cup. His care coverage was cut by 45% when changes to the no-fault insurance laws went into effect in 2021.
Hockey Now Network
Pittsburgh: Would trading down to gain extra draft picks be worth it for the Pittsburgh Penguins?
Boston: Jim Montgomery, coach of the Boston Bruins, is admitting that he misread the body language of his players as they were blowing a 3-1 series lead to Florida.
Philadelphia: With five picks in the first 103 selections of the NHL entry draft, the Philadelphia Flyers hope to kick start their rebuild.
Washington: A qualifying offer has been made by the Washington Capitals to RFA defenseman Martin Fehervary.
Buffalo: Even if the San Jose Sharks are intent on dealing defenseman Erik Karlsson, he's not a fit with the Buffalo Sabres.
Florida: The Florida Panthers know that they let a chance at greatness slip through their fingers.
Montreal: Comparing the draft pick value popf the last two GMs of the Montreal Canadiens – Marc Bergevin and Kent Hughes.
BetMGM Sportsbook
States: All States Where Legal
GET THE APP
SIGNUP BONUS
UP TO $1,000!


Up To $1000 Paid Back in Bonus Bets
BET NOW
Chicago: Connor Bedard is the version of Willy Wonka's golden ticket to the Chicago Blackhawks.
Colorado: An NHL draft scout assesses who could be going to the Colorado Avalanche with the 27th overall pick.
Vegas: The Stanley Cup parade of the champion Vegas Golden Knights included William Carrier removing an obviously intoxicated William Carlsson from the stage via fireman's carry.
Los Angeles: Is is a realistic expectation to believe that the Los Angeles Kings could soon be a legitimate Stanley Cup contender?