The Daily: Penguins' Best Trade Fits; Red Wings' Cleary Talks Prospects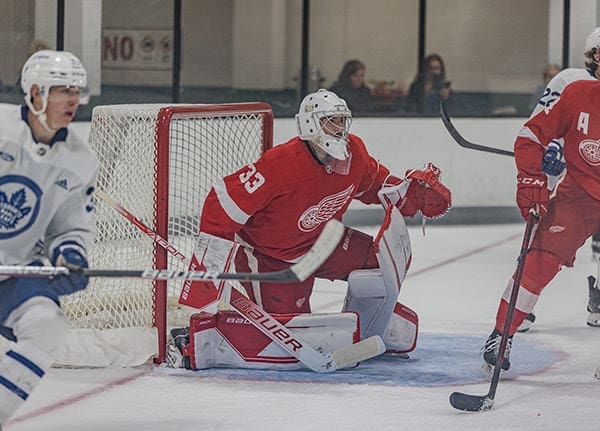 The Detroit Red Wings, as a general rule, don't go into great detail about how they feel about their prospects. They don't gush about young players. It's not Steve Yzerman's thing, and not the Red Wings' thing.
But if you listen to Art Regner's Red and White Authority podcast interview with Detroit's Director of Player Development Dan Cleary you get the impression that the Red Wings are quite pleased with how well their top prospects are performing.
Cleary said Sebastian Cossa took "huge strides" this season.  The Red Wings appreciate the amount of work he puts into his game. "The thing these kids have to learn," Cleary said, "is that the (past season) that's last year…you've got to keep wanting, wanting, wanting."
Edvinsson Update
Cleary gave a minor medical update on Simon Edvinsson, saying that he was scheduled to be in Detroit this past weekend to have his shoulder looked at by Detroit's doctors. He is also expected to return to Detroit in July to do his rehabilitation in preparation for next season.
Kasper also was scheduled to be in Detroit as he continues to recover from last season's injury.
"He's a very driven, very dedicated, humble, hard-working kid," Cleary told Regner.
Asked whether Kasper could start the season in Detroit, Cleary said "it's a big ask." But he didn't rule it out.
Cleary is bullish on Carter Mazur. He likes that he's already strong on his skates and a gamer.
"I have high expectations for Maz," Cleary said, adding "He's impressive player. He's old school, he's competitive. "
🎙️ Detroit's Director of Player Development, Dan Cleary, offers an overall assessment of the #RedWings current prospects pool and analysis on several of Detroit's high-end prospects. 🎙️

Listen/Subscribe: https://t.co/iD3c2r4v6N pic.twitter.com/kPC7kW6wGr

— Detroit Red Wings (@DetroitRedWings) June 17, 2023
Red Wings' Offseason
If the Tampa Bay Lightning decide to move restricted free agent Ross Colton, it wouldn't be surprising if GM Steve Yzerman was interested. He is a hard-nosed player who has 38 goals over the past two season.
Red Wings In Case You Missed It
  Would  Zach Benson be a good fit for the Red Wings in the first round of the NHL draft?
Detroit prospect Wiliam Wallinder wins an award as Europe's best young player.
What are Dalibor Dvorsky's chances of becoming a Red Wings player at No. 9?
Hockey Now Network
Boston: Linus Ullmark explains how why his game came together for a Vezina Trophy-caliber season. Boston Bruins.
Buffalo: Mike Augello looks at whether the Sabres could trade up in the first round of the upcoming draft. Buffalo Sabres.
Chicago: Is it realistic for the Blackhawks to trade up and get their second pick in the top 10? Chicago Blackhawks. 
Colorado: The Avalanche reportedly have interest in Carolina defenseman Brett Pesce. Colorado Avalanche. 
Florida: Denisenko and the Panthers wants to see him in the NHL next season. Florida Panthers. 
Los Angeles: Austin Stanovich writes that the Kings need to set some realistic expectations for next season. Los Angeles Kings. 
Philadelphia: The Flyers have unveiled their new uniforms for the upcoming season. Philadelphia Flyers. 
Pittsburgh: Dan Kingerski takes a look at some good trade fits for the Penguins. Pittsburgh Penguins.
FanDuel Sportsbook Promo #1
ALL STATES WHERE LEGAL
GET THE APP
SIGNUP BONUS
$1000 No Sweat Bet


$1000 No Sweat Bet
BET NOW
Vegas: New Vegas writer Chris Gawlik addresses with the Golden Knights have any chance to re-signing Ivan Barbashev. It doesn't look good. Vegas Golden Knights. 
Washington:  Would the Caps draft Russian prospect Matvei Michkov if he fells to Washington's No. 8 pick? Washington Capitals.