Yzerman Isn't Planning to Move His First Round Draft Picks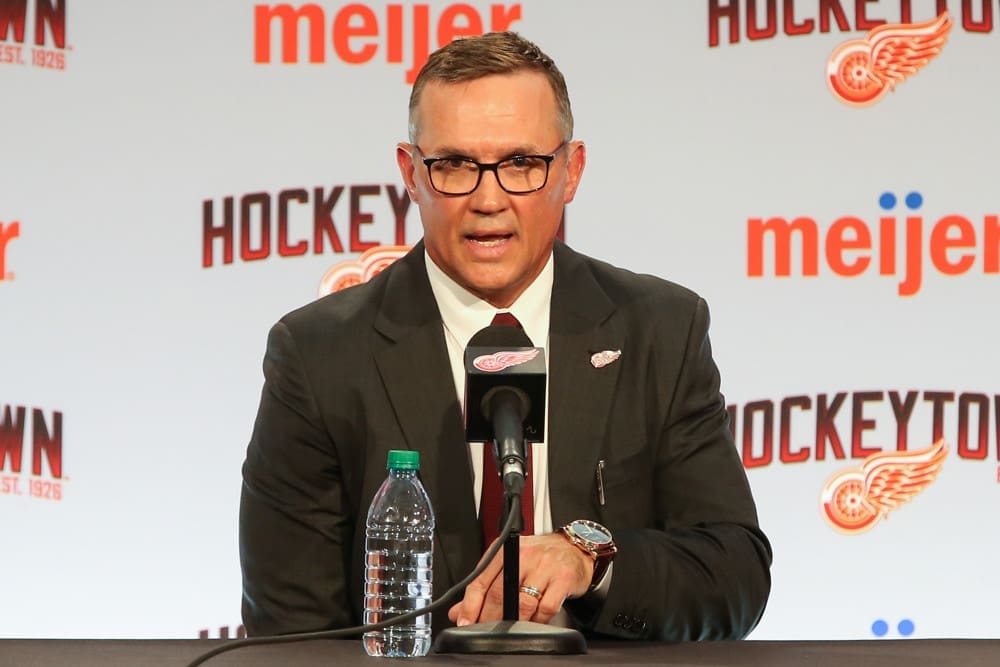 The heavy lifting of being an NHL general manager comes from leaving no stone, large or small, unturned. It's the kind of business in which someone can be incredibly busy and have nothing to show for it. Detroit Red Wings general manager Steve Yzerman hasn't yet made any significant deals, but is doing the work necessary to get deals done.
He feels like he has a handle on what the NHL trade market looks like.
"Yes, I do. I have an idea," Yzerman said Tuesday in his pre-draft meeting with the media. "I can't say I've talked to every team in the league but the vast majority. For the most part, I have an understanding of what most teams are trying to do at this stage of the offseason."
Top prospect Oliver Moore is expected to go in the top 10 of this year's NHL Draft.

When we talked, his off-ice situation caught my attention. The @USAHockeyNTDP star is living on a flower farm in Plymouth that has over 100,000 followers on Instagram.
pic.twitter.com/AHS2N8nYOr

— Brad Galli (@BradGalli) June 20, 2023
Yzerman has a history of being an aggressive general manager, someone who makes surprising trades or signs seven free agents (Ben Chiarot, Olli Maatta, David Perron, Dominik Kubalik, Andrew Copp, Mark Pysyk and Robert Hagg) like he did last summer. You don't make moves like those because you are impulsive. You have to do your homework to be aggressive, and you have to know when it's the right time to act and the right time keep what you have.
"I don't anticipate moving the ninth pick," Yzerman said. "In all likelihood as we stand here today, I expect to use the 17th pick as well."
The Red Wings own five of the first 43 picks, and Yzerman is intrigued by the possibility of adding five prospects to his impressive list of youngsters.
"It certainly does give you options potentially," Yzerman said. "I've never had three picks in a row, particularly three in the second round. That's interesting. Those picks tend to be valuable if you look at every team's draft grid, a lot of teams don't have firsts or second-round picks, so potentially they're looking to acquire that. So those will be options but that's more things that will happen at the draft, on the floor in all likelihood."
Red Wings' Goalie Picture Fuzzy
One of Yzerman's strengths is his thoroughness. He considers all of his options. Detroit's fan base and media already have prospect goalies Sebastian Cossa and John Lethemon penciled in as Grand Rapids' tandem for next season. They worked well together, and played impressively, for the Toledo Walleye last season. Next season, Walleye coach Watson will coach Grand Rapids. But Yzerman hasn't finalized his thought process about goaltending at either Detroit or Grand Rapids
"I don't think that's a target that those two guys will be there," Yzerman said. "It is a possibility."
BetMGM Sportsbook
States: All States Where Legal
GET THE APP
SIGNUP BONUS
UP TO $1,000!


Up To $1000 Paid Back in Bonus Bets
BET NOW
Yzerman wants to look at the free agent marketplace, if they haven't acquired anyone before July. 1
"We'd like to acquire at least one that has that designated No. 3 that we'd look to call up should we have an injury,"
Yzerman said. "In all likelihood we'll add a goaltender in Grand Rapids and kind of see where John and Sebastian are in training camp and preseason."
Yzerman hasn't even closed the door on the idea of bringing back Alex Nedeljkovic or Magnus Hellberg. Both will be unrestricted free agents. Yzerman sees the goalie market right now is being unpredictable. He said he believes there are more goalie openings around the NHL than quality candidates to fill them.