Red Wings Draft Pick Had A Hard Drive to Get Here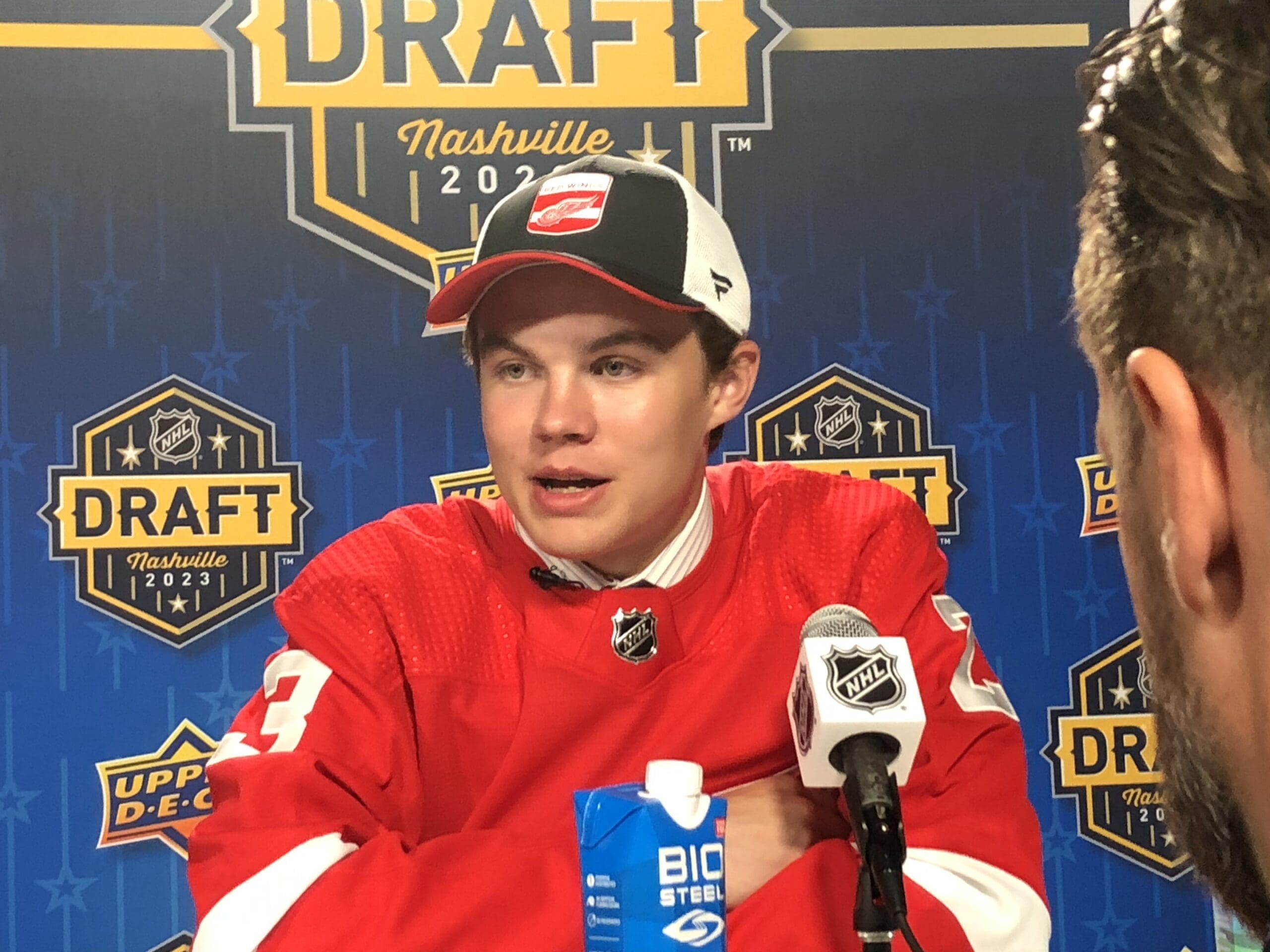 NASHVILLE — Swedish defenseman Axel Sandin Pellikka's potential NHL career with the Detroit Red Wings almost went off the road before it started Wednesday night.  He flew from Sweden to  New York Tuesday only to discover that his connecting flight and every other flight grounded by smog from Canadian fires.
"We got into New York and our flight was delayed one hour, two hours, three hours and eventually got cancelled," he said. "So we had to find a solution. My agent made us get into a hotel, so we stayed one night. (Then) we tried to find some good solutions and the best one was to drive."
Undaunted, Sandin Pellikka and his family climbed into two rental cars  for what turned out to be a memorable road trip.
"I think it was a 15-hour drive," Sandin Pellikka said. "The last four hours I was driving and my arms were starting to feel numb. I looked over to my agent he's laying there sleeping. It was a new experience for me. I've only have my driver's license for a month. I got to try here in the U.S. So yeah, it was a fun road trip."
The Sandin Pellikka group only stopped for food. "Yeah, just stopped at all the good things America has to offer, Chipotle, Five Guys, all those kinds of places," he said.
Red Wings Fill Needs
The reward for some nervous driving was being in the stands to hear the Red Wings call his name as the No. 17 pick in the first round. That pick was previously owned by the Islanders. The Red Wings acquired that pick from the Vancouver Canucks in the Filip Hronek trade. The Islanders had moved it to the Canucks in the Bo Horvat deal.
TSN Analyst Craig Button believes the Red Wings landed the best puck-moving defenseman in this year's draft class. And he can do much more.
"He commands the game everywhere," Button said. "He's a good defender."
The Red Wings need a pure power play quarterback and Sandin Pellikka projects to be that guy. The bonus for Detroit is that Sandin Pellikka is a right-hand shot D man and those are in short supply for the Red Wings
"It was important to find the right-shot D and the right kind of right-shot D." said Kris Draper, Detroit's Director of Amateur Scouting. "We really like his hockey sense, we really like his poise with the puck. He was 17 years old, he played in the world juniors. By the end of the tournament he was running the power play, a big part of it. "
In mock drafts, there was speculation that the Red Wings might take Sandin Pellikka at No. 9 because he checked off so many boxes for Detroit needs. Instead, the Red Wings took WHL center Nate Danielson.
Mom Controlled His Game
The story of the 15-hour ride just adds another layer to the idea that Sandin Pellikka can accomplish things. He said he didn't have doubts, despite his driving inexperience, that he would arrive in Nashville for his big night.
"Maybe last 20 minutes when I didn't know (whether I was sleeping or driving or dreaming," he said. "But I always had a feeling we'd get there."
Sandin Pellikka said it was probably the longest trip he ever had by car. He left at 8 a.m. and arrived after 11 p.m.  He had his younger brother, agent and Red Wings prospect Liam Dower Nilsson with him. But his parents and grandparents were in a car behind. Axel may control play on the ice, but not the family caravan to Nashville.
"As soon as I went over the speed limit my mother would call my agent and like 'tell him to slow down," Sandin Pellikka said. "'He can't drive like that.' She looks out for me."