Tomorrow's Red Wings: Buium Confident Denver D Man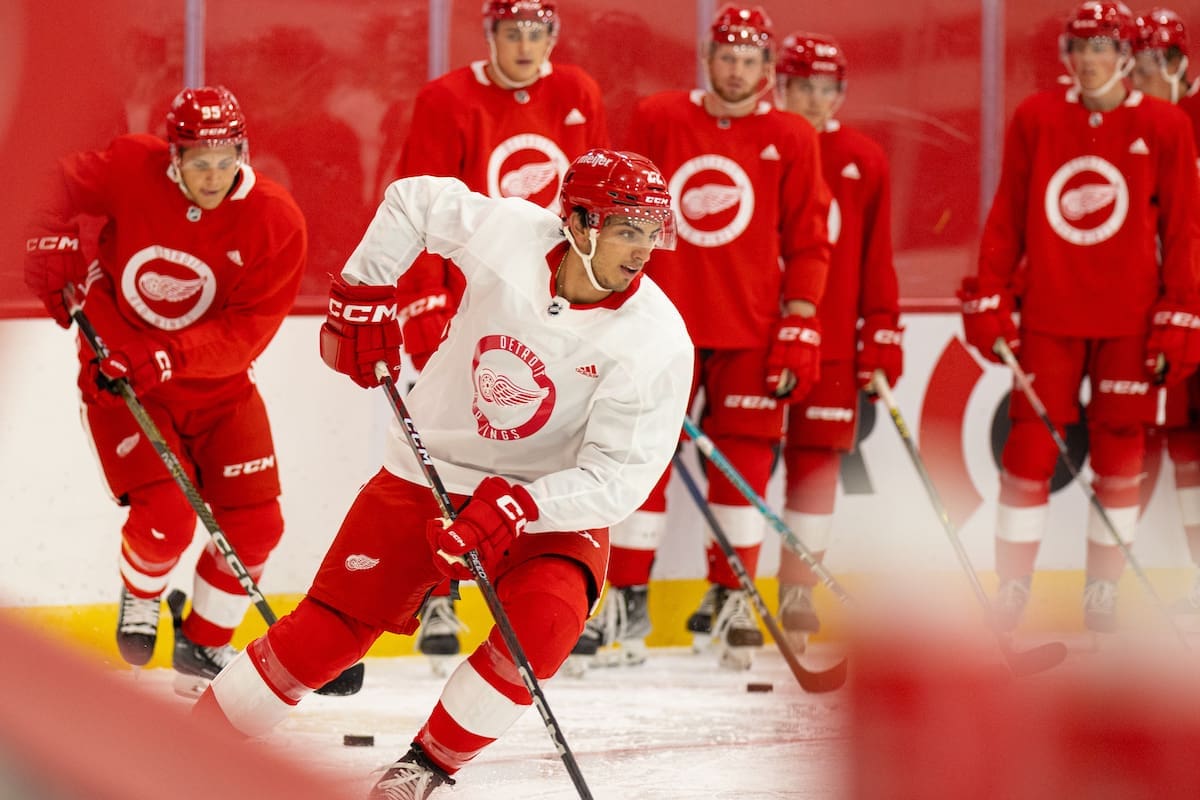 (Editor's Note: This is the latest installment in Detroit Hockey Now updates of some of the Detroit Red Wings' top prospects)
There's no disputing the 2023-24 season will be critical for Shai Buium, a defenseman who was a second-round pick (No. 36 overall) in 2021.
Buium, who will be a junior at the University of Denver, says working on the little things will be key to his improvement as a player and a prospect.
"Obviously, winning a national championship will be a team focus," said Buium, who played on the Pioneers' 2022 NCAA championship team. "For me personally, it's staying on the little things during the season, like skating every day and doing the edge-work stuff we do here (at the recent Red Wings Prospects Development Camp). That stuff is going to help me make it to the NHL, so seeing to that stuff and keep working hard in the gym."
Buium's Brother Top 2024 prospect.
Buium is a 6-3, 205-pound native of San Diego whose parents are from Israel. He was introduced to hockey by a cousin while growing up. He's not the only hockey player in his family. His brother Zeev, who will be a freshman at Denver this winter, is considered a top prospect in next year's draft.
Dan Cleary, the Red Wings's director of player development, is bullish on Shai Buium's progress at Denver.
"I think Shai's made good strides," he said. "You have to give these kids some time to figure it out and kind of like, whether it's learning from their mistakes or trial and error. I feel Shai's a good player. He's got good size. Got good hands, it's an important season. He's going to have his brother in Denver with him as well, so that will be nice."
Buium is back in Denver working out with teammates and concentrating on hockey this summer. Instead, he plans to concentrate on things like nutrition and proper rest  by the time team workouts begin in September
'I've learned one of the big things is getting enough hours of sleep every night,' he said. "They talk about the more you get used to getting to bed earlier your body will get used to waking up earlier. Little things like stepping outside and seeing daylight first thing in the morning is really good for you. So applying those little things really make a big change."
FanDuel Sportsbook Promo #1
ALL STATES WHERE LEGAL
GET THE APP
SIGNUP BONUS
$1000 No Sweat Bet


$1000 No Sweat Bet
BET NOW
Analysis
This is a crucial season for Buium, where the Wings hope he can further develop into the player they were hoping for when they took him early in the second round in 2022. The Red Wings have plenty of quality young defensemen, led by Simon Edvinsson. The Red Wings are looking for Buium to show that he belongs among the top prospect defensemen.
Forecast
The Red Wings expect him to spend more time on special teams this winter. His overall progress will go a long way to determining his future with the team. Three seasons in college should be enough time to ready him for the pro game.
Red Wings Intrigued by Amadeus