Tomorrow's Red Wings: Bicker's Speed Gives Him an Edge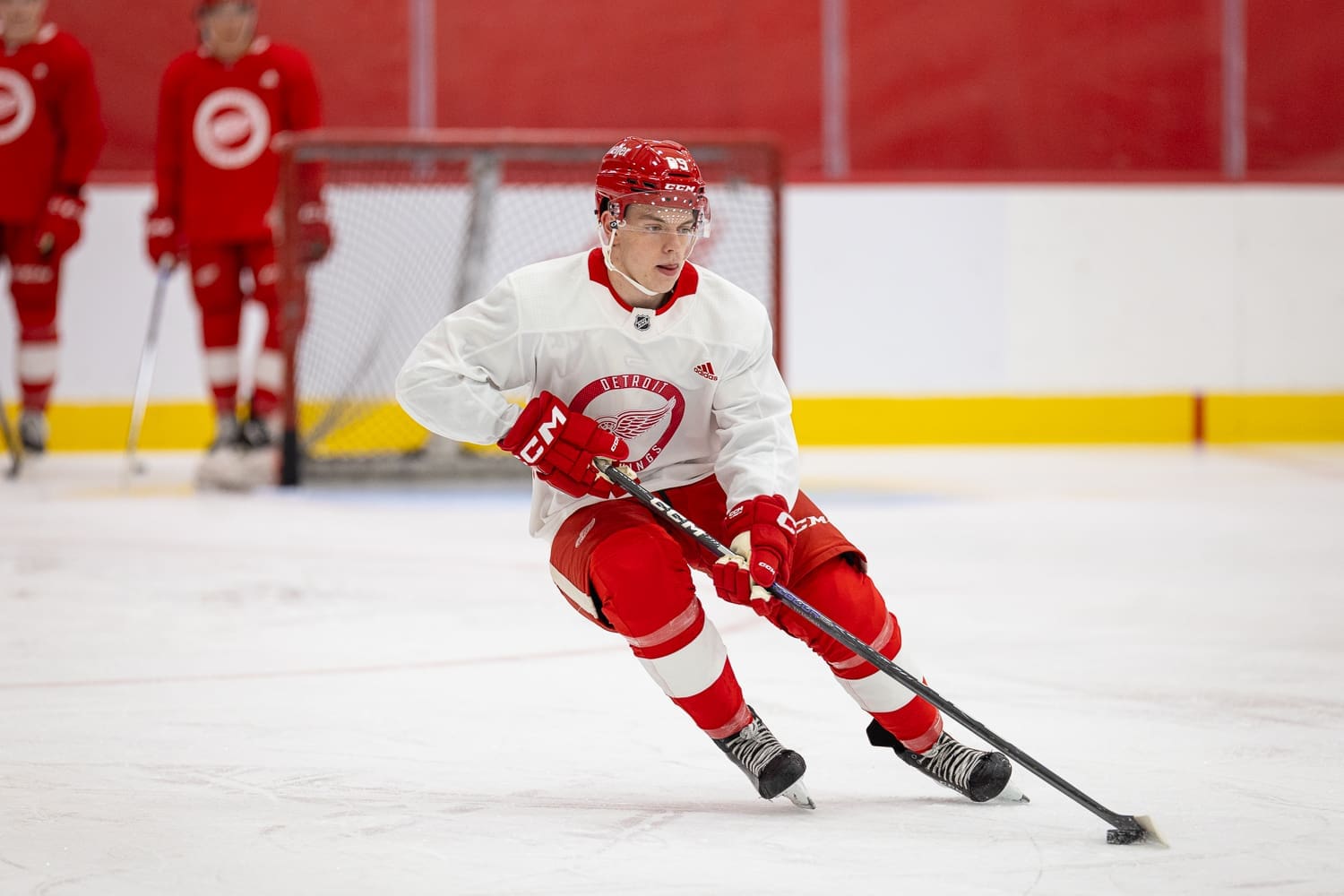 (Editor's Note: This is another installment of Detroit Hockey Now updates on some of the Detroit Red Wings' top prospects. Today's subject is speedy German left wing Kevin Bicker of Mannheim).
Hockey coaches like to say that if you give them a player who can skate like the wind they can teach him the rest of the game. The Detroit Red Wings may have had that kind of thinking in mind when they chose German Kevin Bicker with the 147th pick in the 2023 NHL draft.
"He can absolutely fly," said Kris Draper, Detroit's Assistant general manager and director of amateur scouting. "He's a great skater. Played for Germany at the U-18s. That's the first time I saw him play and all the sudden I saw this kid flying down the left wing and you're like, 'This kid can go.'"
NHL's Central Scouting had him ranked 124th among European prospects and Red Line Report had him ranked 327th overall. Some scouting services projected him as a bottom six forward prospect. Some scouts liked him, but said there was a good chance he wouldn't be drafted.
But the Red Wings liked his tools enough to use a fifth-round pick on him.
"Talked to a couple of Mannheim coaches and they were bringing him up (to the DEL)," Draper said. "…He's a competitive kid. Those are the best assets. So, for us we're able to get another skater. Anytime you have an opportunity to add some speed and there's a defining element that sticks out and skating is definitely his."
Kevin Bicker with beautiful breakaway move.😍 @deb_teams double the lead.🇩🇪 #GERSVK #U18MensWorlds pic.twitter.com/y0mHlpRoPO

— IIHF (@IIHFHockey) April 24, 2023
Analysis
Bicker is a project, but comes with some skill. He averaged about a point per game in the German junior league. Bickrt puts pressure on opponents with his speed. He kills penalties effectively. There's plenty to like about him.
Dan Cleary, Detroit's Director of Player Development, appreciates Bicker's attitude.
"He's always smiling," Cleary said. "He's in Germany, so I'm texting him 1 a.m. my time. About to get up to go to school and we're like, 'Hey, you have a flight to come to camp.' And he's like 'I'm on it.' Super-driven. We talked to his GM in Frankfurt. He's got good speed. I never saw him play until he got here. He's got good size. He's a lean kid, competitive. We'll see. He's going to play in the DEL. I'll be up to him. Like any kid on any team for ice time and opportunity."
FanDuel Sportsbook Promo #1
ALL STATES WHERE LEGAL
GET THE APP
SIGNUP BONUS
$1000 No Sweat Bet


$1000 No Sweat Bet
BET NOW
Forecast
The Red Wings like the fact that Bicker will be playing against men in the DEL. He will have to figure out how to be successful. Undoubtedly, the Red Wings are ready to take the crock pot approach to Bicker's development.
They will bring him along slowly, probably allowing him a couple of years developing in Germany before bringing him to North America.