Red Wings Goaltending Depth Chart Seems Set . . . Or Is It?
Husso, Reimer and Lyon all played significant NHL minutes last season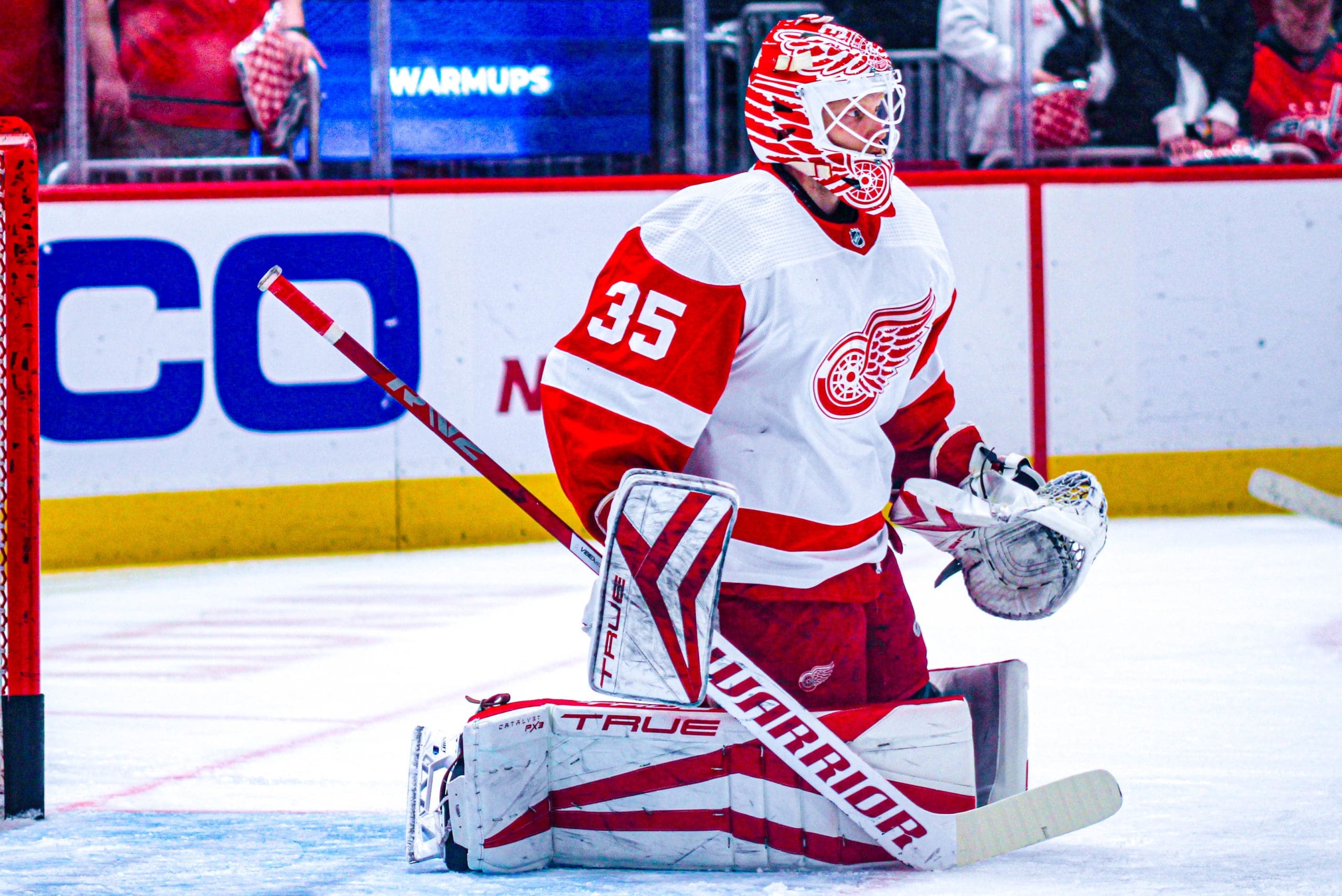 On the surface, it certainly appears that the Detroit Red Wings are going into the 2023-24 NHL season with a much more solid lineup of netminders atop their depth chart.
Ville Husso will be returning as the No. 1 puckstopper. Last season, he was posting career highs for wins (26), shutouts (4) and games (56) in his first season with Detroit.
Behind him, James Reimer, signed as an unrestricted free agent, is a 14-season NHL veteran.
James Reimer is signing with the Detroit Red Wings. pic.twitter.com/VvKD3vsjG8

— Sportsnet (@Sportsnet) July 1, 2023
"I think your mindset is the same no matter what the scenario is for the most part," Reimer said. "How I'm built and probably most guys in the league is you're a competitor and you want to be at the top of your game no matter if you're playing 10 games year or 82.
"It doesn't matter if it's practice or morning skate, you're bringing your best and you want to show your best. You want to strive to be perfect."
Reimer has performed as a No. 1 netminder during his NHL playing days. In Detroit, he'll be backing up Husso. Or will he?
Might Red Wings Hail The Lyon King?
Quietly, the Red Wings were also signing another journeyman veteran, Alex Lyon, as a UFA. Like Husso, he's coming off a career year.
Summoned to the Florida Panthers following health issues with both Sergei Bobrovsky and Spencer Knight, the Lyon King, as he came to be known, took on the role as Florida's go-to goalie and literally was backstopping the team into the Stanley Cup playoffs.
Alex Lyon has signed a 2-year deal with the Red Wings. 🐙 pic.twitter.com/j7HOcOadak

— Sportsnet (@Sportsnet) July 1, 2023
Lyon went 9-4-2 with a .914 saver percentage between the pipes for the eventual Eastern Conference champions. In fact, when the Stanley Cup playoffs got underway, it was Lyon who was in net for the first three games of the Panthers' opening-round series against the President's Trophy-winning Boston Bruins.
"I think sometimes, when things happen that are unexpected, it is better," Lyon told Florida Hockey Now. He spent much of last season in the AHL with the Charlotte Checkers.
Logically, Lyon will be the No. 1 goalie for Detroit's top farm club, the Grand Rapids Griffins. With 202 AHL games on his resume, Lyon, 30, gives the Griffins a reliable AHL puckstopped. He should also prove to be the perfect mentor for Sebastian Cossa. Made the 15th overall selection by the Red Wings in the 2021 NHL entry draft, Cossa figures to be making his full-time AHL debut next season.
FanDuel Sportsbook Promo #1
ALL STATES WHERE LEGAL
GET THE APP
SIGNUP BONUS
$1000 No Sweat Bet


$1000 No Sweat Bet
BET NOW
However, the fact of the matter is that should something happen to either Husso or Reimer, Lyon will be looking very comfortable between the posts of an NHL net. It's been quite some time since Detroit could say that about the club's No. 3 goaltender.
Husso and Reimer figure to be filling the NHL roles in goal for the Red Wings next season. But if one of them is struggling or ailing, Detroit GM Steve Yzerman won't be scouring the waiver wire in search of a capable netminder. In Lyon, he'll have one on standby in Grand Rapids.