Tomorrow's Red Wings: Rudy Guimond A Long-Term Investment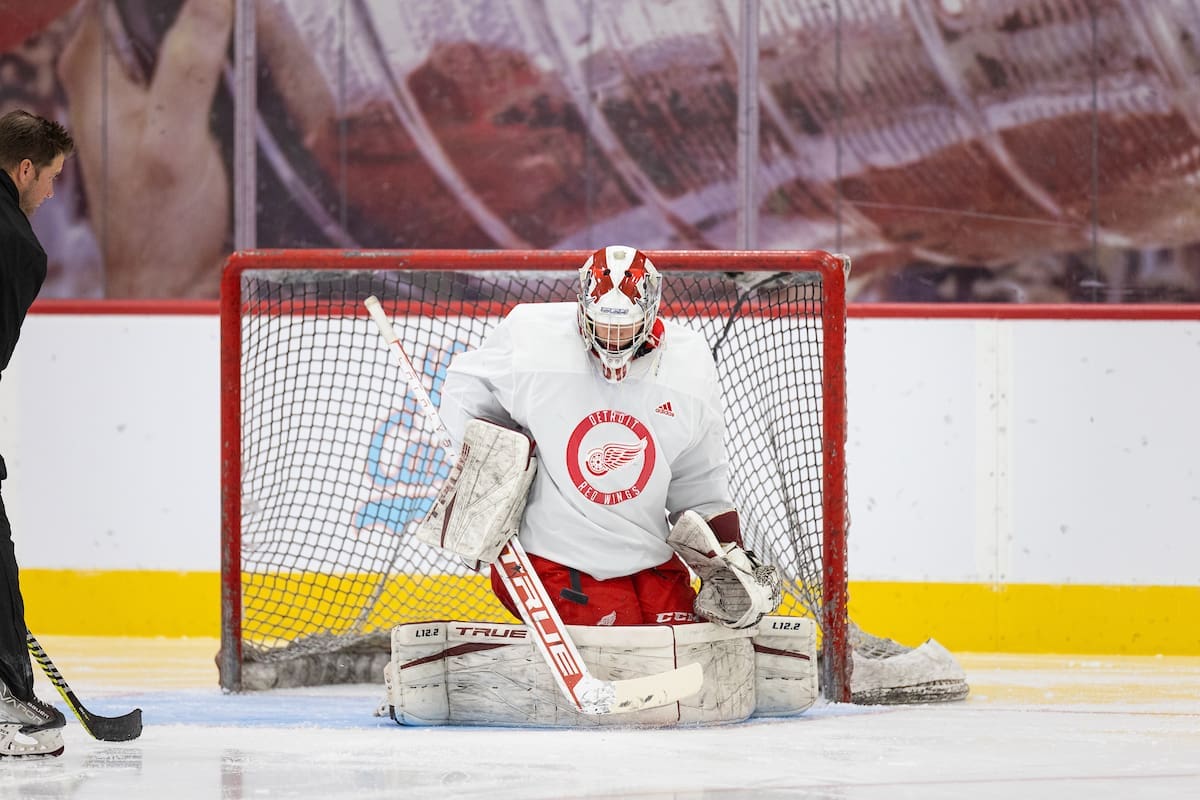 (Editor's Note: This is another installment of Detroit Hockey Now updates on some of the Detroit Red Wings' top prospects. Today's subject is Yale recruited goalie Rudy Guimond).
When an NHL team drafts a college-bound goalie, it's like planting a tree in your backyard. You know it will take time, but you are encouraged by the hope that, with proper nurturing, the seeds you planted will grow into a towering specimen.
The Red Wings drafted Rudy Guimond 169th from Taft (Connecticut) High School and his journey to professional hockey may take even longer than usual.
He is scheduled to play in the United States Hockey League (Cedar Rapids) next season and won't enroll at Yale as a freshman until 2024-25. That timetable fits well into the Red Wings' goalie development plan. GM Steve Yzerman and his assistant GM Kris Draper seemed to place special emphasis this summer on strengthening their goalie pipeline. They drafted two goalies (Trey Augustine and Guimond) and re-signed John Lethemon.
Late last season, they signed Red Wings draft pick Jan Bednar, presumably to use in Toledo this season. Sebastian Cossa is clearly the team's goalie of the future, but Augustine is highly regarded. Plus, the Red Wings seem to like Colgate goalie Carter Gylander. He's 6-foot-4 and was drafted in the seventh round in 2019.
NHL Central Scouting ranked Guimond 17th overall among North American goalies. Augustine was ranked No. 3 in North America. That probably puts Guimond in the project category. But he is almost 6-foot-3, and scouts like his athleticism. Plus, NHL history shows top goalies don't always come from the top of the first round. Retired Predators goalie Pekka Rinne, maybe the most popular player in Predators' history, was drafted 258th overall in 2004. Former Detroit goalie Dominik Hasek was drafted 199th.
Rudy Guimond.

2015: #RedWings birthday cake. 🎂
2023: #RedWings draft pick. 🥹 pic.twitter.com/ncDJzyIxfx

— Detroit Red Wings (@DetroitRedWings) July 1, 2023
Analysis
Guimond, a Quebec native, posted a 2.78 goals-against average and .932 save percentage as a junior for Taft. He boasts a strong foundation that can be built upon, especially for an organization willing to take a long-term approach.
FanDuel Sportsbook Promo #1
ALL STATES WHERE LEGAL
GET THE APP
SIGNUP BONUS
$1000 No Sweat Bet


$1000 No Sweat Bet
BET NOW
Forecast
The Red Wing view Guimond like a long-term investment. Goalies often aren't truly ready for the NHL until they are 24 or 25. Let's just wait and see where Guimond is at age 22 or 23. That's when we will have a better understanding of his potential.