How the Red Wings Can Reach 271 Goals in 2023-24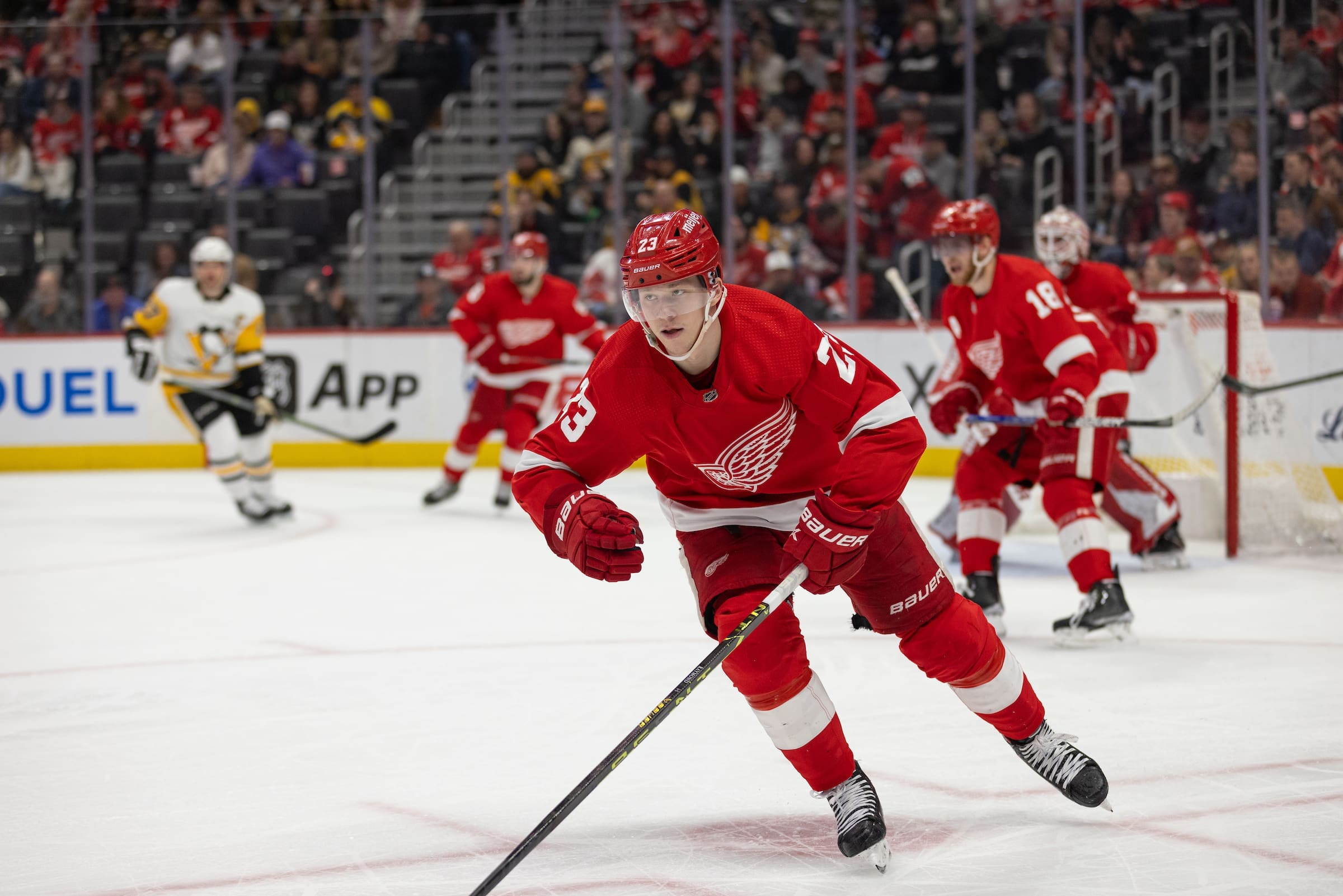 Everyone in the NHL, including the Detroit Red Wings, understand that being dominant in one area of hockey doesn't guarantee success. The Buffalo Sabres finished third in goal scoring last season and missed the playoffs for the 12th consecutive season.
The Sabres were done in by inferior goaltending, inexperience and inconsistent defensive play. It doesn't matter if you can score 3.57 goals per game if you're giving up 3.62 goals per game.
Alex DeBrincat (@Brinksy97) knows a thing or two about lighting the lamp. 🚨

Here's what you have to look forward to, @DetroitRedWings fans. 😺 pic.twitter.com/cT3Go6UcTU

— NHL (@NHL) July 10, 2023
But Buffalo's 2023-24 woes don't change the truth that team goal scoring is a predictor of season success. Defense and goaltending historically do win championships, but being one of the top 12 scoring teams gives you a high probability of making the playoffs.
One of GM Steve Yzerman's offseason priorities was improving the team's offense
In a recent subscription story, Detroit Hockey Now pointed out that 11 of the 12 highest scoring teams made the playoffs. Thirteen of the top 15 scoring teams (86.6%) qualified for the playoffs. Those top 15 scoring teams all scored 271 or more goals over 82 games.  That number will change this season, but it's a good jumping off point to determine how much more productive the Red Wings need to be this season.
The Red Wings scored 237 goals last season. That means they need a 14.3% increase in scoring this season to get to 271.
Red Wings 2022-23 Goal Projections
Here is one way to reach 271, presuming that the Red Wings top scorers remain relatively healthy. Obviously, there are as many paths to 271 and plenty of others that don't get there at all.
Forwards
Dylan Larkin 32
Alex DeBrincat 31
Lucas Raymond  23
David Perron 21
Jonatan Berggren 18
Michael Rasmussen 18
JT Compher 17
Andrew Copp 16
Daniel Sprong 14
Robby Fabbri 13
Joe Veleno 9
Christian Fischer 8
Klim Kostin 7
Elmer Soderblom 5
Marco Kasper 3
Austin Czarnik 2
Total: 237
Notes: DeBrincat has mostly stayed healthy in his career, and has averaged 31.1 goals per season…JT Compher has never scored 20 goals in his career, although his opportunity could expand this season…Daniel Sprong scored 21 last season, mostly playing as a fourth liner in Seattle…Klim Kostin scored 11 goals last season in Edmonton…Kasper's total is based on him not making the Red Wings in training camp. He obviously will score more if he makes the team…Soderblom's number reflects the uncertainty about where he fits on this roster. If he ends up playing with Detroit all season, he could easily double that number…Fabbri has bad luck when it comes to injuries. That's why he has never been a 20-goal scorer.
FanDuel Sportsbook Promo #1
ALL STATES WHERE LEGAL
GET THE APP
SIGNUP BONUS
$1000 No Sweat Bet


$1000 No Sweat Bet
BET NOW
Defense
Moritz Seider 9
Jake Walman 5
Simon Edvinsson 3
Ben Chiarot 3
Olli Maatta 2
Justin Holl 2
Albert Johansson 1
Gus Lindstrom 1
Total defense: 34
Notes: Even with Gostisbehere aboard, Seider will still be the power play boss…Gostisbehere has some offensive magic and he can shoot the puck…Edvinsson will be in Detroit at some point, but could start in Grand Rapids. The Red Wings want to bring him along slowly…Walman's numbers will be influenced by Gostisbehere's impact.