Why Red Wings Pairing of Seider And Walman Clicked So Well
Top Detroit defense pair clicked immediately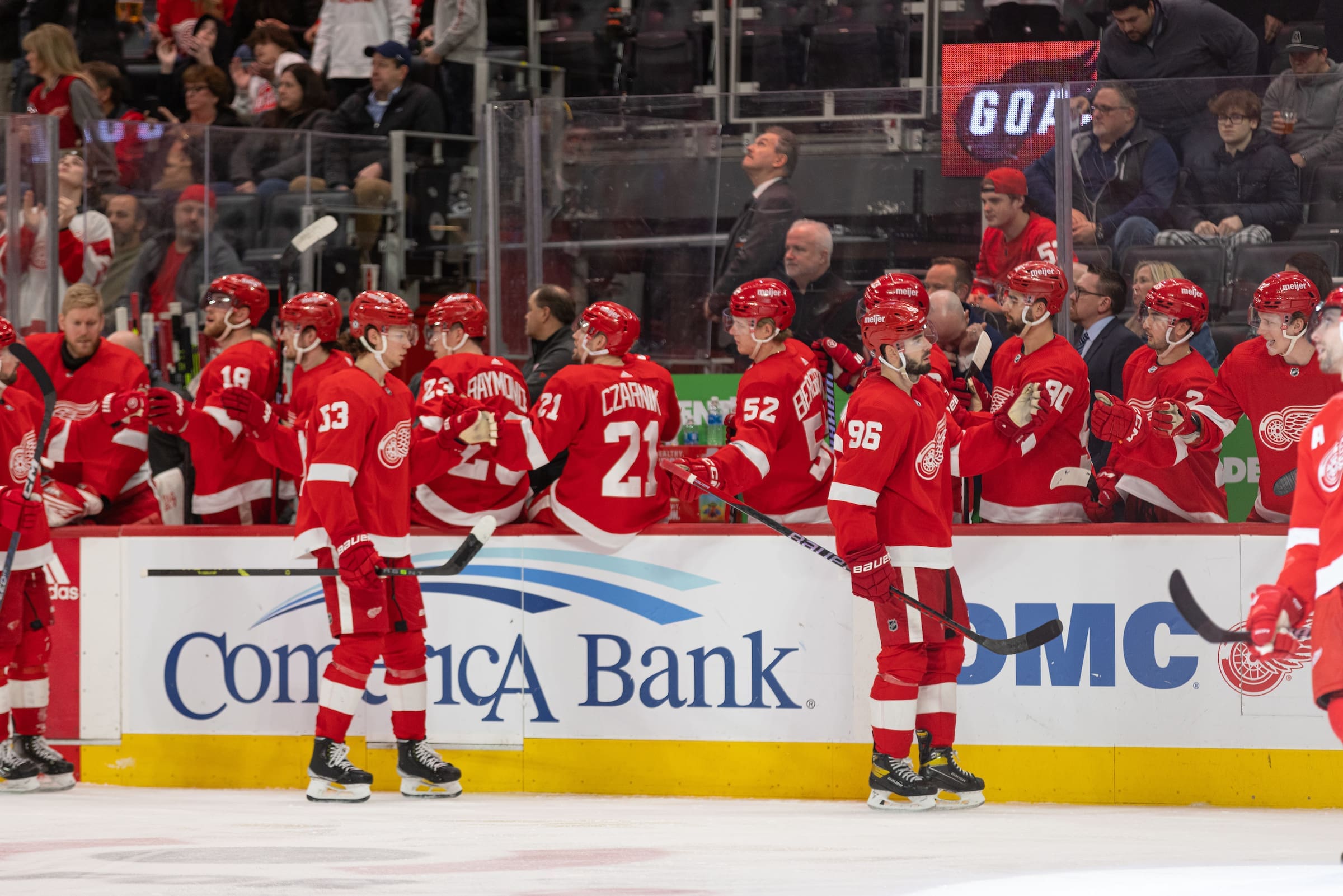 From the moment that Jake Walman and Moritz Seider were paired on the Detroit Red Wings defense last season, it was like peanut butter and jam, fish and chips, or Abbott and Costello. They clicked instantly.
Today, it's difficult to imagine one being without the other.
"I think we just vibed really good," Seider explained, seeking to assess why he and Walman work so well as a tandem. "I like him as a person a lot.
Great partner work between Jake Walman and Moritz Seider on the regroup. pic.twitter.com/fJXwLB20TR

— Jack Han (@JhanHky) January 13, 2023
"Then it's really easy to make plays out there. I just really like coming to work with him. Hopefully we'll be even better next year."
Echoing those sentiments, Walman notes that he not only meshes with Seider as a player, but they've also developed a tight bond as people.
Instant Chemistry Between Seider And Walman
"I think we have pretty good chemistry off the ice, too," Walman said. "We enjoy each other's company. We hang out, we joke around. It's fun playing with him. I love him off the ice, too.
"Maybe it transitions to on the ice but I think we read off each other really well."
Playing 63 games as a tandem, Seider and Walman would post a Corsi for of 50.00. They were on the ice together for just 26 even-strength goals against.
Jake Walman bullies Moritz Seider by hitting him with pucks confirmed pic.twitter.com/VhklIHnYog

— Cam🌻 (@CamStockett) March 31, 2023
Seider believes much of their success stems from the elite level skating that Walman displays on the ice.
"He's a really strong skater," Seider said. "Very talented. Can outskate everyone in the league. That gives him confidence."
As for Walman's assessment of Seider, he thinks that there's nothing his defensive partner doesn't do well.
Seider The Complete Package
"Obviously he's a world-class player," Walman said. "He doesn't get enough credit for D zone, too. It's real easy playing with him. He can break the puck out on his own. He's a one-man wrecking crew back there. It's fun playing with him.
"I've said it all along, he's a beast out there. He can do it all. He can do everything by himself."
While reading off each other, Seider and Walman also find that they are feeding off each other. In unison, their games are also able to expand as individual performers.
"I love watching him do his thing," Walman said of Seider. "When he's going, I kinda get going. I think it's cool how he can really elevate everybody's game. I don't have anything negative to say about the guy. He's amazing. I can keep praising him.
"He's got a crazy level of confidence. You can see it anywhere on the ice. I try to give him the puck and then in the O zone, I think we work well that way. I kind of feed off him, he feeds off me and like I said I think the biggest thing I've noticed is in the D zone . . . me, I try to be tenacious but he – I love just watching him battle guys."
Clicking In Every Aspect
Walman certainly isn't the possessor of Seider's mean streak. However, together, they fill in any void there might be in each other's performance on the ice.
FanDuel Sportsbook Promo #1
ALL STATES WHERE LEGAL
GET THE APP
SIGNUP BONUS
$1000 No Sweat Bet


$1000 No Sweat Bet
BET NOW
"I think it works because we're similar players in most aspects of the game," Walman said.  "We can learn a lot from each other. I've taken stuff from him. I've always tried to be tenacious defending and he's got that, too. He can break the puck out, he can bully guys off the puck, he can join the play. I think we complement each other really well.
"Whenever he's up in the play I'll stay back and whenever I'm up, he knows to stay back. I don't know if it's hockey IQ or what, but I know where he's going to be, he knows where I'm going to be. I like using him on the breakouts, too. It makes my job easy when he's out there.
"We work really well. I just want it to keep going."